Awesome AirPods design at half the price available in Dhaka, Bangladesh


While there is an unmistakable similarity between the design of the AirPods and the Skullcandy Indy earphones, they are separated by their varied price points, with the Indy costing half as much as the AirPods. At Rs 7,499, they definitely fall in the budget range of truly wireless earphones, however, let's find out if the lowered price point has lead to compromises in the audio and the general experience they provide.
In the box
– Indy Truly Wireless Earbuds
– Eargels (S, M, L) 
– Stability Gels (L) 
– Charging Case 
– Micro-USB Charging Cable 
– User Guide 
– 2 Year Warranty Guide
Build and Design
Skullcandy's Indy true wireless earphones embrace the 'pipe-style' design that has been popularized by the Apple AirPods and is adapted increasingly in true wireless earphones. They are slightly thicker than the AirPods and come with a set of stability gels and tips to improve the fitting. The stability gels really worked in our favour, providing a much better and secure fit. Additionally, the Indy also sports a noise-isolating design, by employing silicone tips which seal off your ears and effectively muffle the sound around you.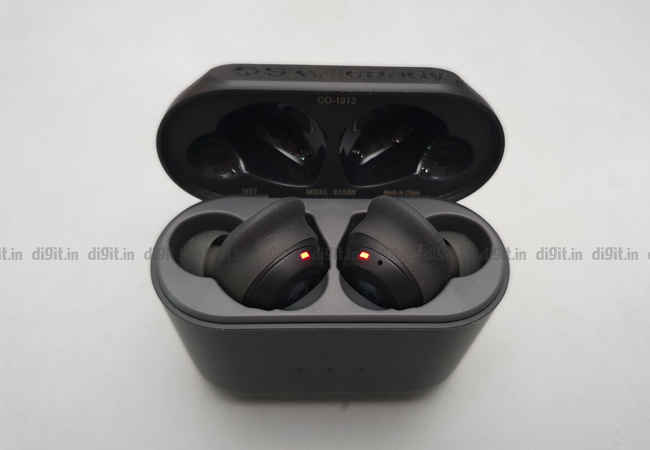 The charging case, again, looks quite similar to the AirPods' case, but it feels much more 'plasticky' and not quite as premium in hand; however, this is a tradeoff most people will be willing to make for this price. It comes with 3 LED charging indicators which tell you the status of the case's battery. It houses a micro-USB charging port on the bottom, and this is disappointing in the age of USB Type-C ports on most devices because we shouldn't have to carry an additional charger just for the earphones. When you put the phones back in the case with the stability gels on them, the case doesn't snap shut in the same satisfying way it does when the gels are off, but then again, if you take the gels off the earphones fall deep into the case and are just a tad harder to remove. Because the best fit for this reviewer's ears was with the stability gels, closing the case and not hearing the reassuring magnetic snap caused me to recheck the lid often. This may seem like nitpicking, but these are things that you tend to notice when you pull them out and put them back into the case several times a day.
Controls
The back of the Indy earbuds is adorned with the Skullcandy logo, which is not just superficial. Instead, this part of the earbuds are touch-sensitive and allow the users to control actions. The enabled touch controls include – playing/pausing music with a double-tap, changing tracks with a long press (left side for previous track and right side for next), single taps to increase or decrease the volume (right tap to increase and left tap to decrease) and a double-tap to answer calls.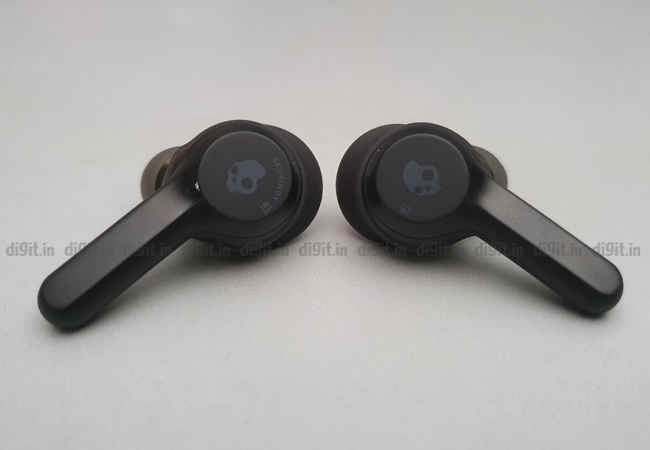 The pairing process of these earphones is also rather simple. If you remove the earphones from their case, they turn on automatically and vice versa. To pair with a new device, you need to press the back of the left earbud for 3 seconds and then connect to the device named 'Indy' on your phone. The entire process is quite intuitive and we came across absolutely no hurdles.
Features
The earphones have an IP55 rating which means they're dust, sweat and water-resistant. They work fine in light rain, in the gym and can withstand light splashes of water. Don't even think of taking them into the pool though. When it comes to the fit of the earphones, this reviewer did all she could to get them to fall out and looked a right ass jumping around in a corridor shaking her head like a dog that's just had a bucket of water dumped on it. Now, this varies from person-to-person obviously, as our ears are all created unique, but if one of the three provided gel sizes fits properly, they're definitely not going to fall out easily. 
In terms of connectivity, the earphones feature the latest Bluetooth 5.0 connectivity. Pairing is almost instantaneous and the connectivity range is pretty impressive too. We were able to leave our test phone (a Samsung Galaxy S10+) in the loft where our Test Centre is, and walk down a flight of stairs, and all about the office belowe without any loss in connectivity. Only when we ventured out the main door, putting two layers of concrete between us and the phone did the earbuds lose connectivity.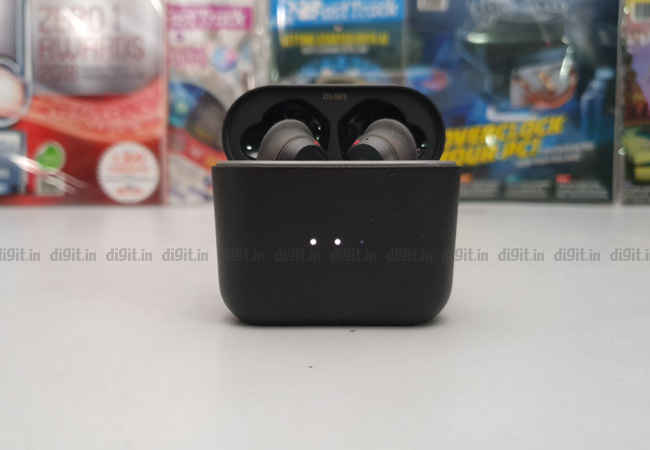 When it comes to battery life, Skullcandy claims that the Indy earphones will deliver up to 16 hours of battery life (for both charging case and earbuds). Take those claims with a tablespoon of salt, because our tests revealed that the earphones can last about three and a half hours, while the charging case lasted a little over 12 hours.
Performance
Battery life we've already covered, but with these devices sound quality is much more important. It's a bit of a hit and miss here, honestly. Sleep by Poets of the Fall sounded quite decent with good soundstaging and a decent representation of the mids and the highs. However, sound quality, in general, has too much treble push which makes it sound overtly bright pretty often. While this seems to be bearable with some well-recorded tracks, you will be able to feel the harshness in others. The brightness also leads to listening fatigue over extended periods of time. 
Audio by LSD (Labrinth, Sia and Diplo) showed pronounced distortions in the high frequencies, specifically at timestamp 2.35. However, this only happened if the volume was kept at or above 80 per cent, which is not deafening or anything, it's just slightly higher than our normal listening volume of 65 to 75 anyway. Centuries by Fall Out Boy also faced similar problems at timestamp 0.39. Additionally, bass also feels like a sore point on these earphones — it just lacks punch and grit and often delivers a disappointing representation of the bass portions of tracks. Radioactive by Imagine Dragons felt rather underwhelming since the usually-punchy bass in the track was as good as absent. The track also suffered from distortions in the high frequencies as well. Overall, the Indy earphones seem to be more suited for warmer tracks such as Something about us by Daft Punk.
The microphone quality is unsatisfactory as well. While we could hear the person on the other line clearly, there were complaints about our voice being too soft or sounding distant on the other end. This is heightened in crowded places like a railway station, where there is a significant amount of background noise, even though the earphones house noise reduction technology. We even tested the call quality over the internet on WhatsApp and Hangouts as well to make sure this wasn't a network issue. 
Bottomline
For the asking price, the Skullcandy Indy earphones are quite a decent buy. They offer a ton of features like touch controls, IP resistance, long battery life and a comfortable fit. However, the audio performance (music and calls) is a let-down. Other brands such as Sennheiser and Audio Technica offer buds that cost about the same but have significantly better sound quality. If you're thinking about buying these to listen to music on, you should probably steer clear, but then are there any truly wireless earphones that get a hardcore audiophile's stamp of approval? It also depends on the music you listen to, and if warmer tracks are your brand of music, these might not sound as bad to you. If you aren't too finicky about sound quality and want something that's feature-rich and affordable, then these might actually work for you. For us, however, since audio is a large part of our testing methodology, these just don't score high enough to allow us to make a general recommendation.