Great BenQ MOBIUZ EX270QM 240 Hz 27-inch Gaming Monitor Review: Super responsive available in Dhaka, Bangladesh


The BenQ MOBIUS EX270QM is one of BenQ's top-of-the-line gaming monitors that launched in 2022. While BenQ has had the ZOWIE lineup for a few years with a keen focus on eSports, gaming as a whole has always been BenQ's key focus area and the MOBIUZ lineup provides a fresh look at all the new technologies that BenQ has developed over the years. The monitor is priced at about 60K which is quite steep for a QHD monitor with 240 Hz refresh rate but there's plenty under the hood. Let's take a look.
Build Quality
The BenQ MOBIUZ EX270QM gaming monitor is designed with a focus on durability and functionality. The monitor arrives in three main parts – the base, stand, and display panel – that assemble effortlessly without any tools. Once assembled, the heavy base and panel remain quite stable. The package includes an external power supply, DisplayPort, HDMI, and USB cables, as well as a remote control, which is a rare and convenient feature in gaming monitors of this size.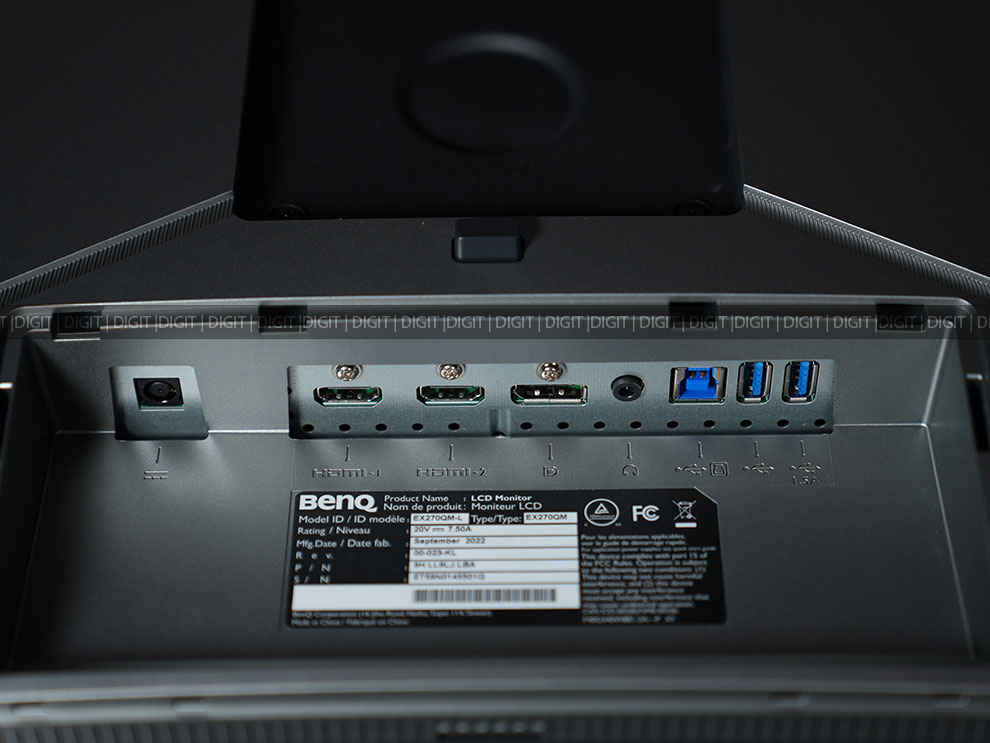 In terms of aesthetics, the EX270QM has a lot of design elements that scream "gaming" in your face. The subtle red trim on the base coupled with the LED strips on the back panel contribute to that a lot. The four RGB LED strips on the back are in an X-shaped pattern, which can display various effects and colours.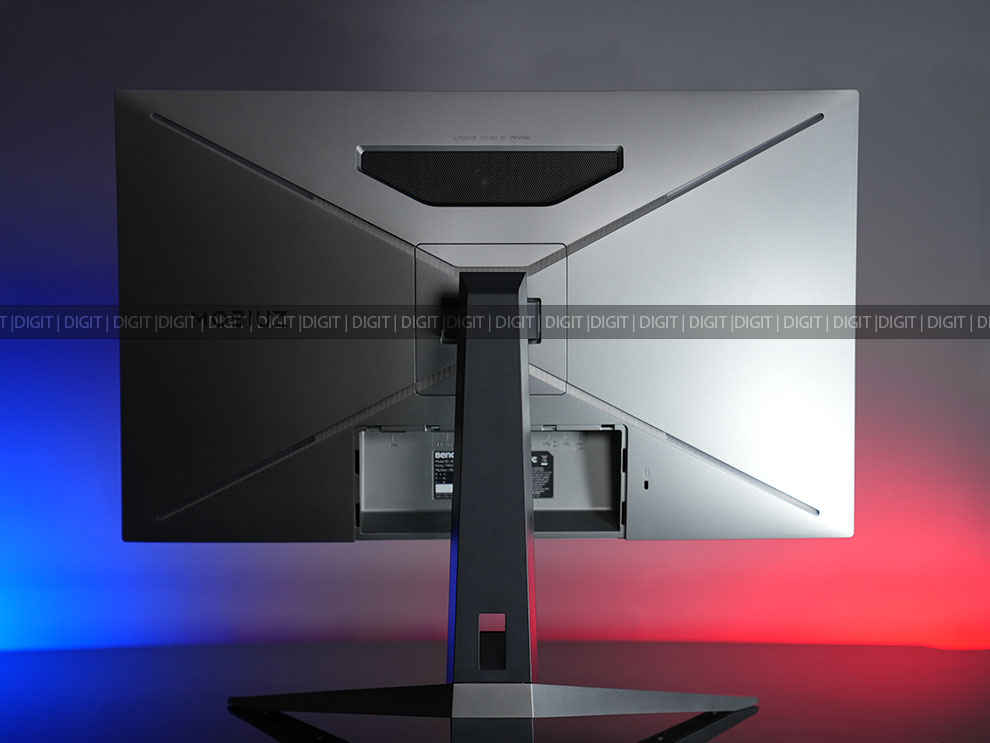 BenQ has included remote controls either as a separate wireless unit or a wired pod with a lot of monitors in the past and the MOBIUZ EX270QM also comes with a wireless one. The included remote control allows for easy menu navigation, HDRi control, game enhancements, input selection, sound modes, and brightness adjustments.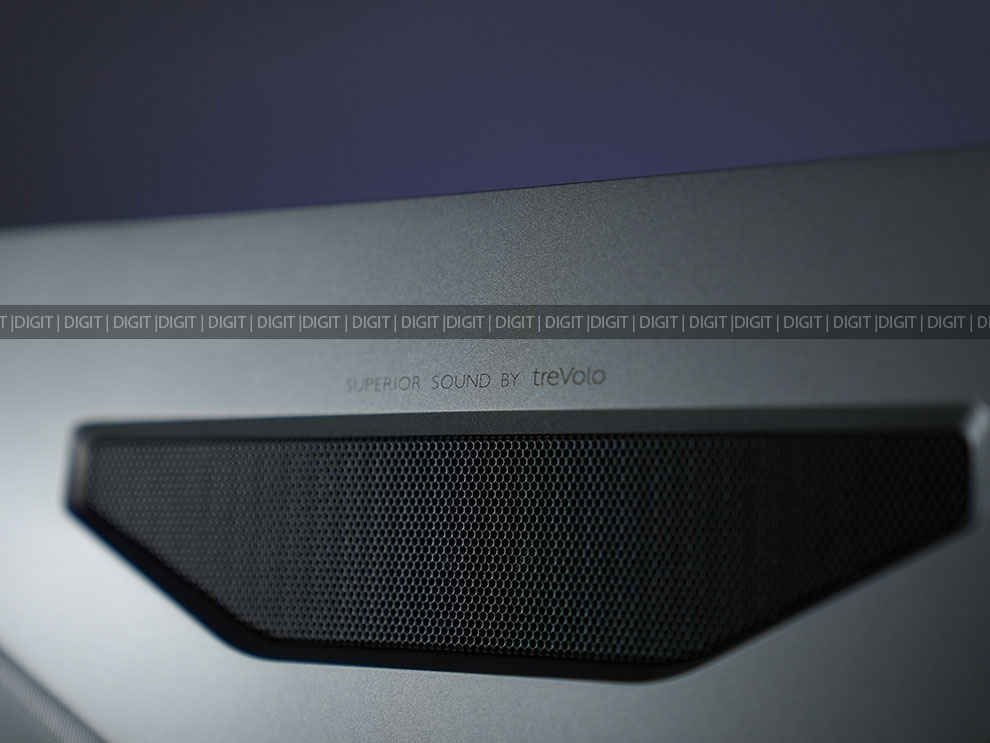 The rear of the monitor showcases a couple of vents, some for cooling and some for the audio solution. Speaking of which, the audio solution is an area where the EX270QM differentiates itself from a lot of competing products. BenQ has a separate division for audio products under the treVolo brand and their expertise was leveraged for the audio solution in this monitor. It's apparently a 2.1 solution with two 2 Watt tweeters facing the user and a suspended 5 Watt woofer facing the rear. Suspending the woofer allows for vibration reduction. The treVolo audio technology provides five distinct sound modes, which in itself make for a much more diverse audio experience compared to most integrated monitor speakers.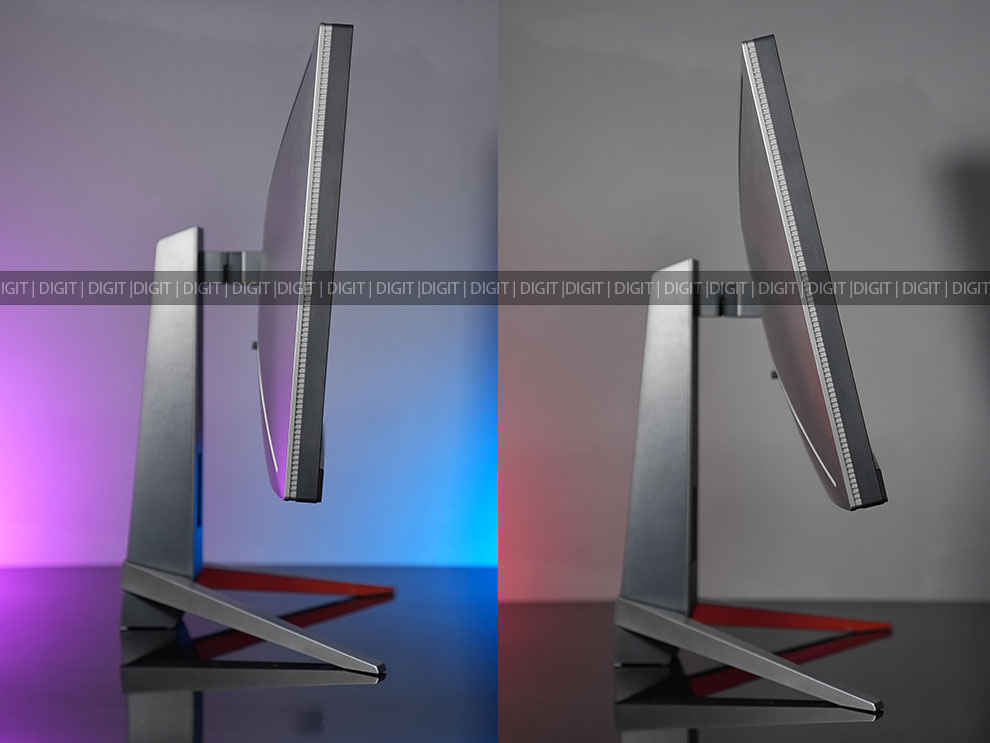 The stand is robust and provides a four-inch height adjustment, -5/15 (up/down) degrees tilt, and 15 degrees swivel, although it does not support portrait mode. The Zowie monitors are good for that. A 100 mm VESA mount with included fasteners is located behind the stand's attachment point. The input panel features two HDMI 2.1 ports, one DisplayPort 1.4, and USB 3.0 ports (one upstream and two downstream). Additionally, there is a 3.5 mm input for headphones or powered speakers. A cover is provided to keep connections organised, and a hole in the stand allows for cable management.
Keeping it short, the BenQ MOBIUZ EX270QM gaming monitor offers a well-built and functional design. The inclusion of a remote control and high-quality audio system adds convenience and enhances the overall user experience.
Performance
The BenQ MOBIUZ EX270QM gaming monitor demonstrates impressive performance in video processing. It supports both blur reduction and Adaptive-Sync, specifically AMD FreeSync Premium Pro. It's also certified to be Flicker-Free and outputs low blue light, as per TUV. Blue light doesn't damage the eyes, the whole thing about Blue Light being harmful is a myth built up by alarmist headlines. The American Academy of Ophthalmology states that there is no scientific evidence proving that blue light from screens damage human eyes. There are, however, studies that have proven that blue light does affect the circadian rhythm of human beings and thus, throws off your sleep cycle. 
With a refresh rate of 240 Hz, the EX270QM has a visible advantage over 144 – 165 Hz panels, especially in FPS titles. Add to that all the motion blur reduction technologies that BenQ has been working on for more than a decade and you get clean, ghost-free motion. Its 240 Hz refresh rate provides a visible advantage over monitors with 144 to 165 Hz rates.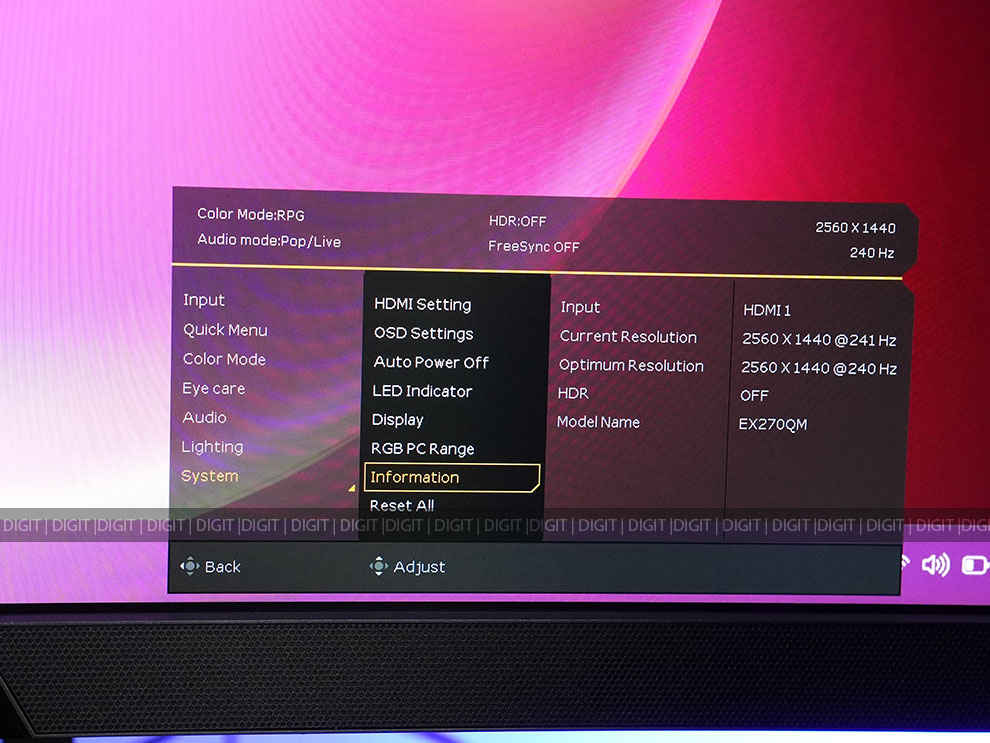 There are gamma and brightness tuning technologies such as Light Tuner and Black Equalizer in BenQ monitors and they both work in diametrically opposite ways. Light Tuner darkens sections of the screen which are too bright to bring out details and Black Equalizer lightens sections of the screen which end up being too dark and lose out on detail. Both put together, work live reverse HDR. I understand that it can be quite confusing to have such technologies in a monitor that has HDR but think of these as tuning options that give you control over what you see. It's better to have the option and not use it rather than not have it at all.
Coming to the colours, the EX270QM covers nearly 95% of the DCI-P3 colour space, which is higher than average. While some competitors have larger colour volumes, the BenQ monitor's performance remains commendable, providing vibrant colours in both DCI-P3 and sRGB modes.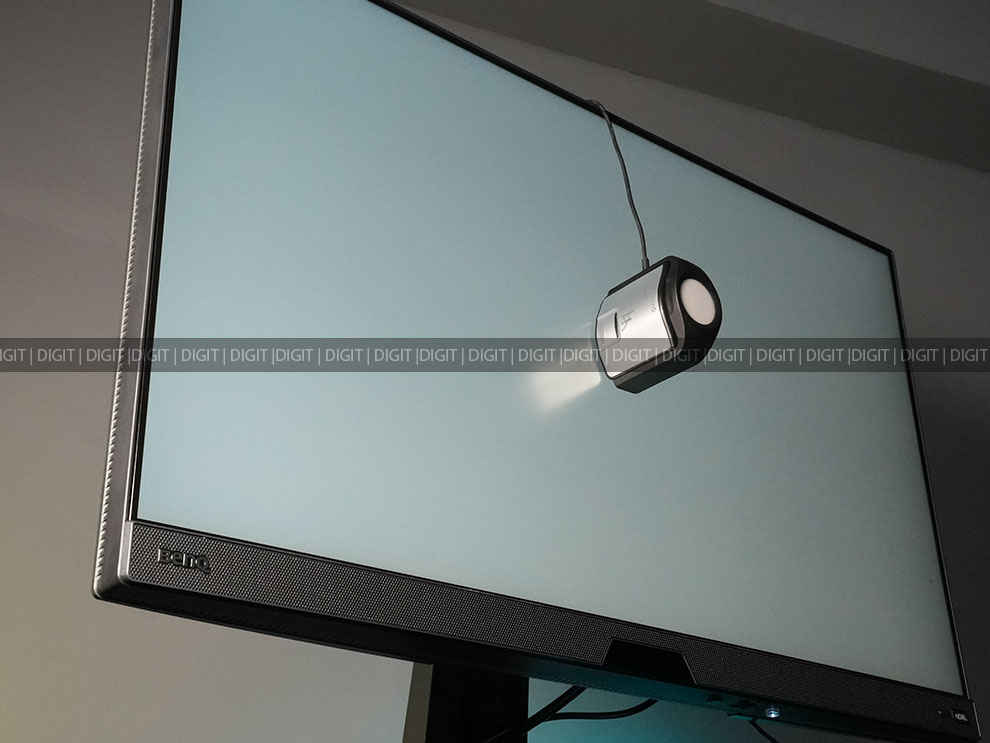 As a standard IPS panel, the EX270QM maintains decent off-axis image quality. At 45 degrees horizontally, a colour shift is observed, but light falloff is minimal. Both shadow and highlight details remain consistent, with no significant change in gamma. However, looking down along the vertical plane at an angle of 45 degrees exhibits a significant colour shift, washed-out appearance, and the light is significantly dimmed. Monitors are usually designed to have lesser shifts along the horizontal axis since that's more appropriate for typical user behaviour when, let's say, you're having a 1-vs-1 session in Mortal Kombat, much like we do at the Digit office.
The monitor achieves BenQ's claimed 400 nits brightness for SDR, which is suitable for various environments, including outdoor settings. However, the minimum brightness of around 74 nits may be too high for dark room gameplay. Around 48 cd/m2 is what's bearable for human eyes and is generally what cinema screens meant for dark rooms are calibrated at. With typical IPS panel black levels, the EX270QM delivers a contrast ratio of just over 1,000:1. Also, dynamic dimming is only available for HDR content and not for SDR.
Overall, the BenQ MOBIUZ EX270QM gaming monitor boasts strong video processing performance, clean motion handling, and high colour accuracy. Its 240 Hz refresh rate and off-axis image quality make it a commendable performer. 
Verdict
The BenQ MOBIUZ EX270QM gaming monitor is a solid choice for gamers seeking a combination of performance, build quality, and user-friendly features. Its robust design and attention to high-quality audio solution contribute to an overall satisfying user experience. The monitor's display performance is impressive, with great video processing capabilities, ghost-free motion handling, and a high refresh rate that benefits fast-paced gaming especially since GPUs are more than capable of belting out more than 400-600 FPS with ease. The colour accuracy and off-axis image quality further enhance its appeal.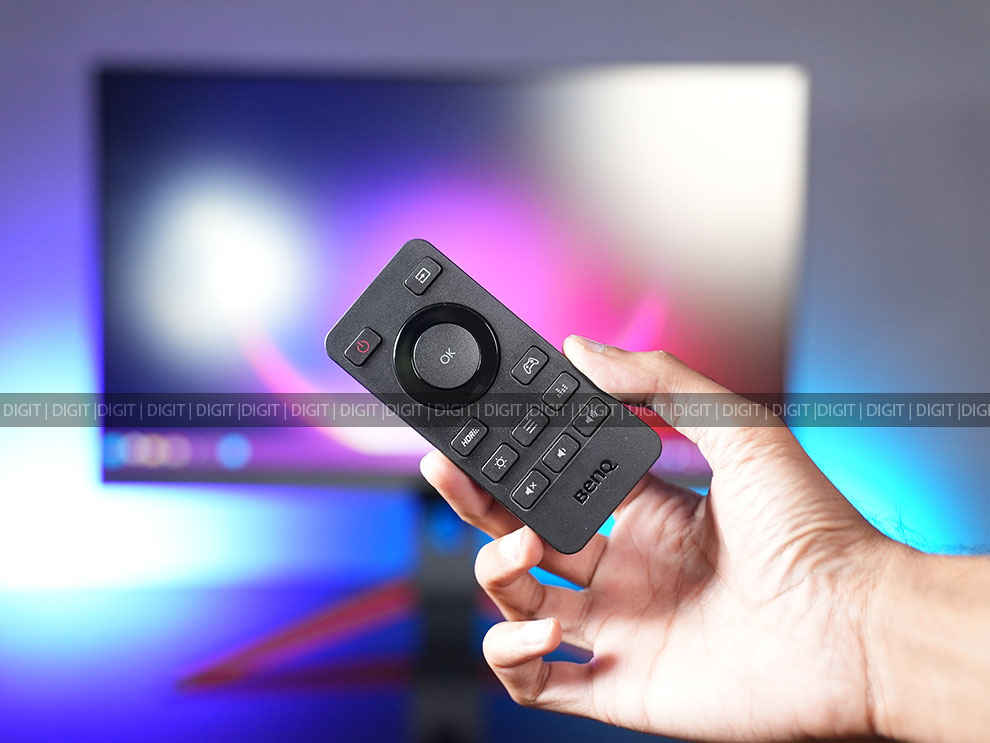 While there are a few minor drawbacks, such as the lack of dynamic dimming for SDR content and relatively high minimum brightness, these issues do not detract significantly from the overall quality of the monitor. The BenQ MOBIUZ EX270QM provides a reliable and enjoyable gaming experience, making it a worthy investment for gamers seeking a combination of performance, aesthetics, and functionality. With its competitive features and performance, the EX270QM has more reasons that make it stand out from the rest. The price is certainly on the higher side but you do get a lot of features for the money. If you're not so interested in the wide set of features and want just a 2K monitor with 240 Hz refresh rate then GIGABYTE M27Q is a great monitor to consider.