Amazing Best of Ryzen and Nvidia combined available in Dhaka, Bangladesh


ASUS' bet for committing to AMD Ryzen 4000 series even for their most unique form factor last year has paid off well. Although our Zephyrus G14 review was marred by a unit that got as hot as a toaster, it was received rather well across the globe. Now, ASUS is doubling down on its bets, giving AMD a significant presence across its entire laptop portfolio. One of them is the e-sports-centric Scar 15, which comes powered by the newest Ryzen 5000 series processors and finally, high-end Nvidia GPUs.
The unit that we received for review is completely decked out, with an AMD Ryzen 9 5900HX, 32GB DDR4 memory, 2TB NVMe storage, and the Nvidia GeForce RTX 3080 with 16GB VRAM. There's also a 1440p 15.6-inch IPS-Level panel, with a refresh rate of 165Hz. On paper, this is a beast of a machine but how does it translate to real-world performance? You could watch the video below or read our essential analysis.
Asus ROG Strix Scar 15 Performance Review
While the specs on the Asus ROG Strix Scar 15 are impressive, of particular note here is the GPU. The Nvidia GeForce RTX 3080 we have here comes with 16GB of GDDR6 memory and a TGP of 115W with an addition 15W of boost. We put it against the MSI GS66 Stealth we have in our labs some months ago to give you a clear picture of where the Scar 15 stands.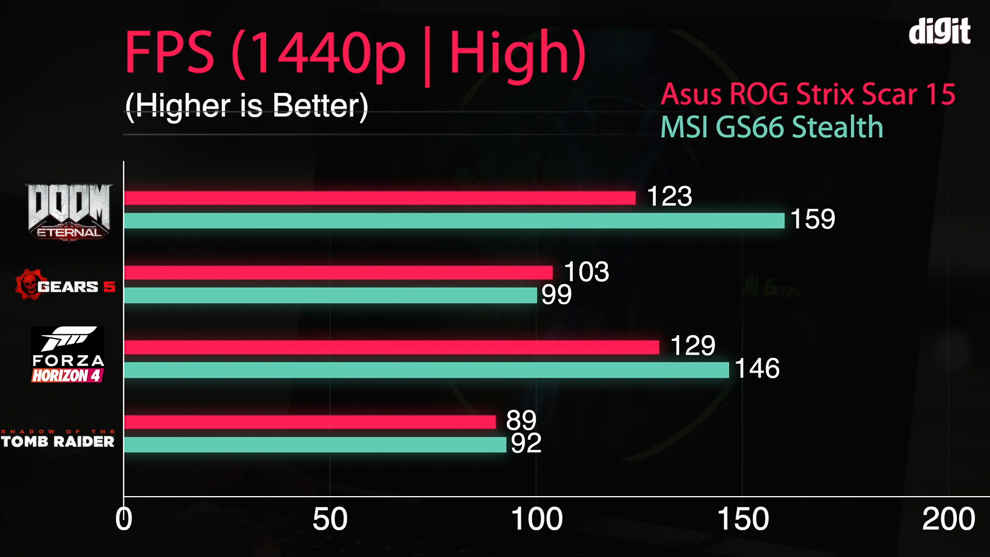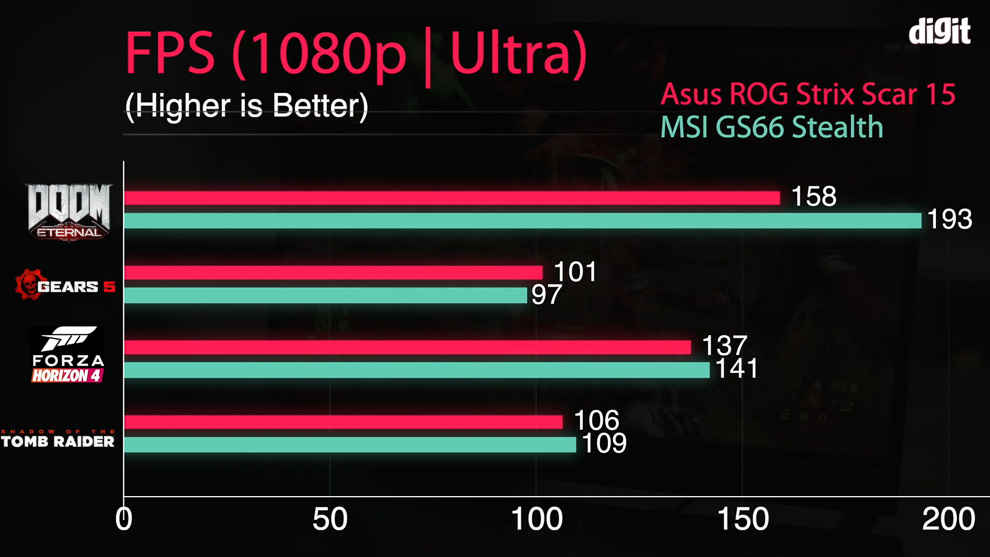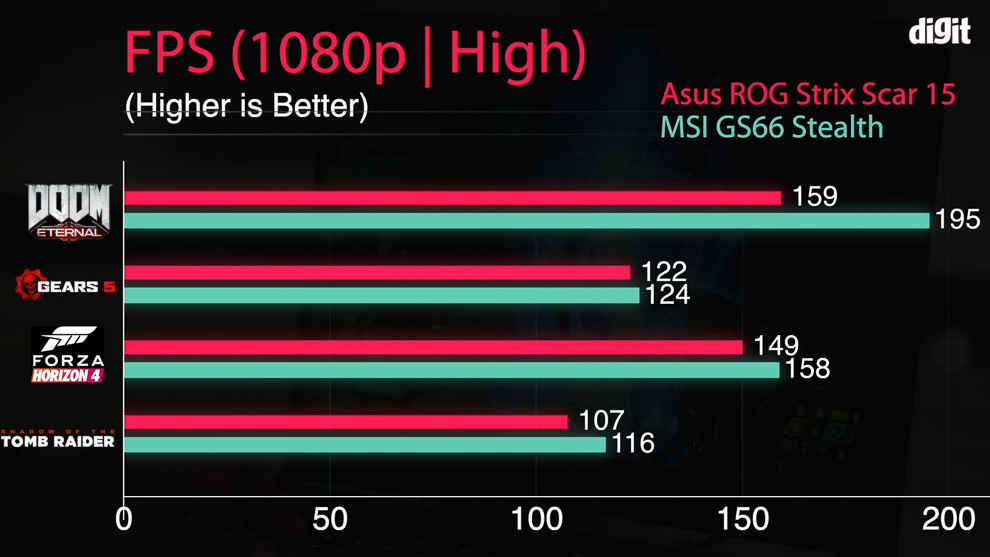 What we find to be rather surprising is that the MSI GS66 Stealth, with its Intel Core i7-10875H processor takes the edge over the Scar 15 in come games, despite having a the same GPU, but with a lower TGP. We also noticed another interesting, but distressing occurrence. In all of our game testing, at both 1440p and 1080p resolutions, we never saw the GPU VRAM usage go over about 8GB. We reached out to Asus to figure out if this was a localized machine-based issue. They investigated our data logs and ran their own tests, concluding that our findings are indeed correct. At the time of testing, no game was able to leverage the massive VRAM pool, which honestly, feels like a waste of resource.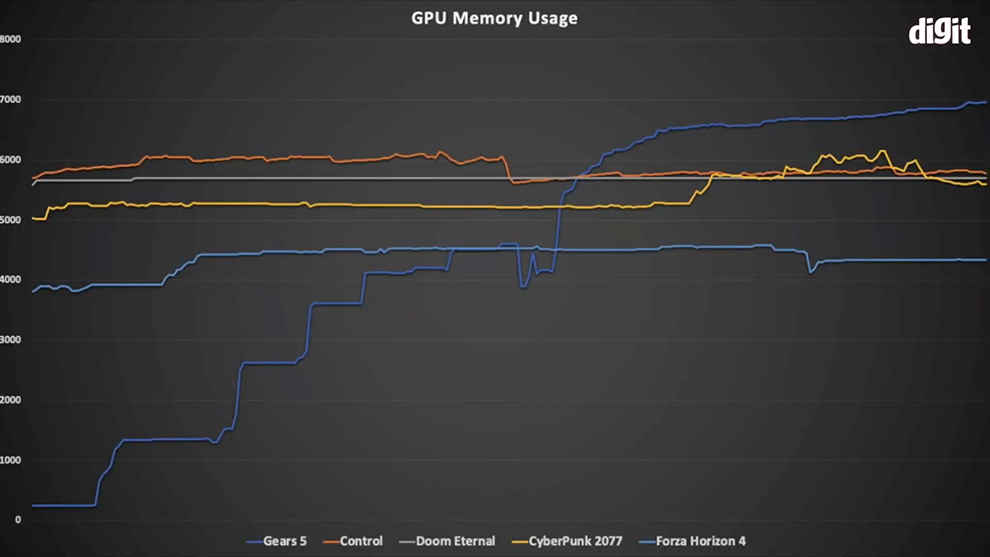 Asus ROG Strix Scar 15 Display Review
The Asus ROG Strix Scar 15 comes with an IPS-Level display with Asus claiming 100 percent DCI-P3 coverage. Our analysis of the panel right out of the camera reveals that the panel has 96.1 percent DCI-P3 coverage, which isn't bad. The display showed a peak brightness of 333 nits, but a black luminance level of just 0.35 nits, yielding a contrast ratio of 935:1, which isn't bad by any means for an IPS display. However, where the display falters really bad is the out-of-the-box calibration. It has a very strong blue-boas, with an average colour temperature of 7558K, and extremely poor Gamma tracking. Our ColourCheckr analysis also reveals an average DeltaE of 4.7 and a maximum error of 9.5. Pretty much all the colours on the gamut are shifted by a notable marging, except a few shades of light blue. We tried calibrating the display a number of times, but didn't get a much different result, leading us to believe that this is not the right panel for content creators or anyone wanting to do colour-sensitive work. This is a real pity because the 16GB VRAM on the Nvidia RTX 3080 could have easily been leveraged by content creators, but due to the panel's poor accuracy, its not something we recommend.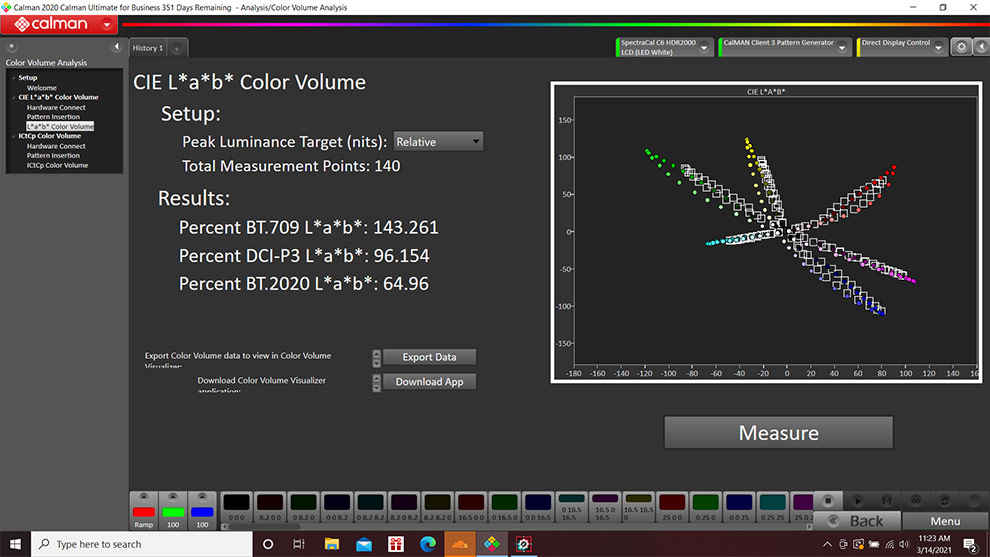 Calman Analysis for Colour Gamut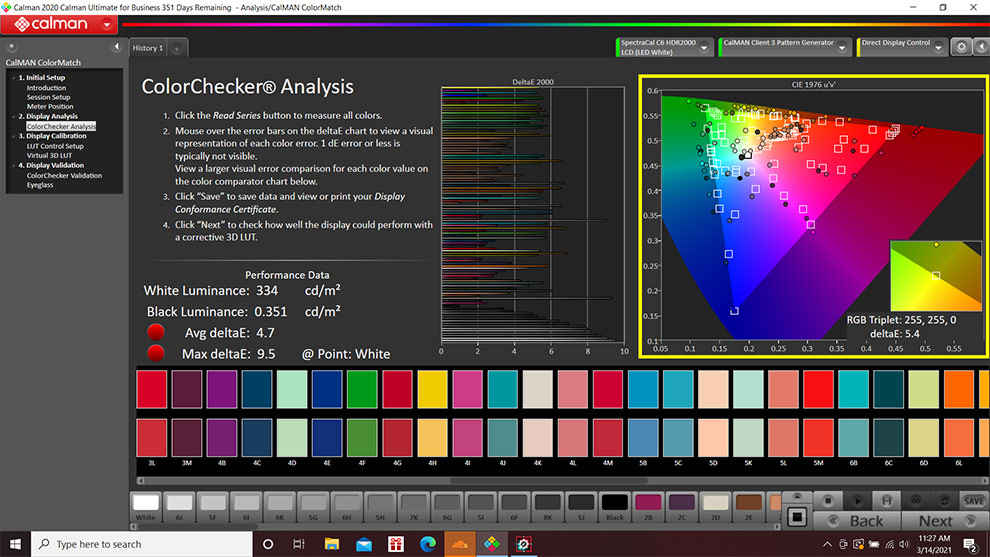 Calman Analysis for Colour Accuracy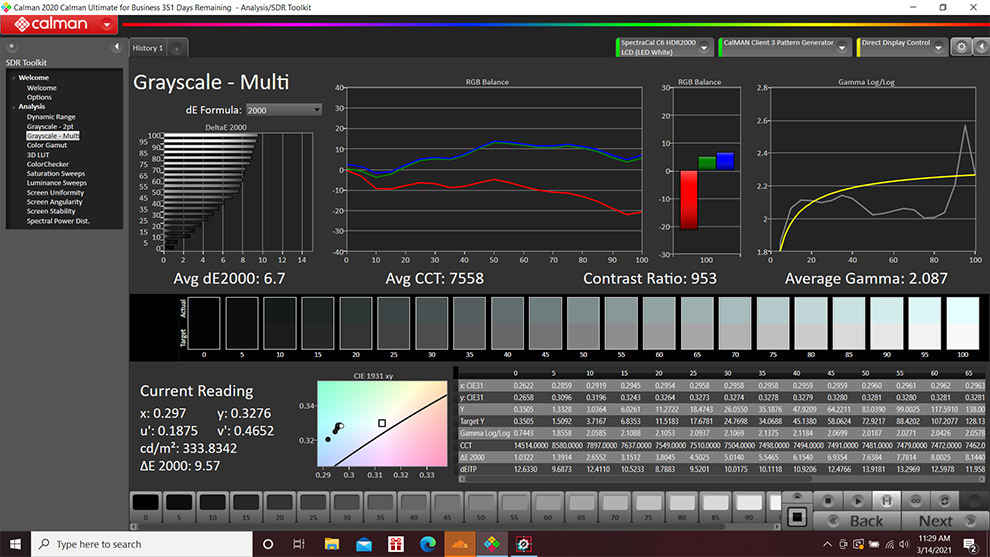 Calman Analysis for greyscale and gamma tracking
Asus ROG Strix Scar 15 Thermals
It is no secret that the Scar series is some of the most robustly cooled machines in Asus's portfolio. These have to be well cooled since they're aimed at e-sports players, who cannot be bogged down by any kind of throttling. And this is where the Scar 15 gives mixed results. In all our testing, neither the Ryzen 9 5900HX nor the Nvidia GeForce RTX 3080 throttle, but the Ryzen 9 chip did hover around the 98-101 degree Celsius range for a large duration of our gaming sessions. Surface temperatures, however, were a little bit more of a concern. The area just above the keyboard registered 48 degrees while the center of the keyboard recorded a temperature of 46.4 degrees C. Perhaps the most concerning was the 41.8-degree on the WASD keys.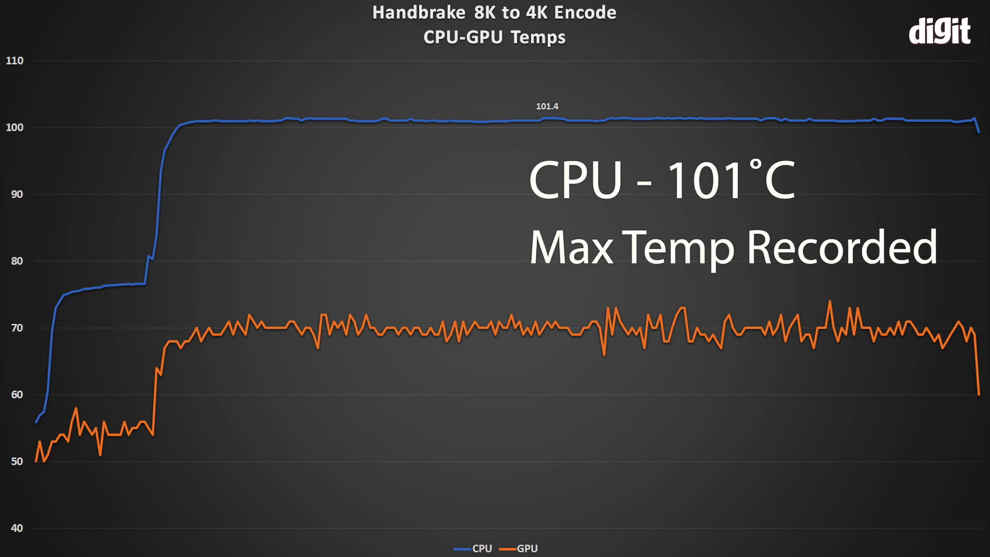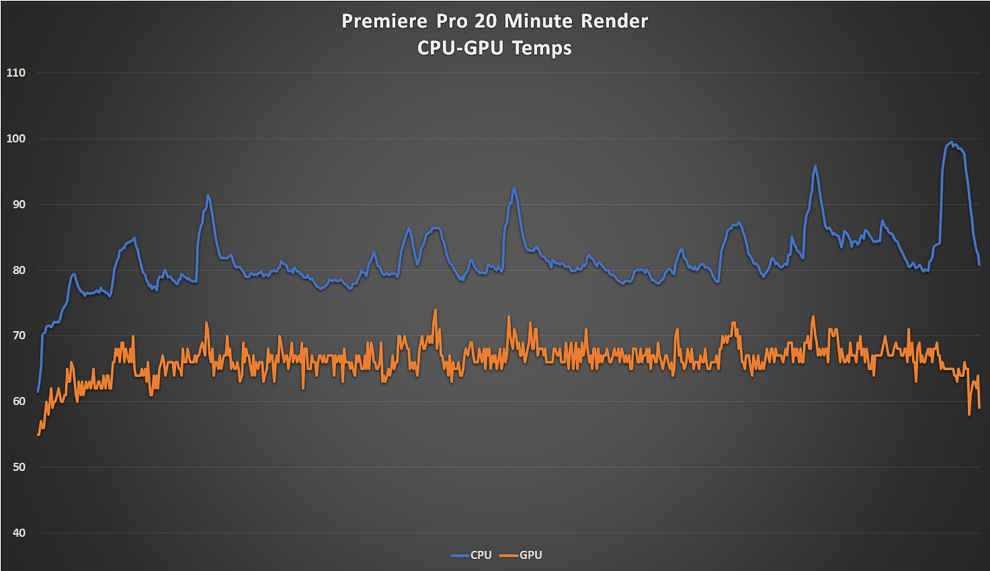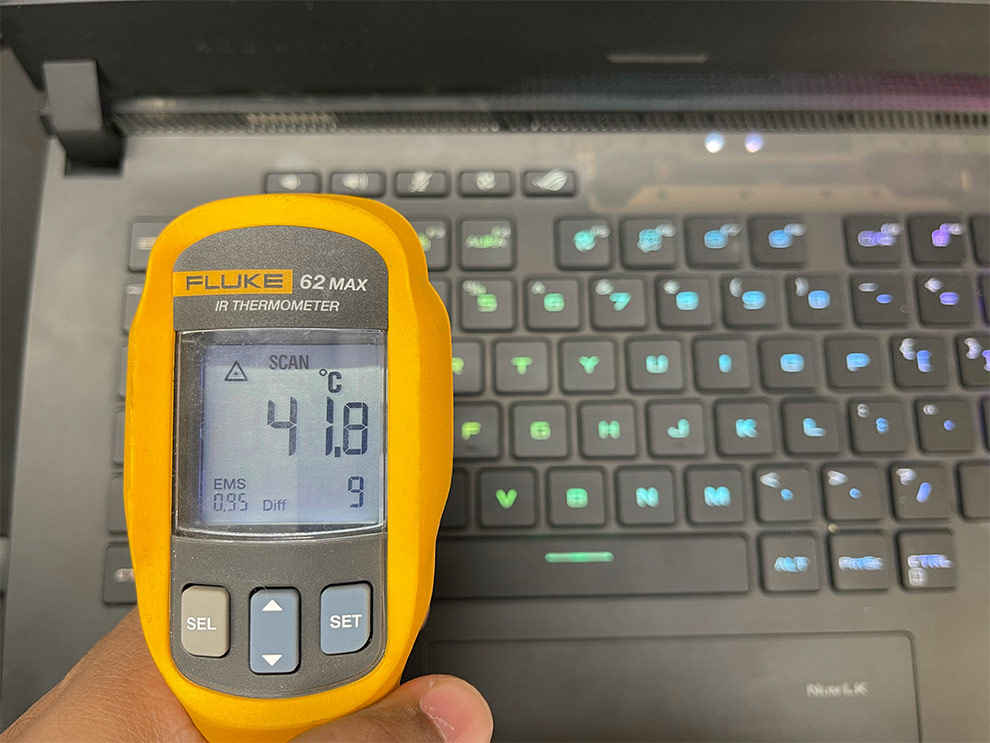 Conclusion
The Asus ROG Strix Scar 15 is an impressive spec'd laptop and the top-tier variant that we've reviewed here definitely sheds a light on the future of portable gaming. The proliferation of high-resolution high-refresh-rate displays is definitely commendable. The Asus ROG Strix Scar 15 packs the AMD Ryzen 9 5900HX, a beefy 8-core 16 thread processor that's bound to find favours with anyone who needs peak performance. However, what was sorely disappointing was no game being able to take full advantage of the 16GB VRAM on the Nvidia GeForce RTX 3080. Hopefully, this would change in the future, but for now, it is what it is. The display, while impressive for gaming, has very poor colour accuracy and no way to switch between the DCI-P3 and sRGB colour spaces, making colour management for colour sensitive tasks a no-go.