Amazing Big Form Factor, Big Screen, Big Price Tag available in Dhaka, Bangladesh


I often find it difficult to review laptops that exist alone in their categories and the Samsung Galaxy Book3 Pro 360 is one such device. It is a 16-inch thin and light laptop which also has a 360-degree hinge and is focused on productivity. It feels like Samsung has very cleverly added these features to the Galaxy Book3 Pro 360 to keep it distinct from the competition's wrath. If the device had no touchscreen it'd have competed directly with LG Gram 16 or 17. If it had an Intel H series processor and an external GPU, like its older brother the Book 3Pro Ultra, then its comparison with the 16-inch Macbook Pro was also a surety. So what is the Samsung Galaxy Book3 Pro 360 all about and more importantly, who is it for? 
Specifications
Processor – Intel 13th Gen Core i7-1360P featuring 12 cores (4-Performance cores, 8-Efficiency cores) with 5.00GHz Max Turbo frequency. 

Graphics – Intel Iris Xe Graphics chip featuring 96 Execution Units running at 1.50GHz Max Dynamic frequency

Memory – 16GB LPDDR5 RAM Running in Quad-Channel mode at 6400MHz

Display – 16-inch WQXGA+ AMOLED Display with touch features

Storage – 1TB PCIe Gen 4 M.2 SSD

Battery – 76Wh
Design And Build Quality
The Galaxy Book3 Pro 360 seems to take design inspiration from a couple of its competitors. The thin 16:10 aspect ratio seems reminiscent of the LG Gram 16. Meanwhile, the 2-in-1 touchscreen display with a 360-degree hinge is similar to what you'd find on a similarly sized gaming laptop, the ASUS ROG Flow X16. To say the designers of this laptop went wild with this laptop seems accurate. But overall, these familiar design tropes come together to create something never before seen, at least in this form factor and price range. 
Samsung has used a magnesium alloy lid for the laptop and when you also factor in the weight of the touch panel, its total weight becomes quite significant. And yet the laptop's base still manages to feel equally weighted, which is a good design feature. The lid does not wobble and you can participate in a furious typing session with the laptop on your lap. Overall the laptop's lid is very solid and combined with a strong hinge it stays in place quite firmly. However, you will see some flex near the lower middle portion of the screen. But I think that is more due to the building material in use as opposed to any negligence in construction. 
The laptop's build quality is solid overall but there are some areas where you'll likely see some flex. For instance, press just below the keyboard and you'll encounter a bit of wobble but overall it's manageable. Also take into consideration that the deck is made out of a different material but also has a matte finish, just to keep it coherent with the laptop's overall theme. It is smudge-resistant but something greasy will end up leaving a stain. But that's more of a colour issue because dark grey-coloured devices tend to show fingerprints relatively more than other shades. 
The two Thunderbolt 4 ports on the left side are spaced enough for you to use them at the same time and the same is true for the HDMI port placed adjacent to these two as well. Likewise, the inclusion of an SD card slot, a USB Type-A port and a 3.5 audio jack is also pretty useful.
Keyboard And Trackpad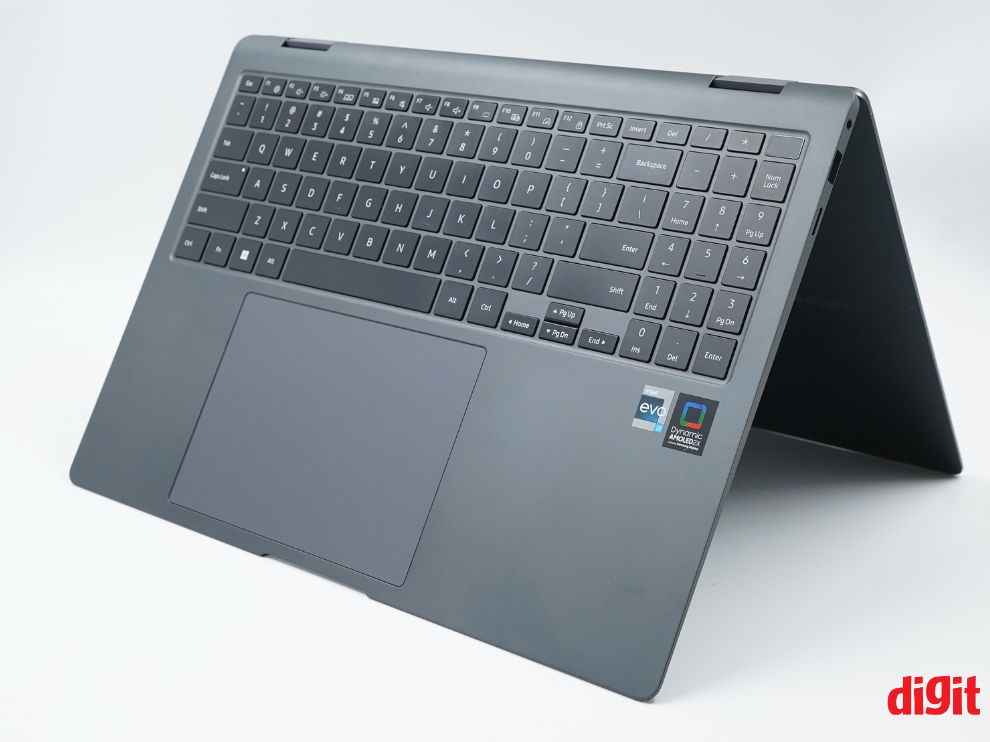 The Samsung Galaxy3 Pro 360 features a full-sized keyboard complete with a Numpad. The keys are not very clicky in the sense that they have less travel. Moreover, they are geared towards productivity and will remind you of a MacBook's keyboard. It's not a complaint though as it clearly defines this laptop's niche and what its best use is. 
The touchpad also showcases some really appreciated improvements since the last generation. Including but not limited to a 39% increase in size when compared to its predecessor, the Galaxy Book2 Pro 360. The touchpad still includes no buttons and the left and right clicks continue to function as the previous generation. For the uninitiated, this laptop series' touchpads have continued to retain a smooth finish to them and even in the latest generation register movements and clicks very precisely. 
One really clever design change in the Samsung Galaxy3 Pro 360 pertains to the touchpad's new position. It is placed ever so slightly to the left, which prevents your palm from touching the trackpad, well mostly. It is an issue which is prevalent in quite a few laptops and Samsung's new design change is very much appreciated here. 
Screen And Speakers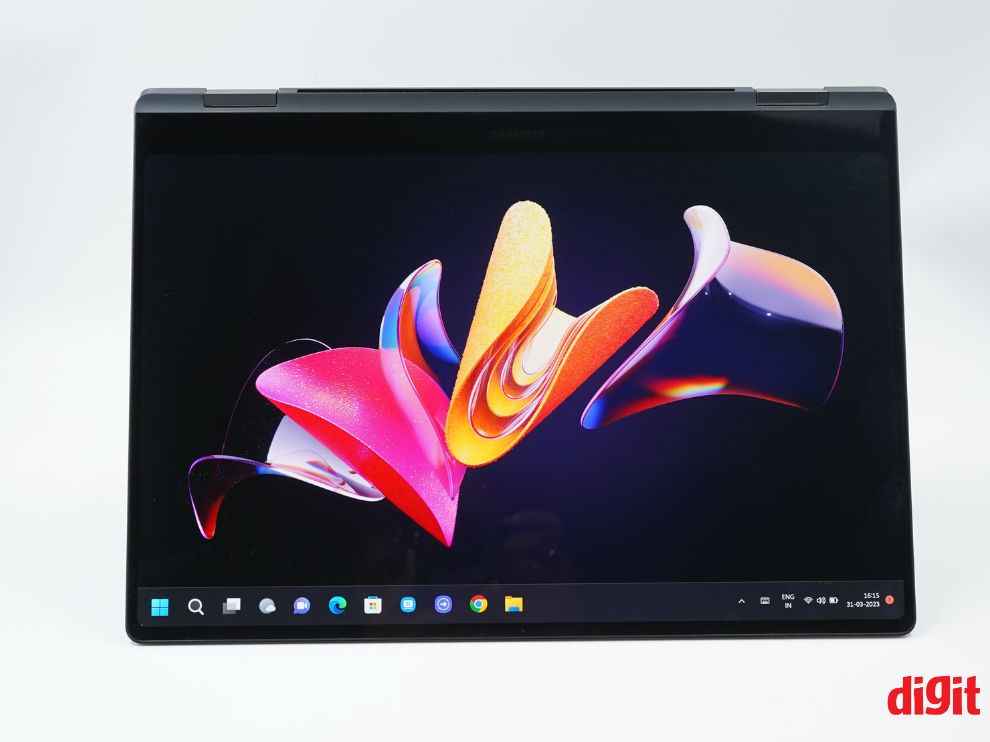 One of the main highlights of the Samsung Galaxy3 Pro 360, that name is becoming a mouthful at his point, is its screen. And full disclosure, I like the WUXGA+ displays. As a refresher, WUXGA stands for Widescreen Ultra Extended Graphics Array. It simply means that the screen on this laptop has more height than conventional displays that are locked in a 16:9 aspect ratio format. In layman's terms, WUXGA means that a screen has a 16:10 aspect ratio and the "+" sign means that the pixel resolution is much higher than 1080p. For instance, the screen on the Samsung Galaxy3 Pro 360 has a maximum resolution of 2880 X 1800 pixels, which is also known as a 3K display resolution.
In terms of specifications, the screen supports two refresh rates – 60Hz and 120Hz. I personally like the fact that switching between them is easy and you can do so without restarting your laptop. Because in several gaming laptops, you have to restart your system in order for the effect to take place. In terms of colour volume though, we found the maximum DCI-P3 colour volume to be around 115% in the CIE l*a*b testing as well. 
Factory-calibrated colour profiles from Samsung are another really cool thing this laptop has. For instance, you can set your screen in the DCI-P3 profile if you wish to perform professional-grade colour correction or video editing or any other task which requires high colour accuracy. We tested the Colour accuracy in the DCI-P3 profile and found the average Delta E value to be 2.7 and a maximum Delta E value to be 5, which is really good for a laptop display. The maximum Delta E seems a bit high mainly because of the colours in the blue shades.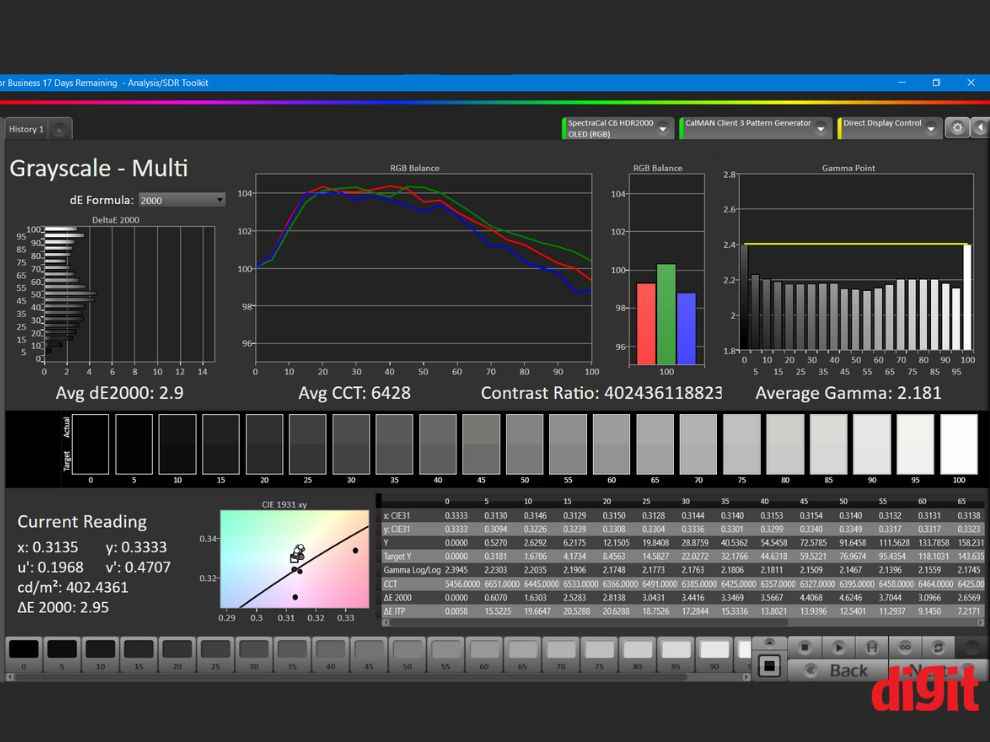 Samsung has also baked five more colour profiles including – sRGB, Adobe RGB, OLED display standard and lastly a normal AMOLED profile into the laptop. We tested the colour gamut coverage in the DCI-P3 and sRGB colour space, which are mostly primarily used, and found them to be 100% in both cases. Additionally, the Greyscale Delta E value and the RGB balance as well in both colour spaces were at optimum levels. The RGB balance in the grey scale of the display is also very good in both of these colour spaces. Meanwhile, the speakers are downwards facing and they do sound loud as long as they're kept on a table or any flat surface. However, keep the laptop on the bed and the speaker's volume decreases significantly. Moreover, they lack base and although the sound is pretty clear the overall quality of the audio could have been a bit better.
Performance And Battery Life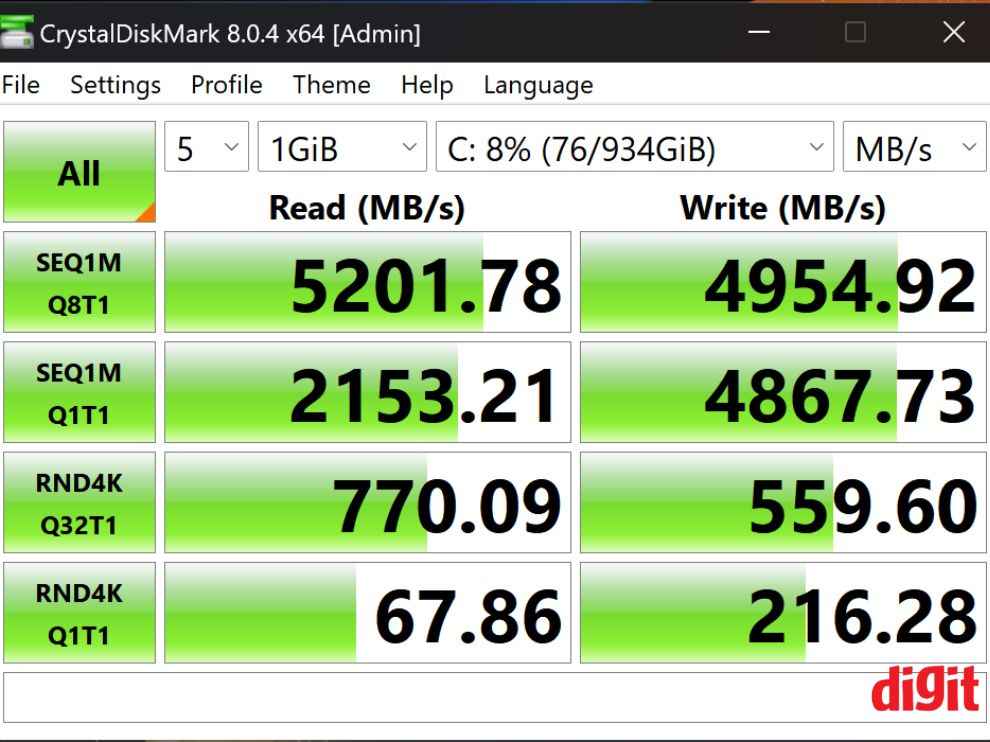 The Galaxy Book3 Pro 360 uses the Intel 13th Gen Evo Core i7-1360P processor and it is a great choice for the kind of workload this laptop is made to handle. The EVO tag officially means that this laptop can give a tested battery life of 9.5 hours. Of course, this laptop can give a battery backup that long but in real-world conditions, the number comes down between 7.5 to 8 hours. And in our benchmark test, we found the figure to be 9 hours and 20 minutes with some tweaks to the brightness and battery performance settings. Windows 11 is also partially to blame here as it really is not good at battery optimization. The performance of the 1TB SSD onboard is also quite good, delivering a 5201 MB/s read speed and a 4954.92 MB/s write speed.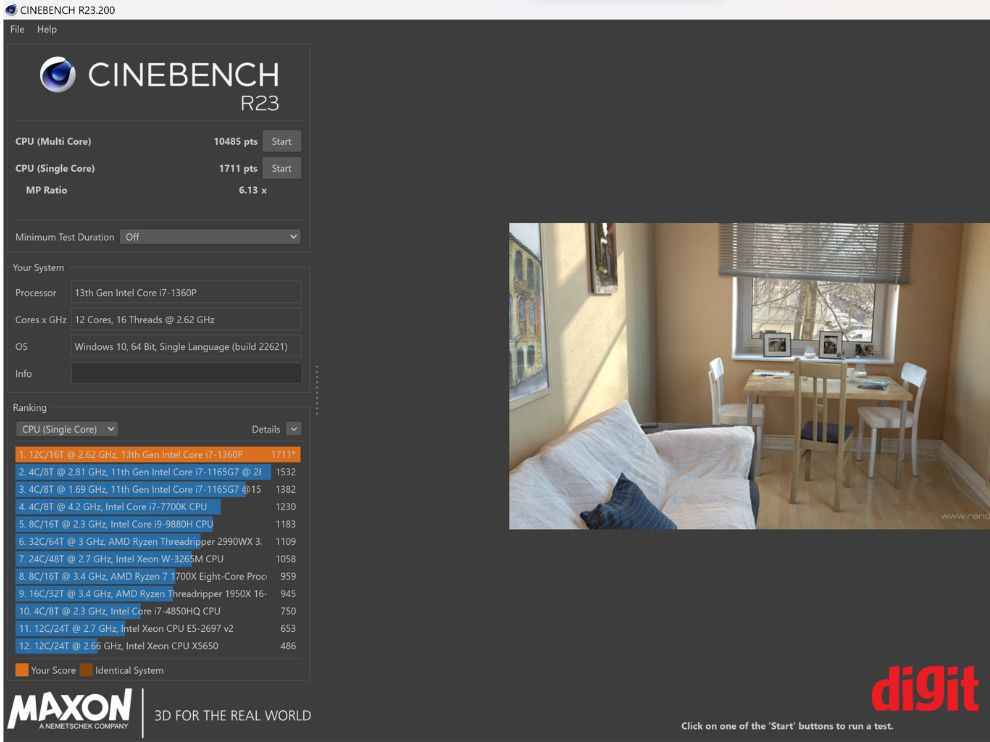 In terms of sheer performance, this laptop holds its ground well, to say the least. In the Cinebench R23 benchmark, the laptop scored 10485 in the multicore score and 1711 in the single-core test. And when you perform the same test to check the laptop's sustained performance, the multicore score drops to 8140 and the single core score more or less remains the same. During an in-depth look at the chip's performance, I found that it is primarily focused to deliver efficiency. The fan noise is kept to a minimum at room temperature and with the laptop running in high-performance mode, the fans rarely become audile under most normal use conditions.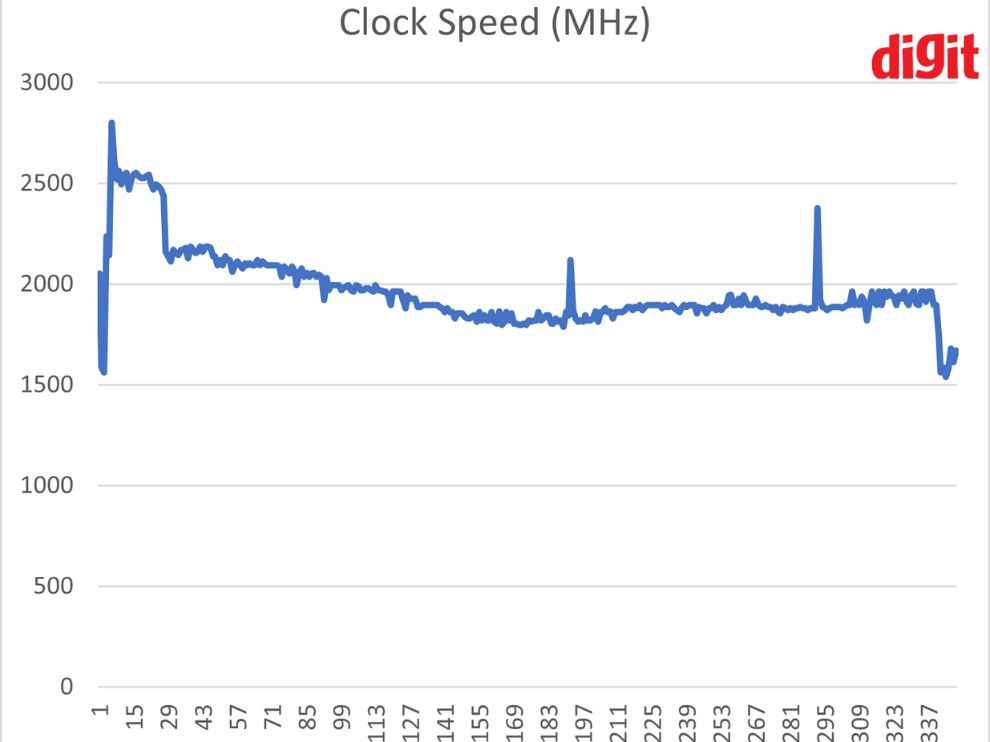 The maximum CPU package power consumed during a Cinebench R23 run came out to be around 33W. Moreover, the CPU package temperature also remains below 85°C, which also helps in keeping the surface temperature down. The processor's average clock speed remains between 2.5 to 2.1GHz. So simply put, the processor is limiting its power draw and therefore its performance in this case. Still, the overall performance it does end up delivering is more than enough for most productivity tasks like browsing the internet, editing documents and more. ​The laptop scored around 5400 in the PC Mark 10 Extended test, which extensively tests a device's productivity, digital content creation and gaming capabilities. The laptop scored specifically high in the photo editing test, video conferencing and web browsing test. The laptop scored decently in gaming and overall Digital content creation due to a processor which is primarily focused on efficiency and the lack of a dedicated GPU.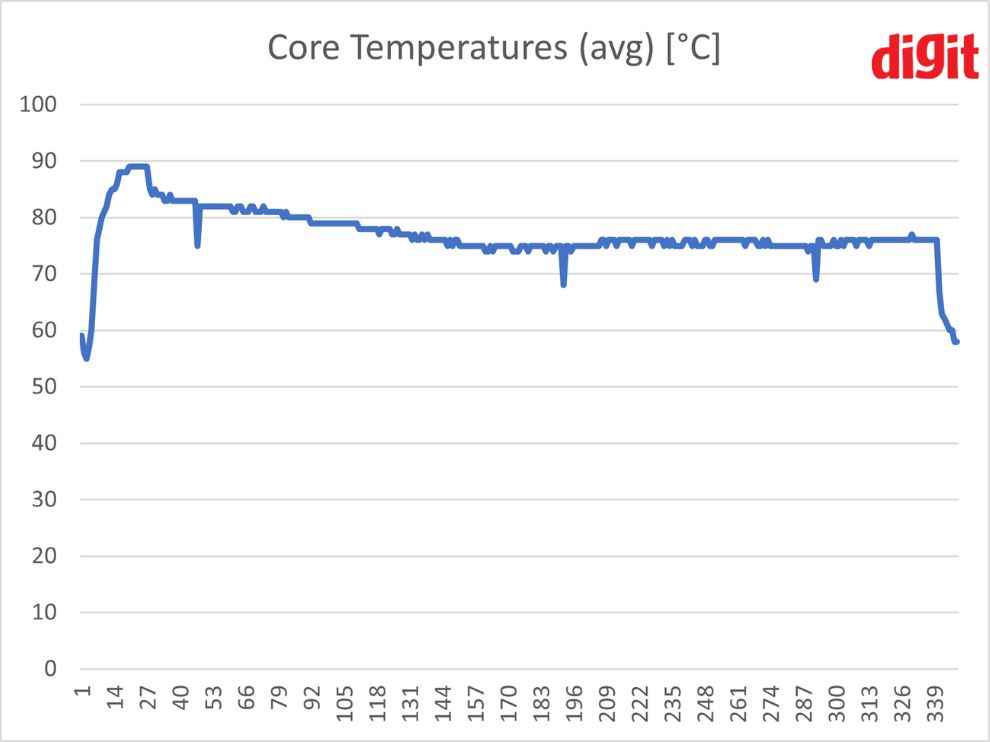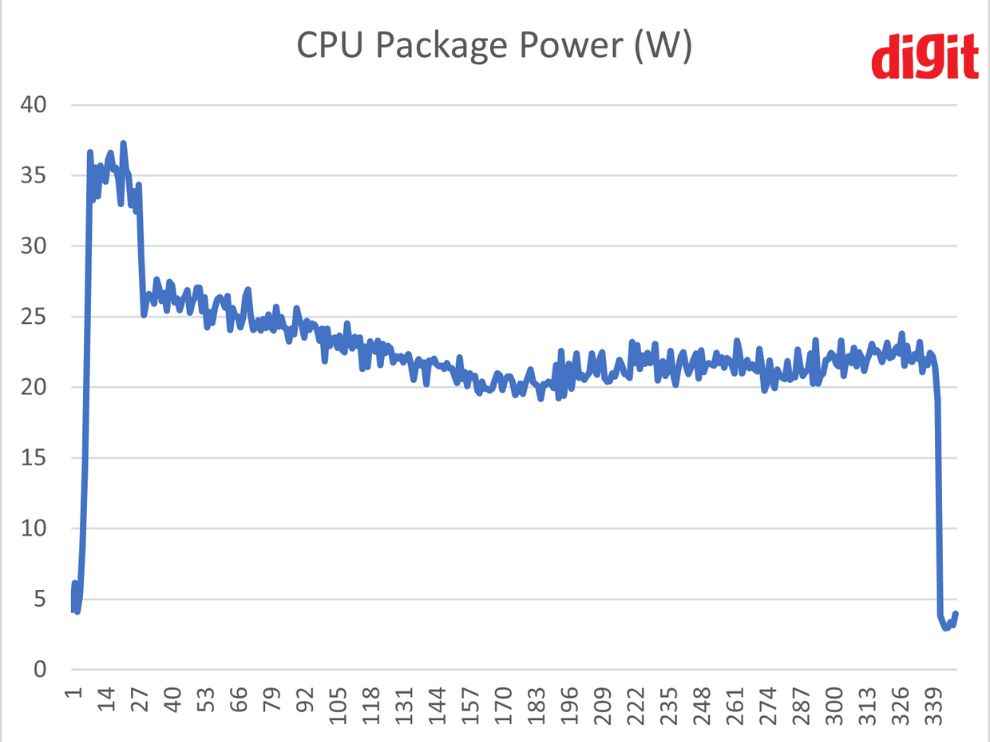 Touch Display Performance
There are things that aid the Book3 Pro 360's touchscreen and some other features that are not in its favour as well. Firstly, the option to switch between the 120Hz and 60Hz refresh rates is very appreciated. A more responsive screen feels easier to draw on. Secondly, the screen's overall brightness and vividness are also sure to bring to life whatever you choose to draw on it. 
With that said, the absence of palm detection is something which professional artists will likely feel missing. Moreover, the Samsung S Pen, a perfectly apt device in itself, is not as comparable to something like an Apple Pencil. Provided there is no other 2-in-1 laptop with this level of capability but with a price tag as high as this computer has a comparison of all of its capabilities to devices that do them best is sure to happen at one point or another. The 360-degree hinge allows you to draw economically and the solid hinge movement only makes this feature even better. So overall, the touch capabilities of the Samsung Book3 Pro 360 are good for a laptop but not comparable to a primarily touch-based device like a tablet. 
Verdict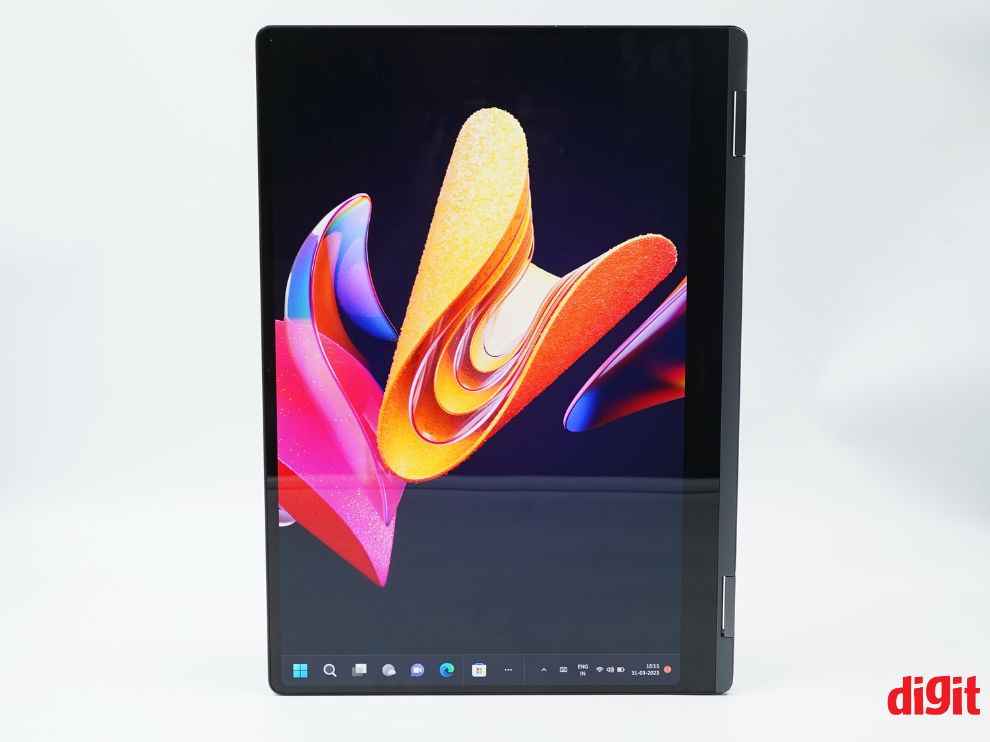 The Samsung Book3 Pro 360 proves itself to be a premium 2-in-1 thin and light Windows laptop. It is well-built thanks to the Magnesium alloy chassis but because the laptop is so thin it can't be described as rock solid. The keyboard and trackpad work very together in beautiful sync and the subtle redesign of the touchpad takes the ergonomics of the laptop to a new level. The 2-in-1 WGXGA+ 120Hz display offers more than 400 nits of brightness and colour-accurate colours in different popular colour spaces, thus making it ideal for content consumption and professional-grade creation. 
Speaking of content creation, the Intel Core i7-1360P features 12 cores in total, four of which are performance cores and 8 of which are geared towards efficiency essentially making this laptop suited for the latter. The four high-speed performance cores offer good performance for photo editing, internet browsing, document editing and other productivity tasks but not enough for demanding tasks like video editing or 3D animation. Additionally, the high battery life further ultimately gives this laptop a work and entertainment-focused characteristic instead of a performance powerhouse. 
Lastly, the inclusion of two thunderbolt ports, an HDMI slot, an SD card slot, a USB Type-A port and a 3.5mm jack is proof that laptops with a thin profile can still offer a variety of ports to make users' life easier. Go for the Samsung Book3 Pro 360 for its high battery life, great keyboard combination, high battery life and colour-accurate and vivid display. It is currently priced at Rs 1.79 lakh on the Samsung store for the Core i7-1360P, 16GB LPDDR5 RAM variant.