Awesome Comfort and quality at a budget available in Dhaka, Bangladesh


Verdict
The Corsair HS65 Surround features great build quality, comfort, an attractive and minimalistic design, and most importantly also delivers when it comes to audio performance. The 7.1 surround sound performs admirably, and it has a good overall sound profile with decent bass that doesn't drown out the mids and highs.
Corsair HS65 Surround detailed review
The Corsair HS65 Surround is a new mid-range gaming headset offering from Corsair that is a direct improvement over its predecessor, the Corsair HS60 Pro Surround. The Corsair HS65 improves on the HS60 in just about every aspect, from build quality, to comfort, and most importantly, sound quality. It also comes with a few more features, such as custom SoundID, which we'll get to in the review.
Corsair HS65 Surround: Specs at a glance
Driver Type: 50mm Neodymium

Impedance: 32 Ohms @ 1 kHz

Frequency Response: 20Hz – 20 kHz

Design Style: Closed-back

Microphone Type: Omni-directional boom

Connectivity: USB 2.0, 3.5mm

Weight: 282g

Cord Length: 1.8 m

Software: Corsair iCUE 4
Corsair HS65 Surround: Build and design
The HS65 Surround has great build quality. It uses solid aluminium for the headband and ear cup mounts. The headset features matte white plastic ear cups, with a metal grille design in the middle, which also houses the Corsair logo. There are two colour variants for the HS65 Surround, White and Black. We got the white and grey variant. There's Corsair branding on the top of the matte white headband as well. Overall, the design looks pretty premium and classy; it doesn't scream gamer but there's just enough that you know this is a gaming headset.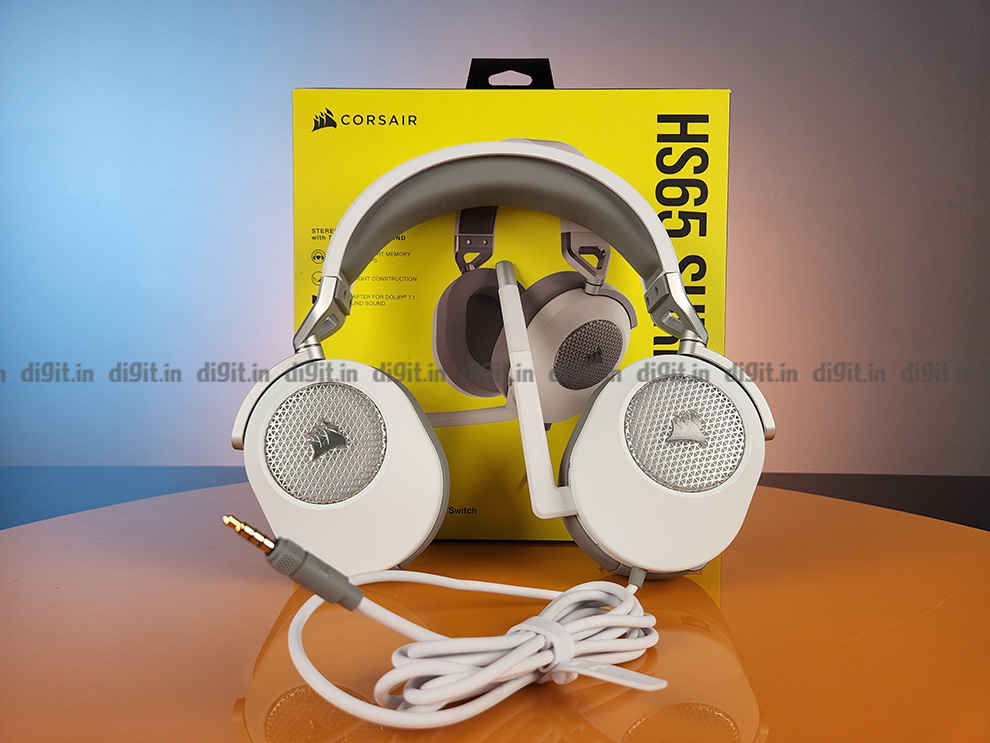 We've got some really comfortable memory foam earcups on the Corsair HS65 Surround, with cloth on the surface of the earcups, i.e., the parts that touch your head and ears, and protein leather on the edges of the earcups. This mix between leather and cloth helps keep it from getting too hot over long gaming sessions (as compared to full leather earcups) while also providing better isolation than full fabric earcups. The same thick memory foam is also present under the headband, on the part which rests on your head. Overall, we have no complaints in the comfort department.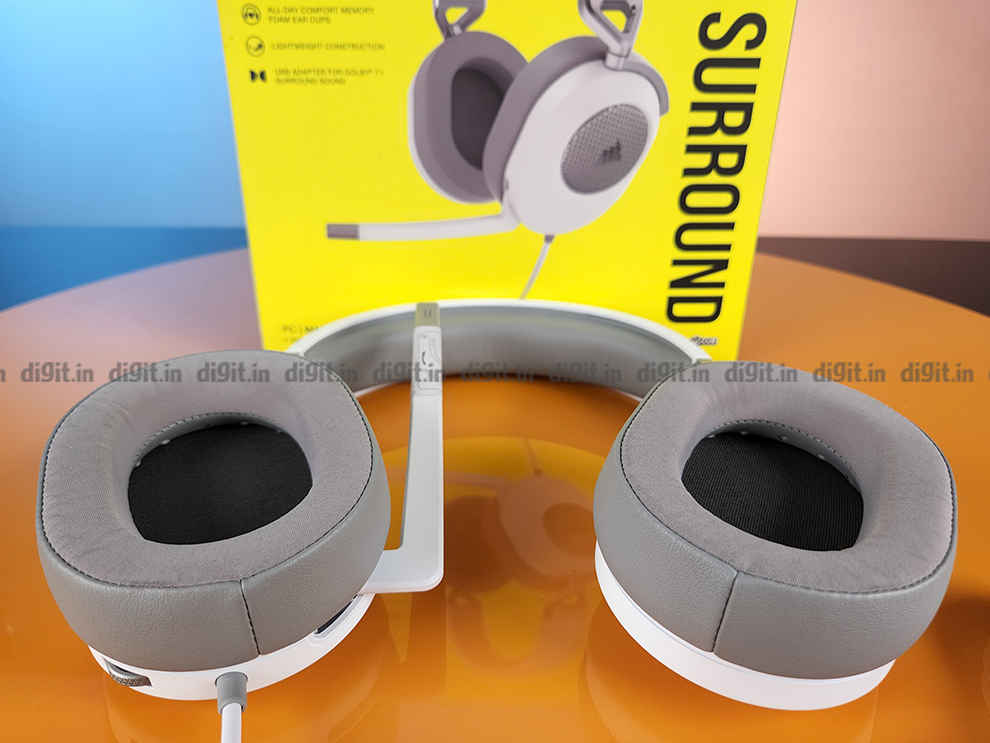 The headphones weigh 282 g, which isn't too light or too heavy. The headphones sit pretty snugly on your head, with very little budget, thanks to the powerful clamping force on the aluminium headband. Too powerful at times even, to the point where these headphones might be too tight a fit for people with large heads.
For on-ear controls, you have a single volume dial behind the left earcup. They've done away with the mute button entirely in favour of a flip-to-mute microphone. Excellent. We've said it before, we'll say it again, flip-to-mute is the best to mute and unmute microphones.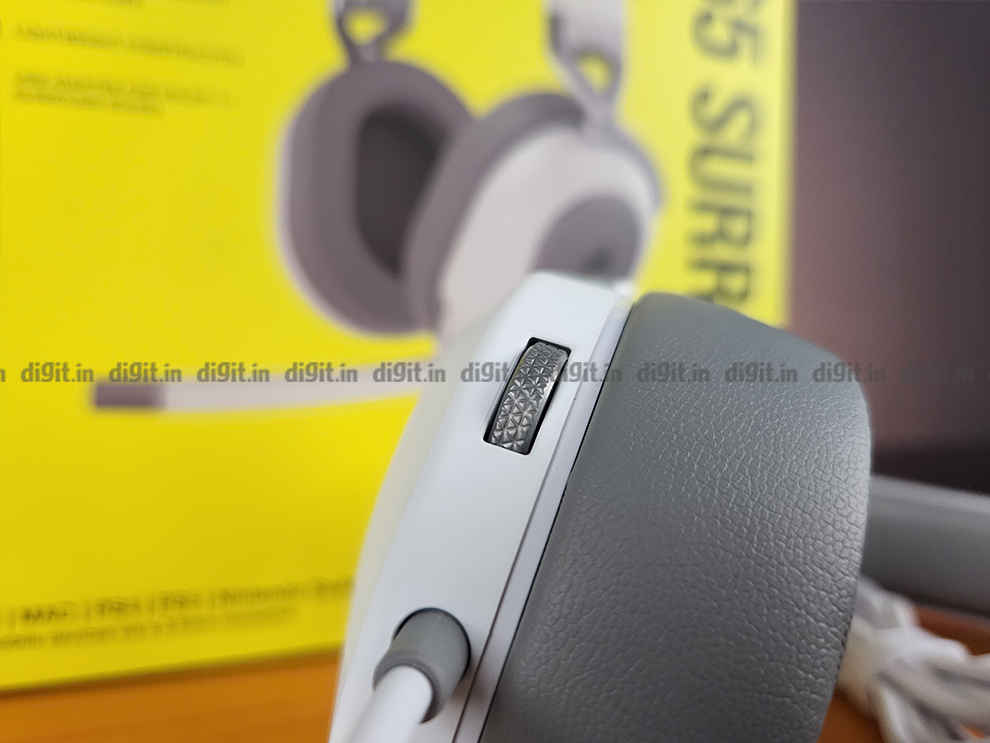 The device comes with a USB-A dongle, which you'll need in order to use Dolby Surround Sound capabilities. However, there's no surround sound toggle on the earcups or on the dongle, the only way to do so is via the iCUE software, or through Windows if you're using Windows Sonic or DTS.
Corsair HS65 Surround: Performance
By default, the Corsair HS65 Surround supports stereo audio. When used with the provided USB Dongle, you also have access to Dolby Surround sound. Additionally, via iCUE you have customisable EQ which is always a plus. Keep in mind that all these features are only available to you if you use the USB dongle. However, the fact that it can be used via the 3.5mm plug opens up many options; you can use these with your smartphones and other consoles as well, effectively making these a pair of cross-platform gaming headphones.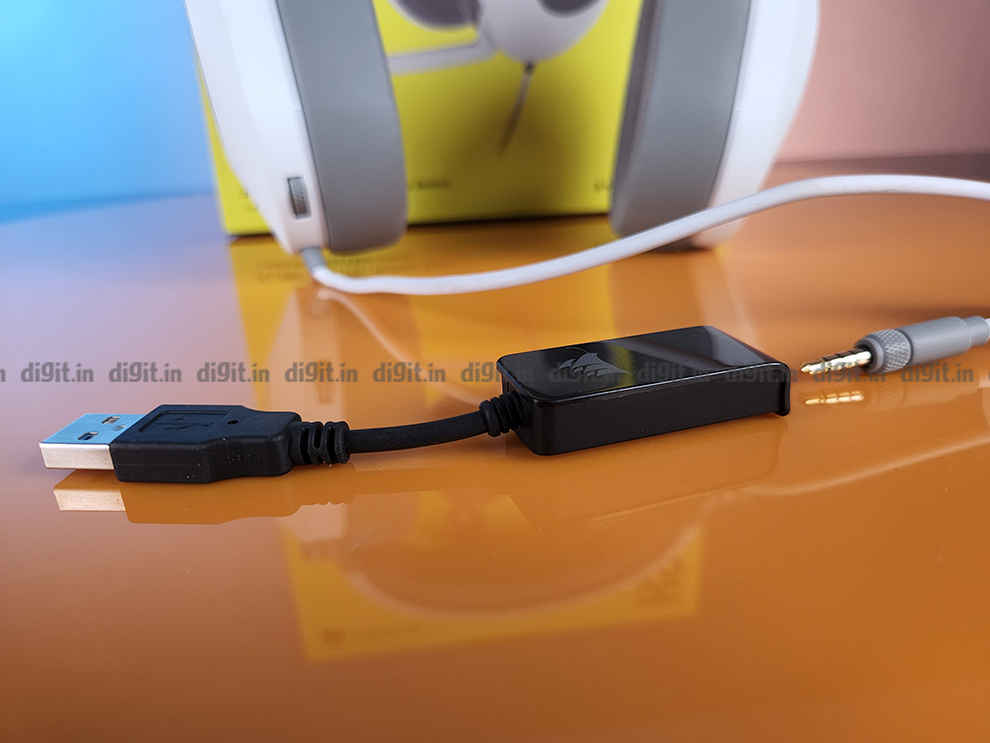 Coming to the audio performance, we found it to be pretty good overall, especially at this budget. The EQ defaults to Pure Direct by default; the audio is more flat in this preset. However, tweaking the EQ can make a world of a difference. There are five preset EQ settings to choose from, and for most, those should more than suffice. However, you're more than welcome to tweak the EQ to your preferences. The HS65 is powered by 50mm neodymium drivers, which do a great job with the lows without losing out on the details of the mids and highs. While gaming, you'll be able to enjoy the explosive carnage going on around you without needing to sacrifice on the more minute details such as voices and more importantly, footsteps.
Speaking of footsteps, with 7.1 surround sound enabled, we found that we were able to get good positional awareness while in game, having little to no trouble discerning where the sounds of footsteps or shots were coming from. We've also got a pretty expansive sound stage on these cans.
Even when it comes to music, while these are gaming-first headphones, they perform admirably. Even at high volumes. Speaking of which, the volume can get pretty loud, and there is slight distortion when the volume is at its highest. However, most people will not (and shouldn't) be listening to anything at that level of loudness.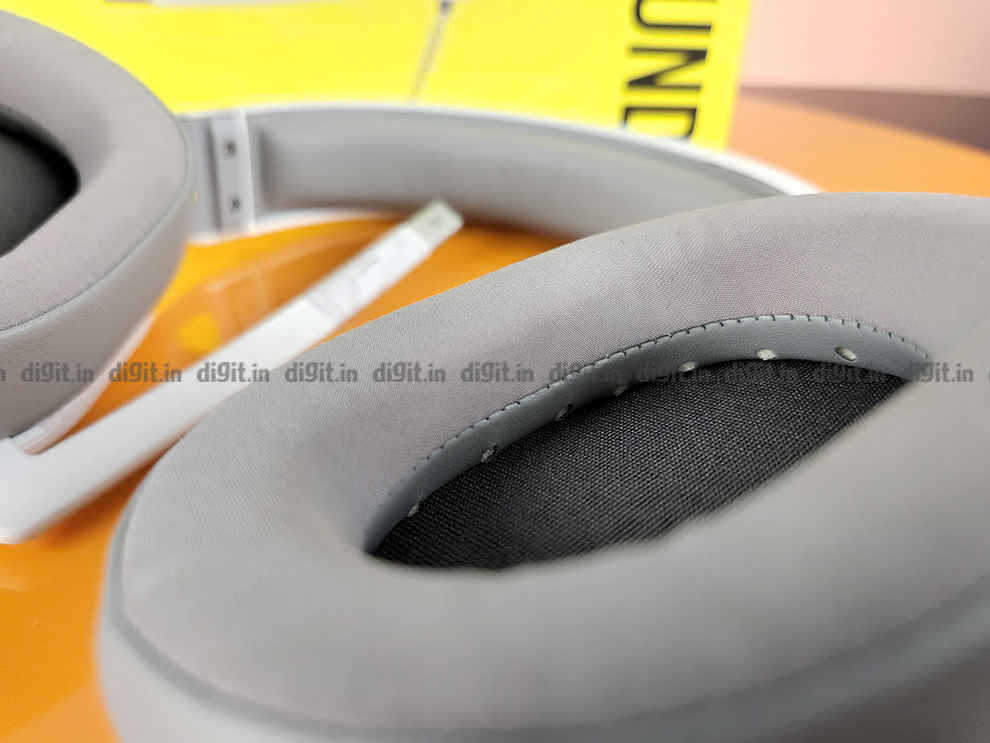 The Discord certified omni-directional microphone on the Corsair HS65 is also excellent. It has great clarity, voice is clear and there's no distortion. It also does a great job of cancelling background noises. The hum of the AC, sounds of traffic, construction etc, nothing gets through. We even clapped right in front of the mic and it didn't pick that up. However, it picks up voices really well. A bit too well in fact. If there are any other people speaking in the same room as you, the microphone will pick up their voices as well. So this can get a bit annoying. Other than that, we have no complaints with the mic on the Corsair HS65.
Corsair HS65 Surround: Features
The Corsair HS65 Surround can be used out of the box as a simple plug and play device. However, like you mentioned you will need the Corsair iCUE software in order to use Surround sound, create custom SoundID profiles, and adjust the EQ. There's no lighting on these headphones.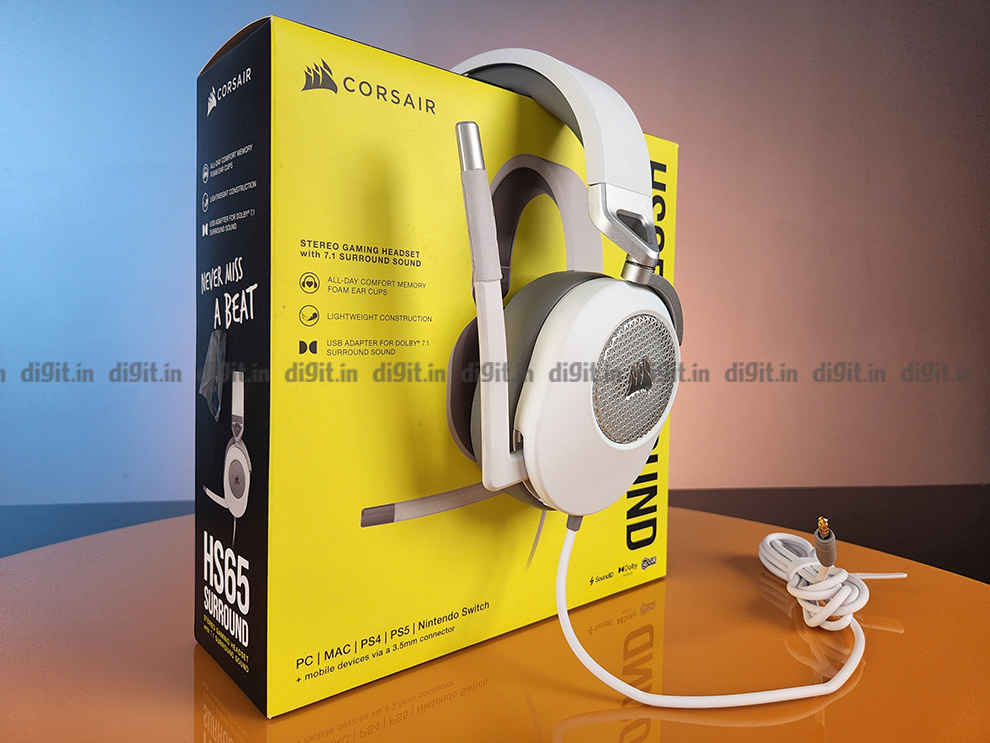 The five EQ presets include Pure Direct, Movie Theater, FPS Competition, Clear Chat, and Bass Boost. They're pretty self-explanatory and like we mentioned, you can tweak the EQ to your liking. However, you can take this a step further with the new feature on the HS65 – SoundID technology from Sonarworks. This has been designed to let you tweak audio to your personal preference. Head to SoundID on the iCUE software, and you'll be prompted to go through a setup. Here you've got a selection of seven musical styles, from distorted guitars, to electronic beats, to straight up screamo metal. Once you've picked a style, SoundID applies various filters to the track, and asks you to pick between A and B. After a sequence of such choices, iCUE will create a custom SoundID for you based on your preferences.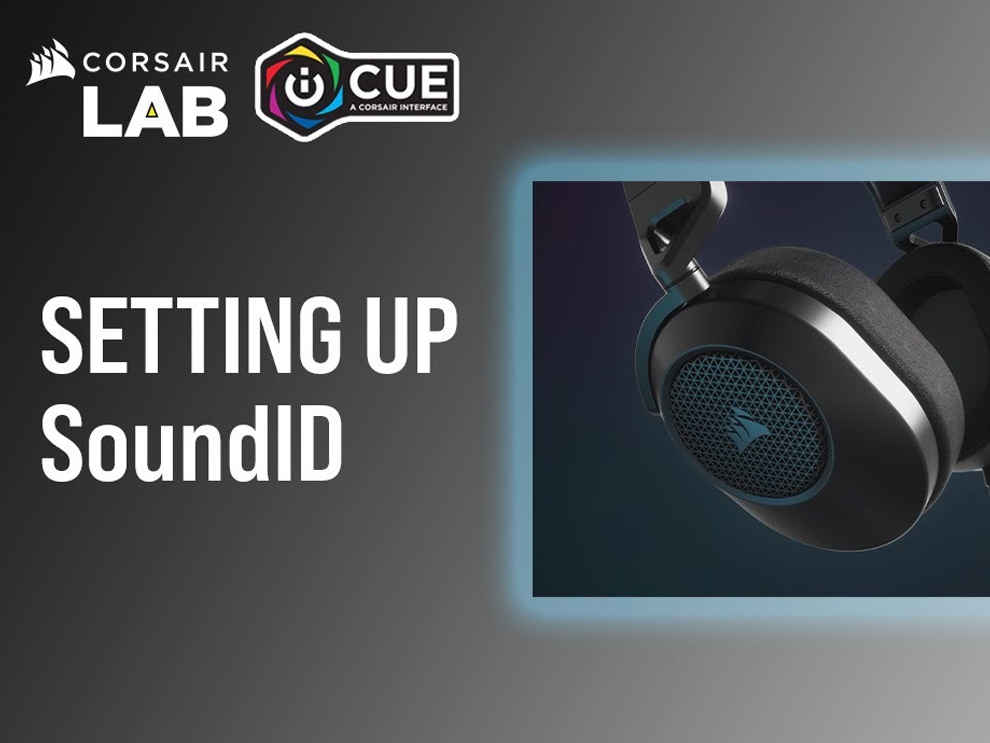 The final result is subjective, but we found it to be fairly effective. As an experiment, we attempted to create a sound profile that brought out the highs and mids, and subdued the lows. The resulting SoundID actually managed to pull this off. However, we would advise against using SoundID while gaming, and the setup process doesn't always give you the results you desire.
Corsair HS65 Surround: Verdict
The Corsair HS65 Surround features great build quality, comfort, an attractive and minimalistic design, and most importantly also delivers when it comes to audio performance. The 7.1 surround sound performs admirably, and it has a good overall sound profile with decent bass that doesn't drown out the mids and highs. While the headphone is not yet out in India, assuming it'll cost around the same or slightly more (around Rs 7,000 – Rs 7,500) than the Corsair HS60, what we've got here is a solid budget mid-range gaming headset with premium performance and features.