Great High on bass. Decent overall. available in Dhaka, Bangladesh


The TWS market has become overly crowded, with offerings from various brands in all the price brackets. Especially when it comes to the sub-six thousand price bracket, the competition is even more cutthroat. Nothing has their ear(1)s, and brands like OnePlus are also out there with their Buds Z2. The consumer is truly spoilt for choices. With JBL coming in with their Tune230NC TWS earbuds, things have gotten even more interesting. So, to find out whether JBL could live up to the standards set by its competitors, we put the Tune230NC through our testing process. And the results were interesting. Here's what we found out.
JBL Tune230NC: Build, Design, and Fit
The JBL Tune230NC, with its matte black coloured charging case that sports aesthetic touches that would match a Japanese sports car, carrying earbuds that look equally appealing, sure does make a statement. The case is made up of a material that feels super premium to touch and doesn't attract fingerprints in regular use. The only thing that stopped us from calling it a tank was the fact that it did not have a metallic hinge.
The earbuds compliment the impression that the case sets when you first look at it. You pop open the top of the case and are greeted with two earbuds. The tips have a tasteful presence of JBL's signature orange colour, which adds that tasteful tone to the overall look of the buds. A long stem, which surprisingly does not add much weight to the earbuds, has a LED light at the top, indicating whether the earbuds are in paring mode, already paired or aren't connected when pulled out of the case. 
The earbuds fit well in the ears and held well through the 'head-shake' test. They are lightweight and can be customised to fit different ear sizes. However, we were slightly disappointed with the number of included ear tips sizes. There are three different pairs, but an extra one would have filled in that tiny slit left out.
At first glance, you might think of these earbuds as an offering from a cheap Chinese manufacturer. However, the JBL branding on both the earbuds and the charging case adds assurance of these being reliable pairs of TWS earphones and also prefaces the quality that these earbuds bring to the table.
JBL Tune230NC: Features
There is not much to complain about the JBL Tune230NC when it comes to the features department because they pack in whatever one could need. Well, not everything, but most of it. For the bass heads, there is the JBL signature Pure Bass sound. While it affects the performance of the device a bit, overpowering the mids and highs when listening to music, there's plenty of it for anyone who loves that thumping bass.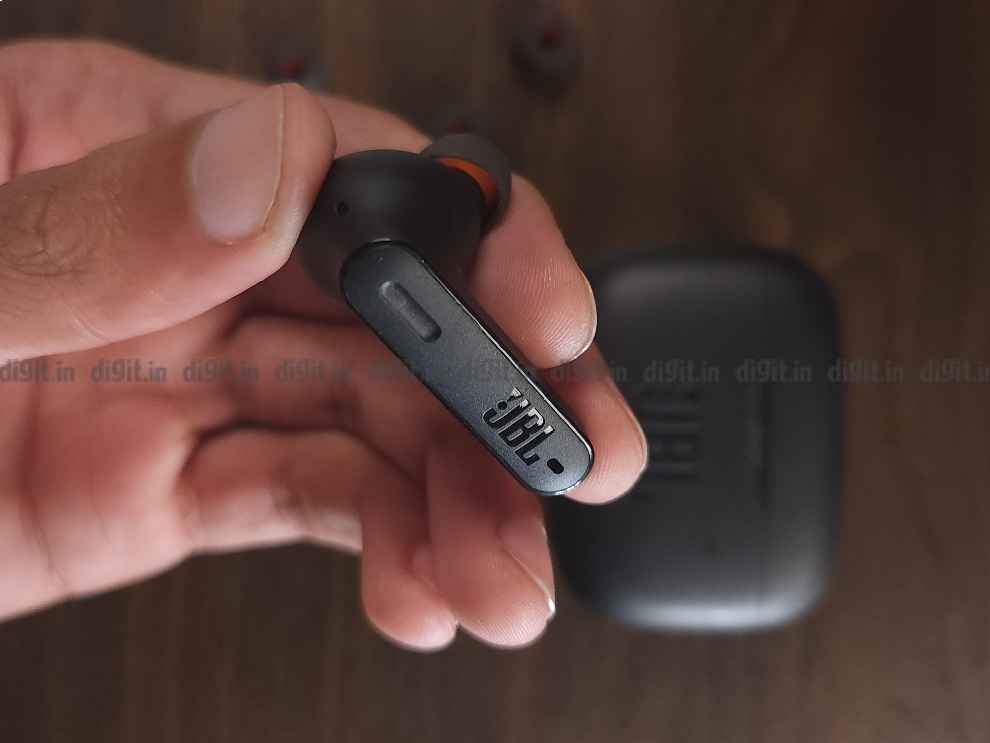 The touch controls on the stem are adequate. We say so because while for the price, they don't fall short at all. However, when we look at the Nothing Ear(1) earbuds, which also have volume control on their substantially smaller stem, we feel that JBL could have done a bit more there. 
Talking about touch controls, these earbuds have a solid touch-sensitive stem. It takes a bit of time to get the hang of, and some might say it is overly sensitive. But it worked as promised for us, never missing a tap. The customisation of these controls that can be done in the feature-rich JBL Headphones app is something that adds a lot to the experience.
They make up for the lost ground against their competitors in terms of noise cancelling. JBL Tune230NC feature great active noise cancellation. The ANC on these earbuds took away most of the annoying sounds during our Mumbai local rides with these. Another thing that helped them rise high in the rankings was that these come with a fast pair, which let us easily connect to Android devices. Adding to the ease of use was the compatibility of these buds with voice assistants.
JBL Tune230NC: Performance
The performance of JBL Tune230NC is nothing to write home about. We did not expect to say something like this, considering that it is an offering from JBL. But as it happened, these earbuds failed to live up to our expectations.
It wouldn't take an expert to notice the boosted bass response of these earbuds. It does wonders to make JBL look like a brand that delivered on its promise of Pure Bass. But in reality, this boosted bass cannibalizes the mid frequencies, which greatly affects the music listening experience.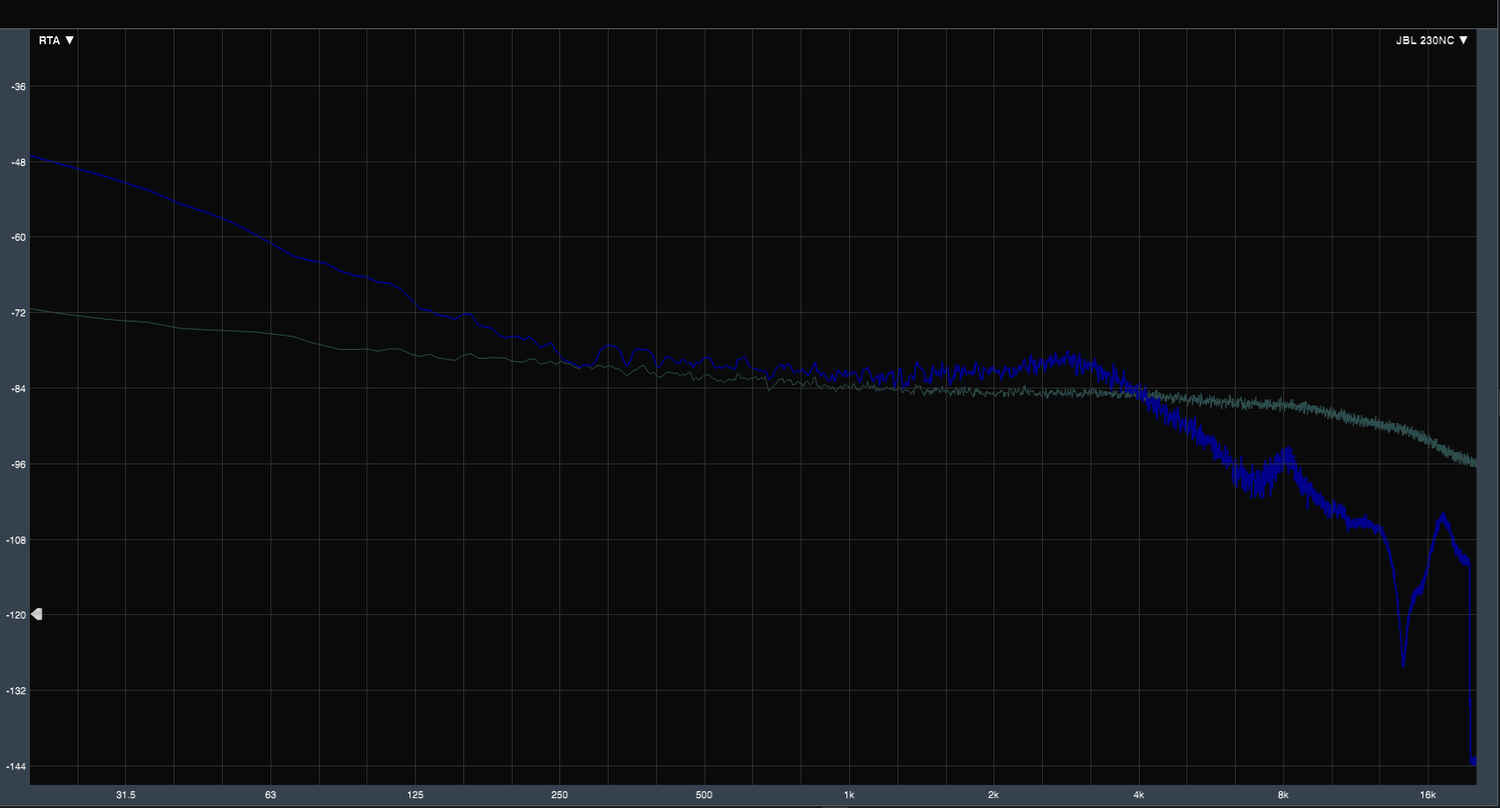 Uncompensated frequency response graph of JBL Tune 230NC (Dark Blue) vs In-House Curve (Dark Green)
We were thoroughly underwhelmed in songs like Rescue Me by OneRepublic, where the vocals are the part that we look out for. The bass was overpowering anything that the drivers were trying to push out apart from it. This even affected the overall bass response, too, as it caused the bass to be muddy and not crisp. We had to make changes to the EQ when daily driving the earbuds to get a pleasurable audio experience. Once you have done that, though, these earbuds shine. 
The earbuds in the same price bracket that was able to surpass these in terms of performance were the Nothing Ear (1). You can see in the graph the bass response of the Ear (1) is much tamer than the Tune230NC, and that makes for a great audio listening experience. The OnePlus Buds Z2 could have matched up but lost out on their mids and fell behind.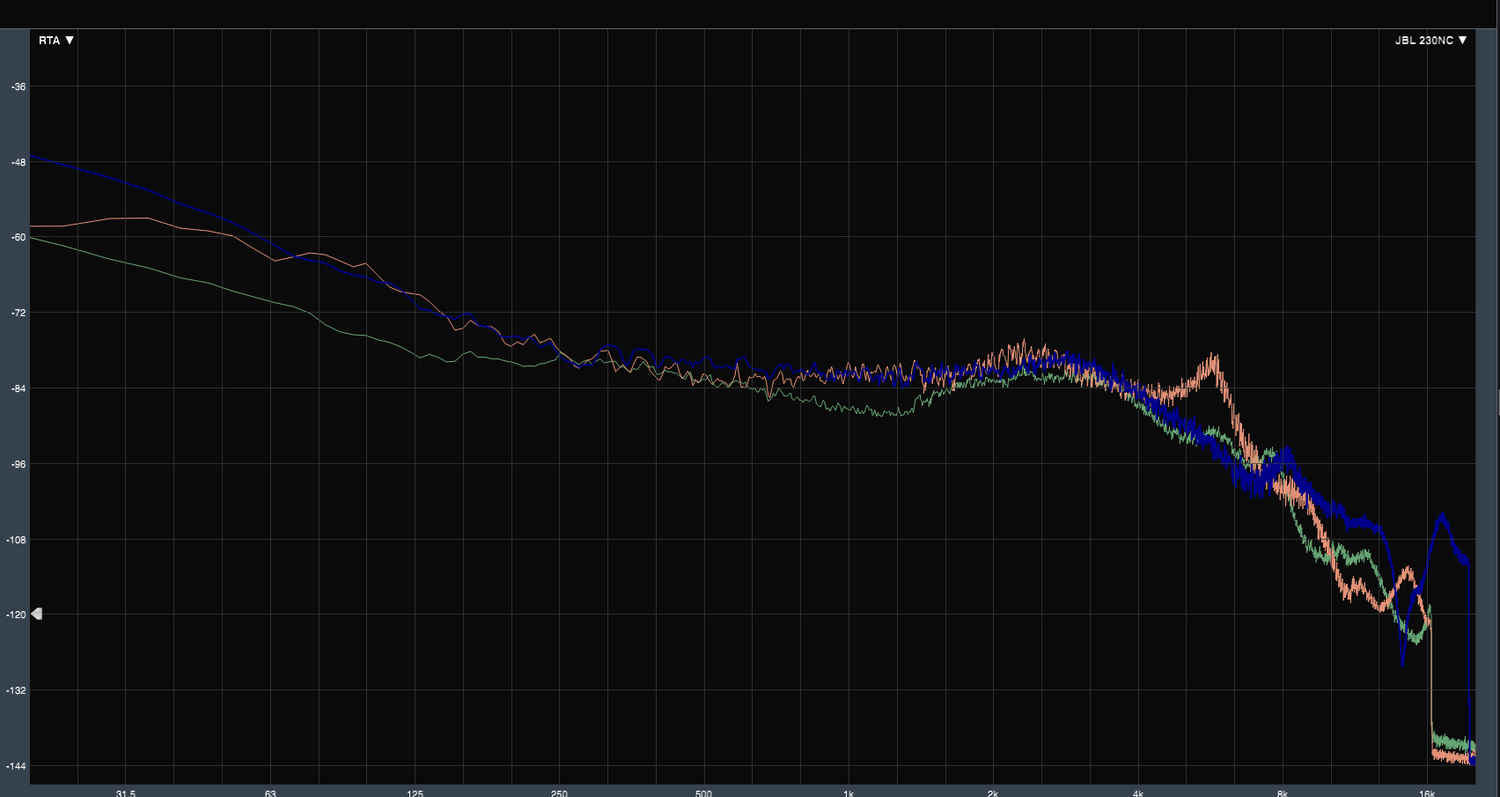 Uncompensated frequency response graph of JBL Tune230NC (Dark Blue) vs Nothing Ear (1) (Orange) vs OnePlus Buds Z2 (Light Green)
In terms of microphone audio quality, there wasn't much to say. These earbuds deliver on the expectations that one would have from a pair of earbuds that fall in this price bracket. During phone calls, the audio remained clear even in noisy environments, and the buds significantly reduced ambient noise. However, sharper sounds like those of things falling on the ground still made their way through.
JBL Tune230NC: Battery Life
In terms of battery life, there was a pleasant surprise waiting for us. In our test, the battery life of these earbuds came out astonishingly close to the bold claims JBL had made. With ANC turned on and volume set to 50 per cent, these earbuds lasted about seven and a half hours, which is impressive. And, with ANC turned off, another hour was added to the battery life.
The case had a type C charging port, which added to our delight. JBL claims that with 10 minutes of charge, you can get enough battery for two hours of music playback. This means that you'd rarely find yourself waiting in crunch situations.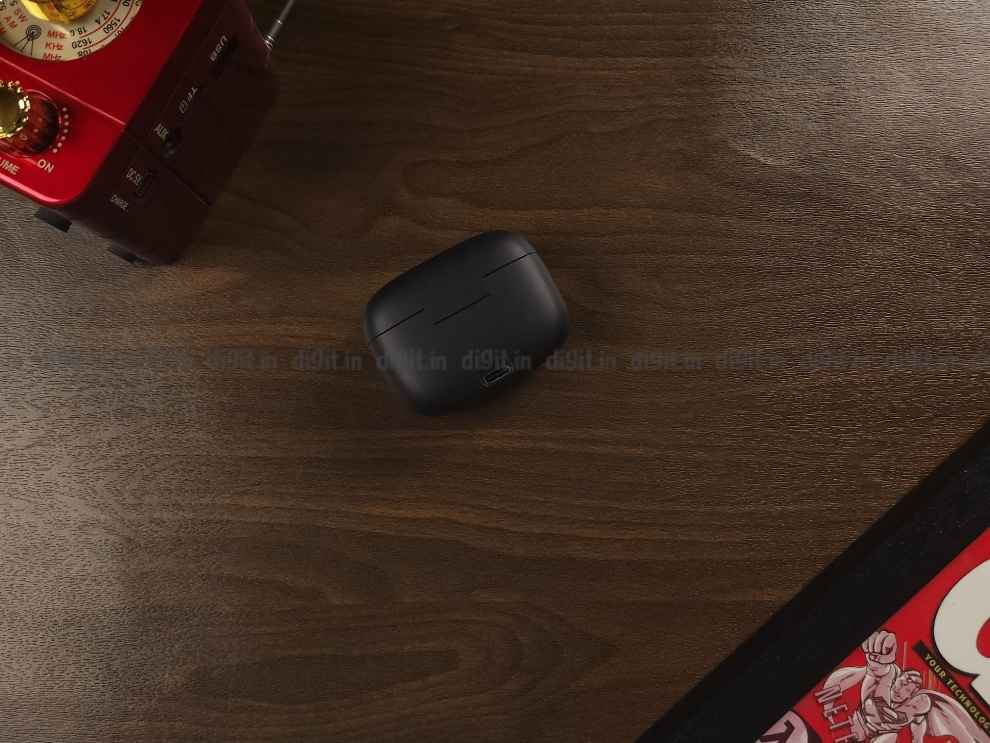 JBL Tune230NC: Verdict
The JBL Tune230NC TWS earbuds hold their ground well against their competitors. The build and design are solid, and plenty of features are packed into the device. After a bit of tweaking, the performance is great. The app also features a lot of customisation options which, when coupled with the battery life of these earbuds, make them a solid package. Nothing Ear (1) would be the only pair that gets past it. But it was meant to be that standout product. Like is the case with a lot of JBL products, the overpowering bass prevents them from being an instant recommendation.
If we were to sum up our experience of using the Tune 230NC, it would be –  Heavy on bass and fall short of the top spot in the race.