Great OnePlus 10T unboxing video goes live a day before the phone itself does available in Dhaka, Bangladesh


The OnePlus 10T will be unveiled tomorrow, August 3, but "embargoes are overrated", according to an unboxing video that arrives a day early. Note that the big box featured in the video is a reviewer's kit, which includes additional accessories for testing. The retail package is the red box inside.
The phone that comes out of the box is the Moonstone Black colorway (buyers will also be able to pick Jade Green). The retail package contains a charger, an adapter rated at a whopping 160W, a USB C-to-C cable and a USB C (male) to A (female) adapter. OnePlus has already confirmed that the phone will charge at up to 150W (leaving a bit of headroom).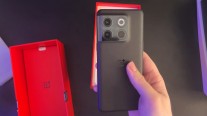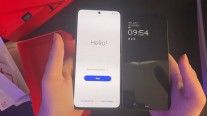 160W fast charger and USB-C cable • The OnePlus 10T • Size comparison with the Nothing Phone (1)
Note that this is for countries with 220V electrical grids, in ones with 110V grids the max power will be reduced (e.g. the OnePlus 10 Pro goes from 80W at 220V to 65W at 110V). Either way, the phone will have a 4,800mAh battery.
With the accessories sorted, the video goes on to do a size comparison with the Nothing Phone (1), iPhone 13 Pro Max, Galaxy Note20 Ultra. Going back to the charging for a moment, the video confirms that while the 10T will have faster wired charging than the 10 Pro, it lacks wireless charging.
The video goes on to show off a couple of OnePlus cases, one with a distinctive design, the other going for a plain black.
Check back tomorrow for our coverage of the OnePlus 10T launch.
For now we know that the phone will launch with Android 13, with up to 16GB of RAM and 256GB storage and a 50+8+2MP camera setup.