Great Reliable performer with a couple of chinks in its armour available in Dhaka, Bangladesh


The phones in Vivo's X series have customarily had alluring camera capabilities and good performance; all at a lower cost than flagships from Samsung and Apple. With the X70 series, Vivo decided to skip out on the non-Pro model in India, however, this isn't the case with the new X80 series. The Vivo X80 has made its debut in India at a competitive price of Rs 54,999. At this price, not only does it pack an array of camera and videography features in collaboration with Zeiss, but it also houses a flagship SoC – the Mediatek Dimensity 900 – and comes with 80W fast charging support. It's safe to say, the Vivo X80 looks like a bargain deal, on paper, at least. However, how does it perform and do the cameras match the hype surrounding them? Let's find out.
Vivo X80: Build and design
The Vivo X80 looks similar to last year's Vivo X70 Pro+ and almost identical to its more expensive sibling – the Vivo X80 Pro. The only real difference between the Pro and non-Pro variant of the device is the missing periscope lens on the Vivo X80. The phone is available in two colour variants – Cosmic Black and Urban Blue. We got the latter for review and in our opinion, it is the more stunning device. 
The Vivo X80 has a curved front and back glass panel with an aluminium frame. The phone exudes a premium air and feels fantastic in hand. We asked Vivo about the kind of glass they used for the rear panel and found out that it comes with a fluorite AG glass with a soft touch anti-glare matte finish. The matte surface resists fingerprints and smudges although the camera island is quite the fingerprint magnet.
The phone weighs 206 g and has a thickness of 8.3 mm, so it feels pretty sleek when using it without a protective case. You do get a decent protective case in the retail box that matches the colour of the rear panel though. The phone does feel slightly slippery, so even though we haven't dropped it in two weeks of testing, you may want to use it just to be safe.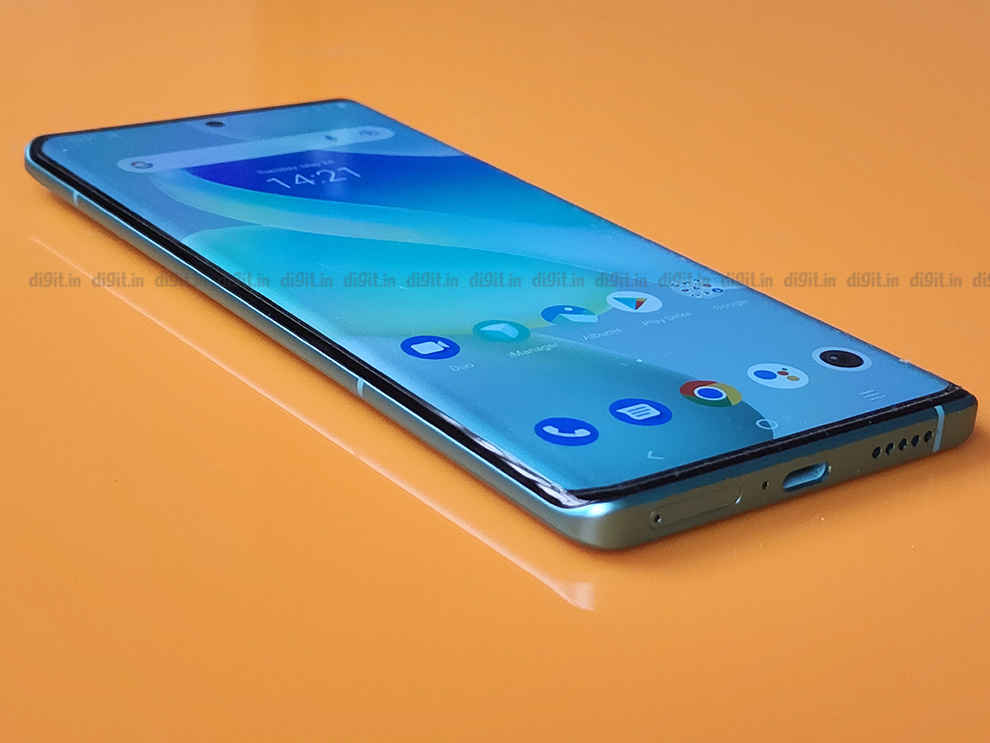 The retail box also consists of an 80 W power brick, a USB Type-C charging cable, a USB Type-C pair of earphones, extra silicone ear tips, a SIM ejector tool, and documentation. In a day and age when smartphone manufacturers are removing box components, it's refreshing to see Vivo pack so much into the X80's box.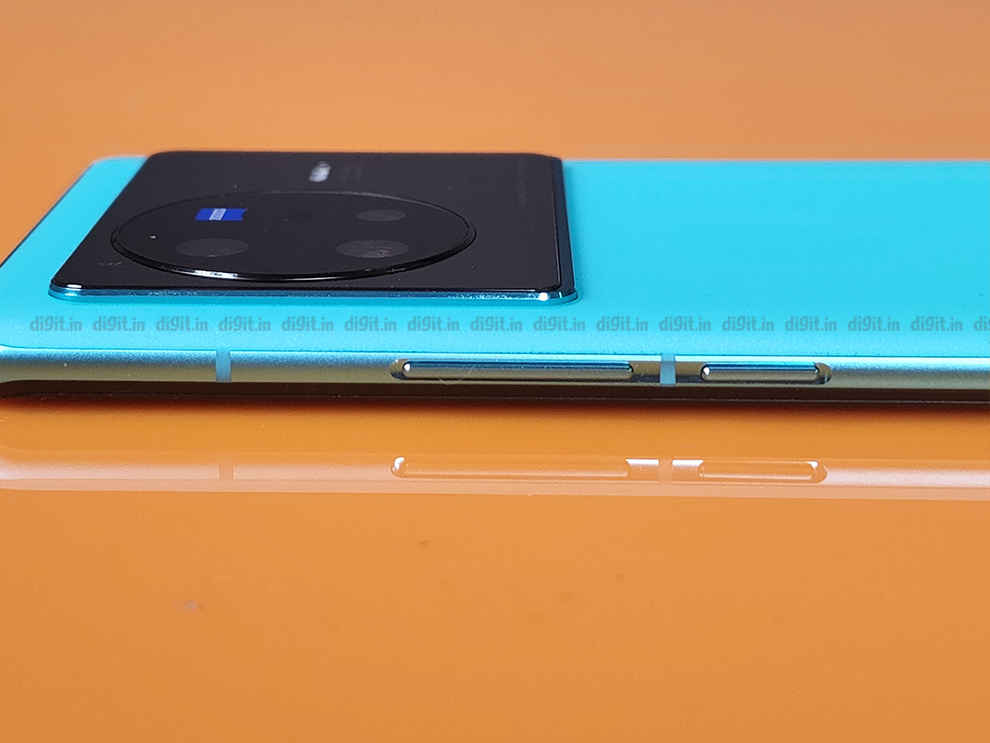 The phone houses the power button and volume controls on the right, dual stereo speakers on the top and bottom and a USB C charging port and the SIM tray at the bottom. The buttons are extremely tactile and work flawlessly. There's also an in-display fingerprint sensor that works without any hitches as well.
Vivo has also provided an IP53 dust and water resistance rating which should protect it against external elements. The X80 Pro, on the other hand, comes with an IP68 rating but the phone also costs a lot more. The IP53 rating is enough to protect against splashes of water and specks of dust. Overall, the Vivo X80 is one of the most gorgeous phones we've used over the last few years and feels every bit premium as you'd assume, or even more.  
Vivo X80: Display Performance
The Vivo X80 features a large 6.78-inch AMOLED display with Full HD+ resolution and 120 Hz fast refresh rate support. The Full HD+ resolution at this price point may be underwhelming at this price point since some competitors such as the Realme GT 2 Pro comes with a QHD+ resolution. Additionally, you also get an LTPO2 panel on the Realme GT 2 Pro which is absent on the Vivo X80, so the display won't be able to run as low as 1 Hz even when Smart refresh rate mode is on. 
That aside, the Vivo X80 has a gorgeous display with crisp visuals and vibrant colours. The display is great to watch content on since it comes with HDR support and loud, crisp-sounding stereo speakers. The display is also Widevine L1 certified, so you can get all the HD goodness on streaming apps such as Netflix and Prime Video.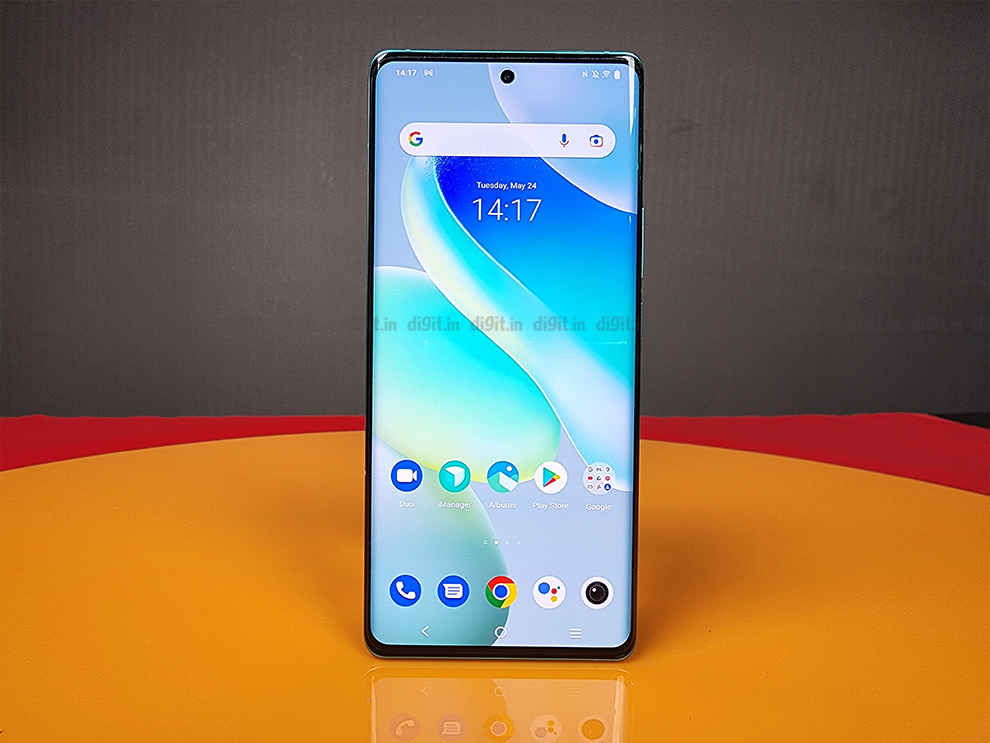 Moreover, the phone comes with a rated peak brightness of 1500 nits. In our testing, we found the peak brightness to be 644 nits without Adaptive Brightness enabled. Turn it on and this number shot up to 902 nits, which is excellent. It's safe to say that sunlight legibility is not an issue with the Vivo X80 with the device being plenty bright even under harsh sunlight. 
Unfortunately, the display doesn't come with Corning Gorilla Glass protection on the front or the rear panel. So our advice would be to use a case and a screen protector to safeguard your purchase. Thankfully, Vivo has preinstalled a screen protector on the phone right out of the box.
Vivo X80: Cameras
The Vivo-Zeiss partnership has been immensely successful for the company's X lineup of smartphones and the Vivo X80 is not an exception to this rule. You get a fantastic camera array, which may seem dwarfed by the X80 Pro's camera stack, but still holds up extremely well at this price point. The camera lenses have the Zeiss T* coating that works towards reducing glare and ghosting in images.
The phone features a 50 MP Sony IMX866 primary lens with a sensor size of 1/1.49-inch. The primary lens also comes with OIS (Optical Image Stabilization) for sharp images. You get a 12 MP telephoto shooter with 2x optical zoom and a 12 MP ultra-wide shooter. There's a 32 MP front-facing camera for selfies as well. The Vivo V1+ chip works with the lenses to process and enhance images and videos.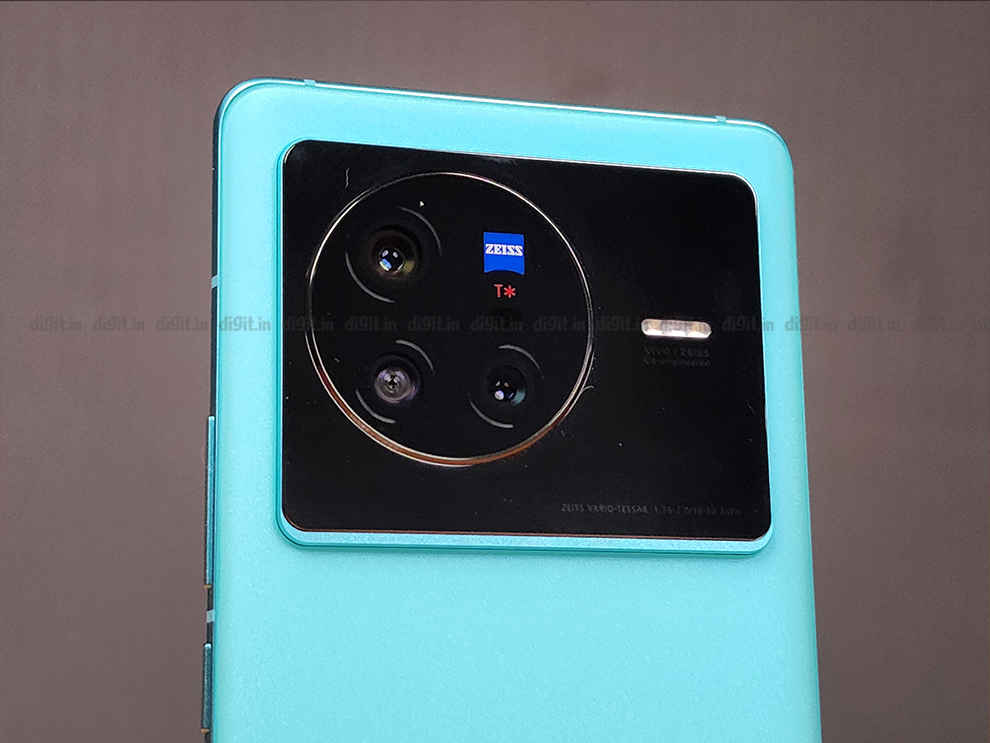 In daylight, the phone shoots crisp and detailed HDR images with good dynamic range. There's plenty of detail in the shadows and highlights and the phone does a good job of not overexposing or underexposing any area too much. The photos' colour is saturated and looks social media-ready. The colours are unrealistic but they do pop and stand out. However, if you are looking for more natural-looking colours, the Zeiss mode will allow for just that. With Zeiss Mode active, the colours are a lot closer to real-life without any impact on the detail and dynamic range. Close up shots look fantastic with a good amount of natural background blur.
Human subjects, again, look unnatural with Zeiss Mode on. The skin tone often looks washed out or orange, in some cases. The problem is promptly alleviated with Zeiss Mode, so we suggest keeping Zeiss Mode on permanently when using the phone's camera to get more true to life results. Vivo also has a 50 MP mode which provides more detail, especially when you zoom into photos. In most cases though, this is an excellent point and shoot camera in daylight that produces detailed and vibrant photos even in the most tricky shooting conditions. If you want to get more control over your photos, the Pro mode is excellent for doing so.
Moving on to portrait images, we weren't very impressed with the phone's performance here. Portrait images taken via the primary sensor are pretty good, with a good amount of detail and sharpness. The edge detection is also pretty decent, however, edges can appear slightly distorted at times. Also, Zeiss mode cannot be activated for portrait images so the skin tone issue cannot be alleviated here. 
Portrait images via the telephoto lens are decent but at times, the edges have a watercolour effect that appears very unrefined. This issue is exaggerated in low light. We really hope Vivo can provide some sort of fix for this issue via a software update. In normal images taken from the telephoto lens, you get good dynamic range and detail. In low light, the lens does a good job letting light in, however, you do get to see some graininess in the photos in such situations. 
Low light photos with Night Mode active look excellent with good clarity and texture. If you take the photo without Night Mode, the camera still shoots a shorter version of the Night Mode shot with extended shutter speed, so enough light is let in even then. There's minimal noise and grain with Night Mode active in low light, so you can capture most scenes at night with confidence.
The ultrawide lens shoots fantastic images with good colour with auto-HDR but they definitely softer looking images than what the primary lens outputs. The barrel distortion is also manageable on the ultrawide lens and we were seriously impressed with its performance.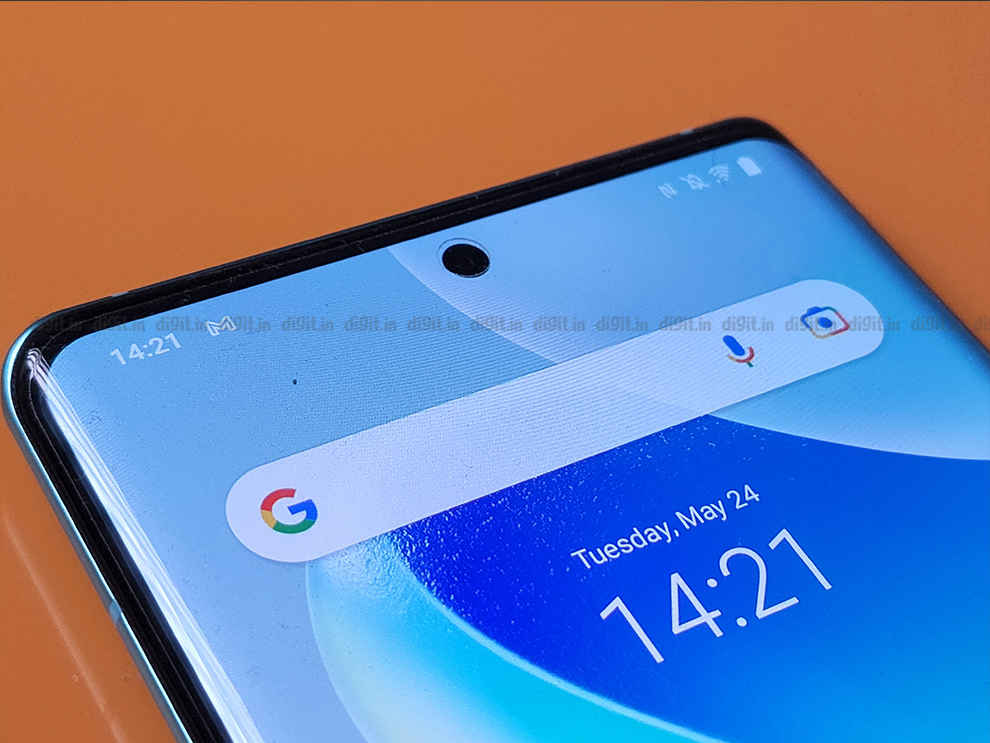 The selfie camera, unfortunately, has some kind of auto-beauty mode that tunes skin tones even when beauty mode is manually turned off. It's a shame since the camera outputs excellent photos in general with good detail and sharpness, but the over smoothing of skin textures and modifying of skin tones hampers the overall experience.
Vivo dwelled a lot on the videography capabilities of the X80 with features such as Movie LUTs, Cinematic Video mode, Horizontal Line Stabilization, Pro Mode, and more. The photography and videography features in this phone are vast and enthusiasts will be fiddling with the camera app for hours playing around with the various modes. 
For video, the phone can shoot 4K at 30/60 fps and 1080p at 30/60 fps from the rear camera. There's also a slow-motion mode. For selfies, you get 4K and 1080p video recording at 30 fps. Videos look excellent during the day, some of the best we've seen on an Android phone. The stabilisation with Horizontal Line Stabilization mode is mind-bogglingly good. However, with normal stabilisation mode, the footage isn't as steady as the Samsung Galaxy S21 FE's Super Steady mode. Here are some photo and video samples taken from the Vivo X80.
Vivo X80: Performance
The Vivo X80 is powered by the MediaTek Dimensity 9000 SoC paired with Vivo's V1+ chip that shares some of the algorithm processing load. The X80 is the first phone in India to feature the Dimensity 9000 chipset. This is paired with up to 12 GB LPDDR5 RAM and up to 256 GB UFS 3.1 storage. In synthetic benchmarks, the phone performs exceedingly well. In AnTuTu, the phone is slightly ahead of the Realme GT2 Pro and it beats the iPhone 13 convincingly as well.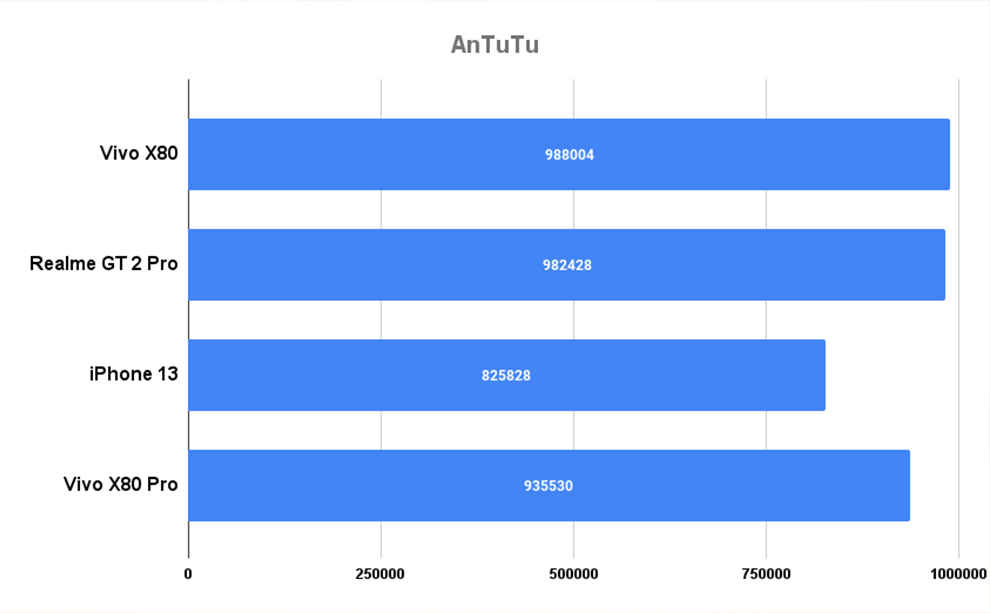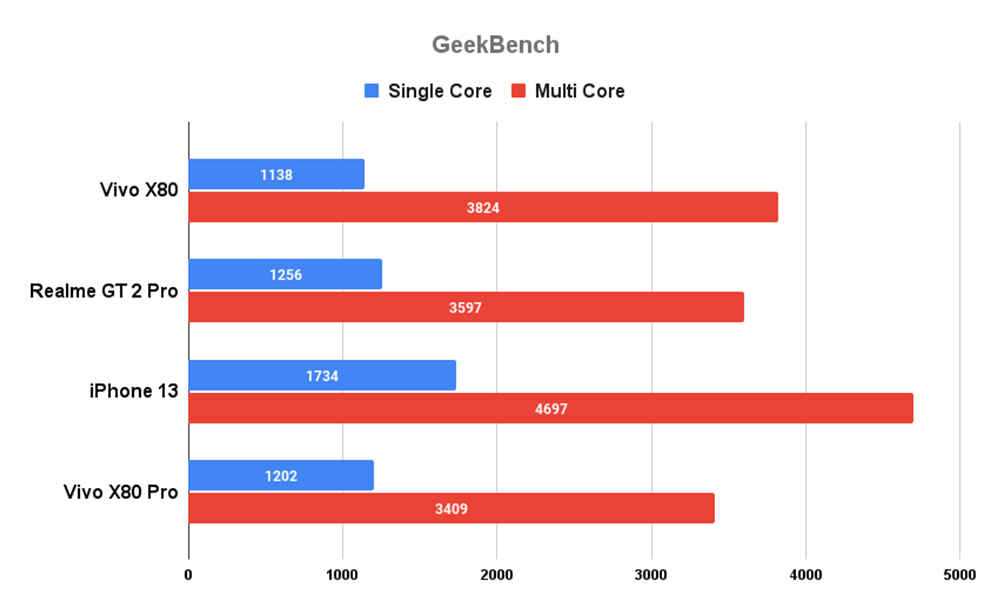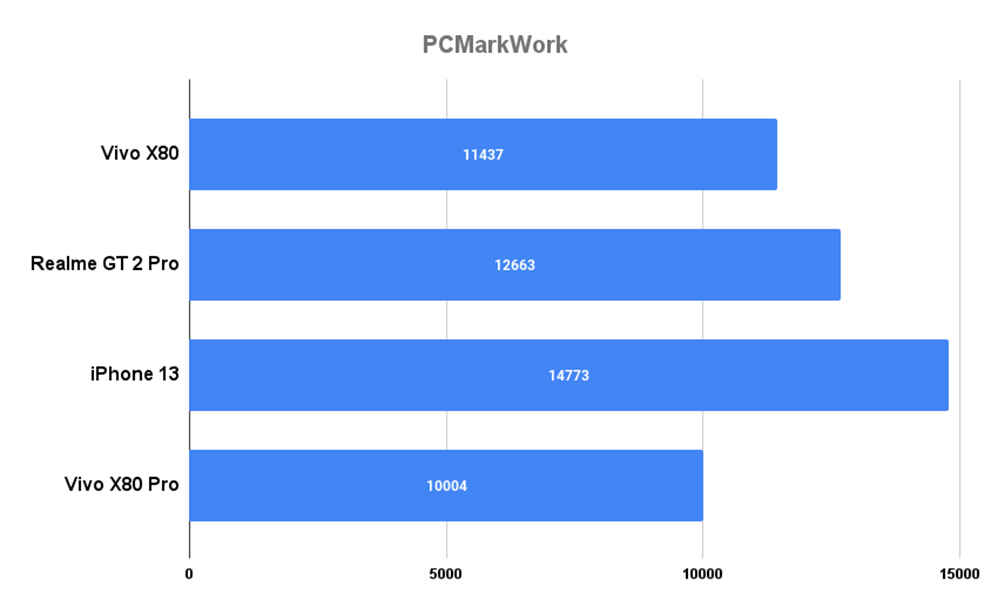 In GeekBench, while the phone does lag behind the iPhone 13, its performance matches up to the Snapdragon 8 Gen 1 phones on this list including the Realme GT2 Pro and the Vivo X80 Pro. In PCMarkWork though, it isn't the best performer, with the Realme GT2 Pro and the iPhone 13 clocking in better scores.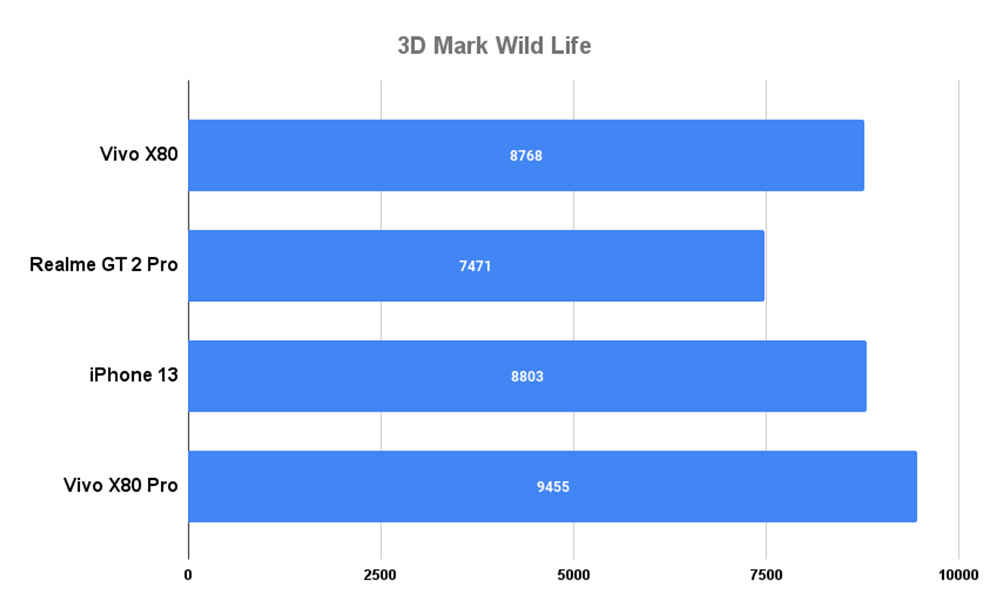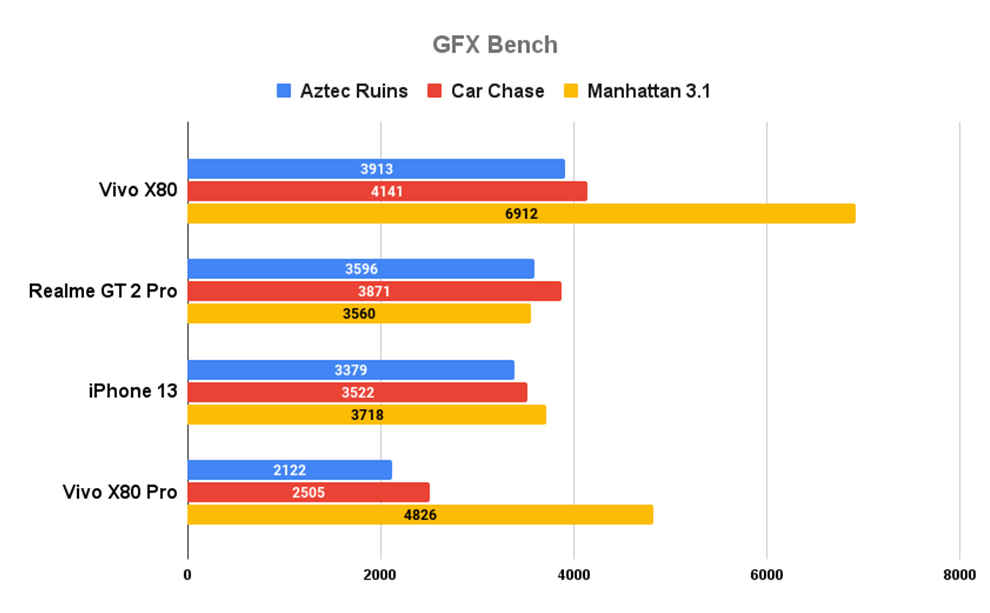 Moving on to GPU tests, the phone scores blows its competition out of the water in GFX Bench, scoring much more than the iPhone 13, the Realme GT2 Pro and the Vivo X80 Pro. However, in 3D Mark Wild Life, its more expensive sibling – the Vivo X80 Pro – does manage to outdo its score. 
The phone's performance in synthetic benchmarks is commendable and compares to the performance of flagships such as the iPhone 13, Vivo X80 Pro and the Samsung Galaxy S22+. However, what concerns us is the SoC's throttling under sustained loads. We ran the CPU Throttling test and saw that the phone throttled to 62 per cent of its max performance in around 15 minutes, which is pretty high. The Cortex-X2 core that runs at 3.05 GHz throttled down to 1.3 GHz after 15 minutes of the CPU Throttling test.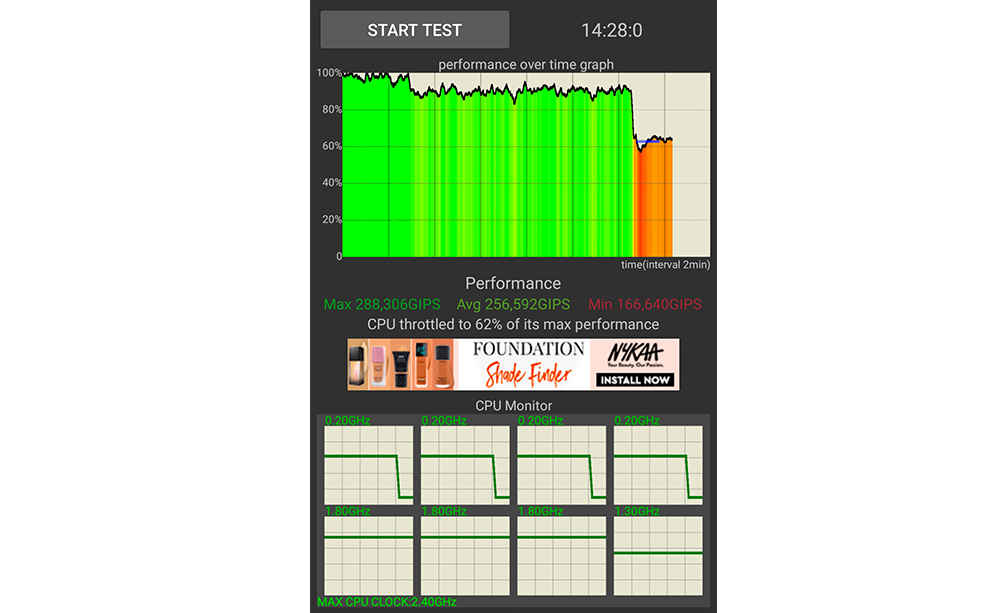 This sort of chip tuning is usually done to conserve battery health and increase the longevity of your device. Most of the apps you use on a day-to-day basis won't even show the effects of this kind of throttling unless it's intensive tasks such as playing Genshin Impact or rendering 4K videos. We played other games on the phone such as Call of Duty: Mobile and Asphalt 9 and faced no issues whatsoever.
In Call of Duty, we got 60 fps at 98 per cent stability using Gamebench, while Asphalt 9 gave us 60 fps at 99 per cent stability. The phone did heat up after half an hour of gaming, but there were barely any frame skips or lag issues.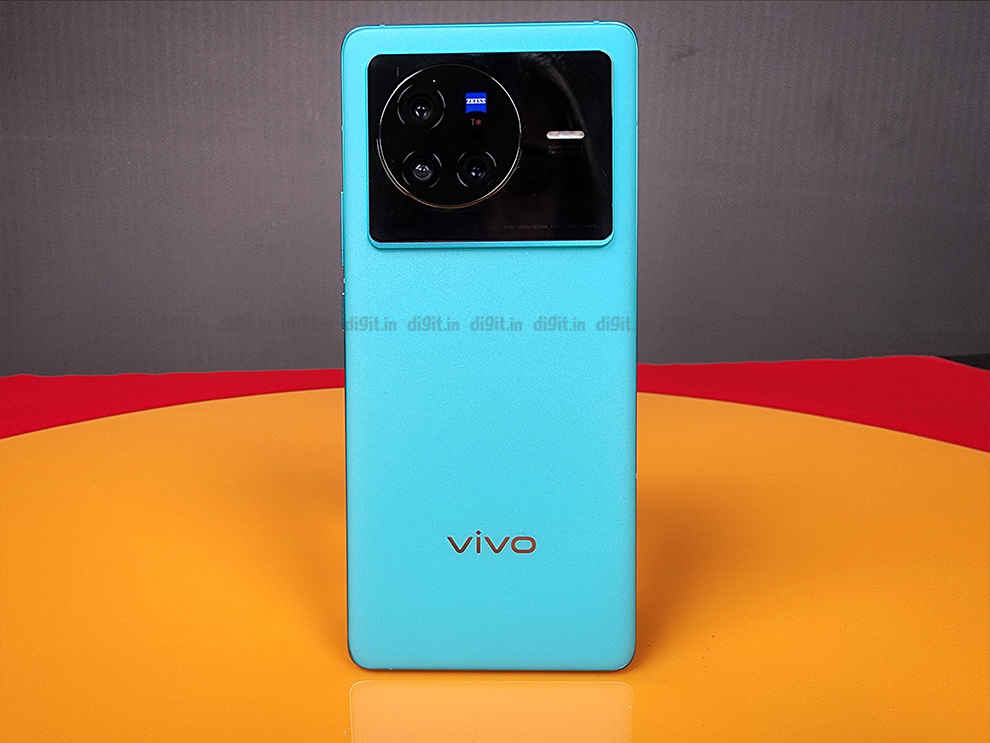 The phone performs admirably in almost any situation you throw at it in the real world, be it social media, web browsing, video streaming, photo editing, or gaming. The 120 Hz refresh rate also makes for a smooth experience when scrolling through your feed or between screens. 
Moving on to the software, the phone comes with FunTouchOS 12 with Android 12 on top. The software is riddled with tons of bloatware. Apps such as Byju's, CRED, Dailyhunt, Josh, Moj, and others are pre-installed on the phone. While you can uninstall these apps, it does take away from the premium experience of the phone. Plus, there are a few ads that pop up from time to time in the notifications as well, which marred the experience as well. FunTouchOS needs a lot of work and restructuring for it to offer a truly premium experience.
Vivo X80: Battery life
The Vivo X80 packs a 4,500 mAh battery with support for 80 W FlashCharge. The phone lasted 16 hours in our video loop test, which is excellent and matches the performance offered by flagships. The phone's battery depleted by 8 per cent when playing Call of Duty: Mobile for 15 minutes and it went down by 5 per cent when streaming a video on Netflix. The phone charged from zero to full in just 42 minutes.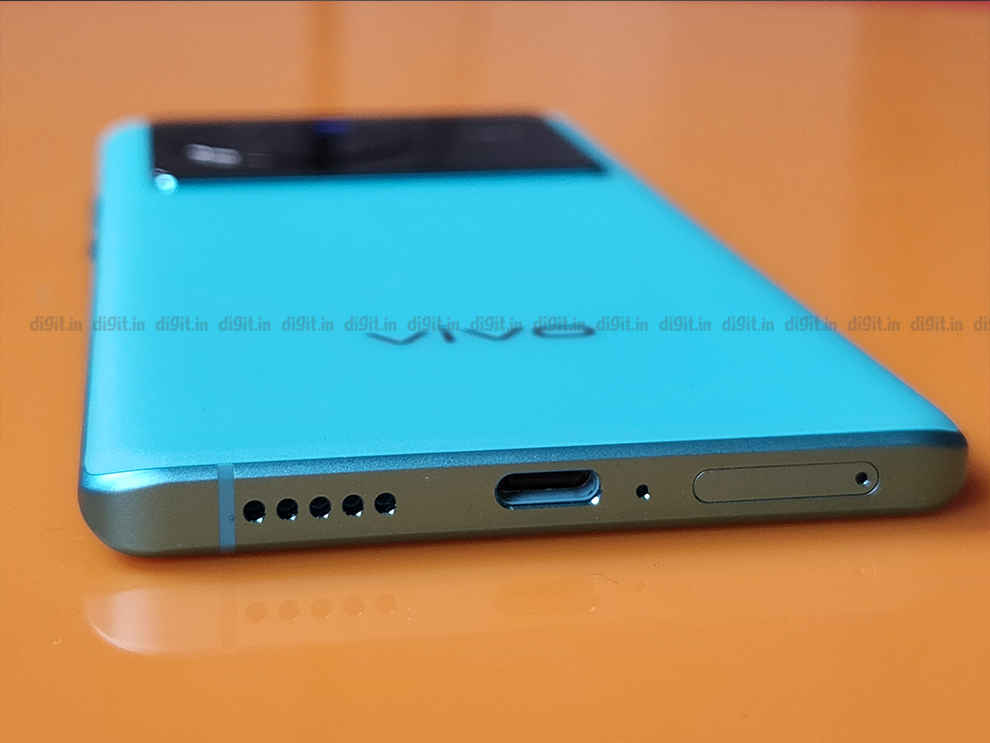 The Vivo X80's battery life won't disappoint most users. It provides enough juice in one charge to get most users through a day's usage with ease. However, if you're playing intensive games or clicking pictures/shooting videos during the day, expect about 4-5 hours of screen on time. When it comes to charging though, do note that the phone doesn't come with PD charging support, so if you use a third-party fast charger, the phone will only charge at 10 W.
Vivo X80: Verdict 
The Vivo X80 exudes panache and is probably one of the best-looking phones in its price range. Not just that, it is also an extremely reliable performer, offers good battery life with speedy 80 W fast charging, and snaps great pictures. The plethora of photography and videography features on offer is sure to excite most enthusiasts. However, the bloatware-riddled FunTouch OS does stand out like a sore thumb and takes away from the premium experience. The camera system, while versatile and entertaining, does present some inconsistencies such as distorted edges in portrait mode and unnatural skin tones. Despite these nitpicks, the Vivo X80 is a well-rounded package that would serve most users well. Whether you want a phone for gaming, photography, content consumption or just calling, the Vivo X80 accomplishes most of these with ease.