Amazing Samsung unfolds true productivity and flips design rules with Galaxy Z Fold4 and Galaxy Z Flip4 available in Dhaka, Bangladesh


Samsung Galaxy Z Fold4 and Flip4 bring massive upgrades and make foldable phones even more desirable. Samsung has worked on the design and internal hardware upgrades to make its uniquely positioned Fold and Flip smartphones even more appealing and make them stand out from the rest of the flagship devices. Let's have a closer look at those significant upgrades and how they translate into a superior user experience.
A reworked hinge mechanism leads to superior ergonomics
Samsung engineers have used an aluminium-based hinge that is thinner, lighter, and yet retains the toughness and durability quotient as before. The hinge's new mechanism brings a rotational effect to a more traditionally linear motion, allowing for a compact hinge without compromising strength and durability. As a result, the Samsung Galaxy Z Fold4 is slimmer and lighter than ever. Samsung has focussed on the idea of doing even more with the Galaxy Fold 4; they made it more compact and portable so that you can carry it anywhere you want. The device also has better weight distribution, making it feel lighter, and giving it a well-balanced feel.
The Samsung Galaxy Z Flip4 has also seen a lot of clever design changes in all the right areas. For starters, the Samsung Galaxy Z Flip4 is lighter and more compact than ever, especially from an in-hand feel perspective. Samsung has made the hinge slimmer and narrowed down the bezels to further add to the immersive experience in the most compact form factor. If you want a compact phone that easily fits in your pocket and yet delivers a flagship experience, the Samsung Galaxy Z Flip4 is a clear choice, and nothing else will fit the bill by a long way.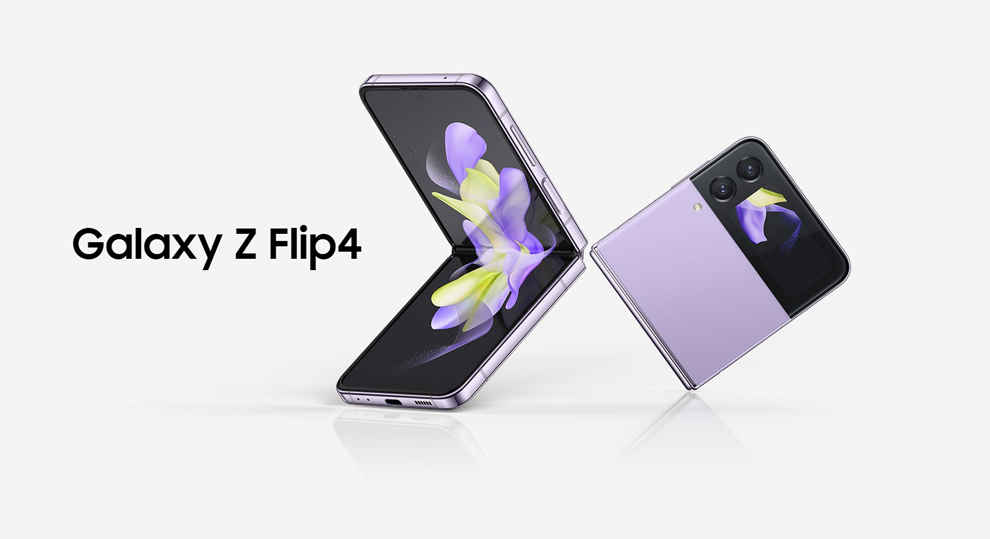 Sharper, brighter, faster and more efficient displays
The displays on both devices have also gotten smarter by using 120Hz adaptive refresh rate technology, both devices achieve power efficiency by intelligently using the high refresh rate only when needed, thus adding to overall battery life. The Cover Screen on the Samsung Galaxy Fold4 is also improved compared to its predecessor. It is wider than before, making it more impactful for content consumption and more convenient for one-handed usage. Another big (and beautiful) change on the display front is on both displays' brightness levels; the Galaxy Z Fold4 screen has been upgraded to have a peak brightness of 1300nits, while the Flip4 now attains a peak brightness level of 900nits. This bump in peak brightness numbers will translate to even better visibility under harsh lighting conditions and a superior viewing experience when watching HDR content and gaming.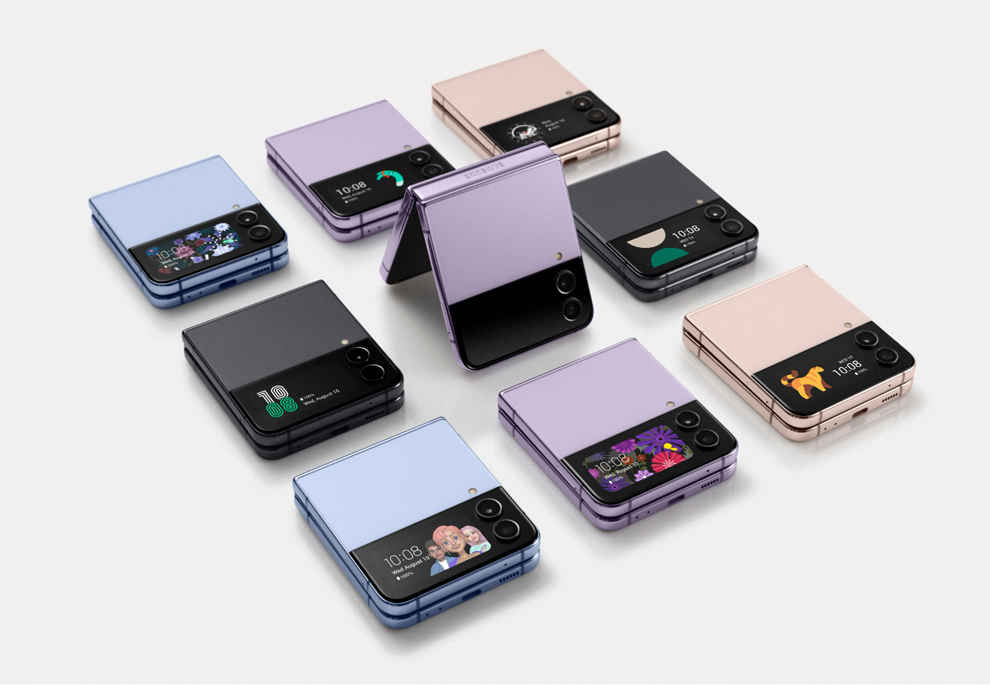 The Fold4 camera gets a big bump: Better low-light performance and 3x Optical Zoom!
Samsung has brought flagship cameras to its foldable phones, the primary camera on the Samsung Galaxy Z Fold4 gets a significant upgrade from a 12MP sensor to a 50MP sensor, the 4X jump in resolution should result in more flexibility and better performance in low-light scenarios as it captures 23% more light in comparison to the previous sensor. The lens is also optically stabilised, which adds to the overall camera performance across all lighting conditions. Besides the primary camera, the Telephoto Camera has also been upgraded with support for 3x Optical Zoom along with 30x Space Zoom. The 30x Space Zoom uses AI Super Resolution technology to let you get very close to the subject. The Galaxy Z Fold4 also offers the popular "Nightography" feature, which uses enhanced OIS and VDIS along with powerful processing to shoot stills and also capture high-quality videos in challenging conditions.
The Galaxy Z Flip4 also gets an upgrade on the primary camera; the primary camera now uses an improved sensor, which will undoubtedly help with better performance in low light conditions and improved dynamic range as well.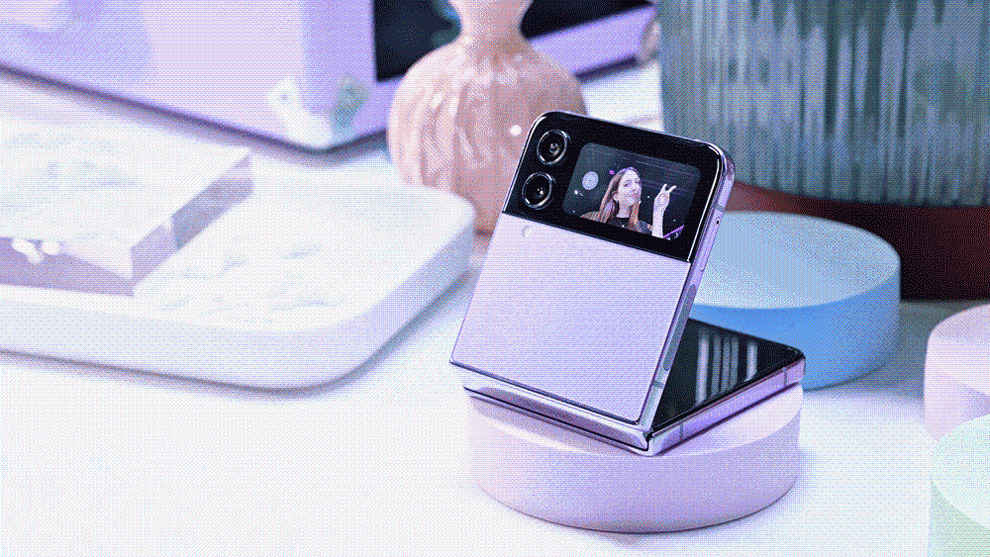 Besides the sensor upgrade, Samsung has brought some exciting changes to camera software on the Z Flip4. For instance, with the Quick Shot feature, you can now capture selfies without even opening your phone! Just preview on the cover screen and capture that selfie in a jiffy! Another cool feature is the FlexCam; on partially folding Z Flip4 (75° and 115°) you can activate FlexCam to capture photos and videos from multiple angles. The base acts as a stable tripod and allows you to capture hands-free photos and make hands-free video calls. Flex Cam also makes it incredibly convenient to take top-down shots! 
Bigger batteries + powerful and efficient processor = better performance and battery life!
Samsung has kept the battery capacity in the Galaxy Z Fold4 at the same level as the Galaxy Fold3. However, the 4400mAh battery should give better battery life over the Galaxy Fold3, thanks to the newer and more power efficient 4nm based Qualcomm Snapdragon 8+ Gen 1 processor, which should bring in greater power efficiency along with the added performance boost. The 120Hz variable refresh rate-based display should also chip in with power savings, adding to better battery life. The Fold4 runs on Android 12L which is tuned for tablets or devices with a tablet-like form factor and lets you use a large screen in a much better way than before. 
The Samsung Galaxy Z Flip4 has seen a healthy battery bump, the clever design change has allowed Samsung to fit in a larger battery, and the battery capacity has gone up from 3300mAh to 3700mAh; the additional capacity, along with the power-efficient 4nm-based Qualcomm Snapdragon 8+ Gen 1 processor, should result in a marked improvement in battery life. The bigger battery has been well complimented with an upgrade in charging speeds as well, the Flip4 now supports 25W Super Fast Charging which is a significant upgrade over the 15W charging on the Flip3. 
Taking productivity to the next level, multitask like a boss!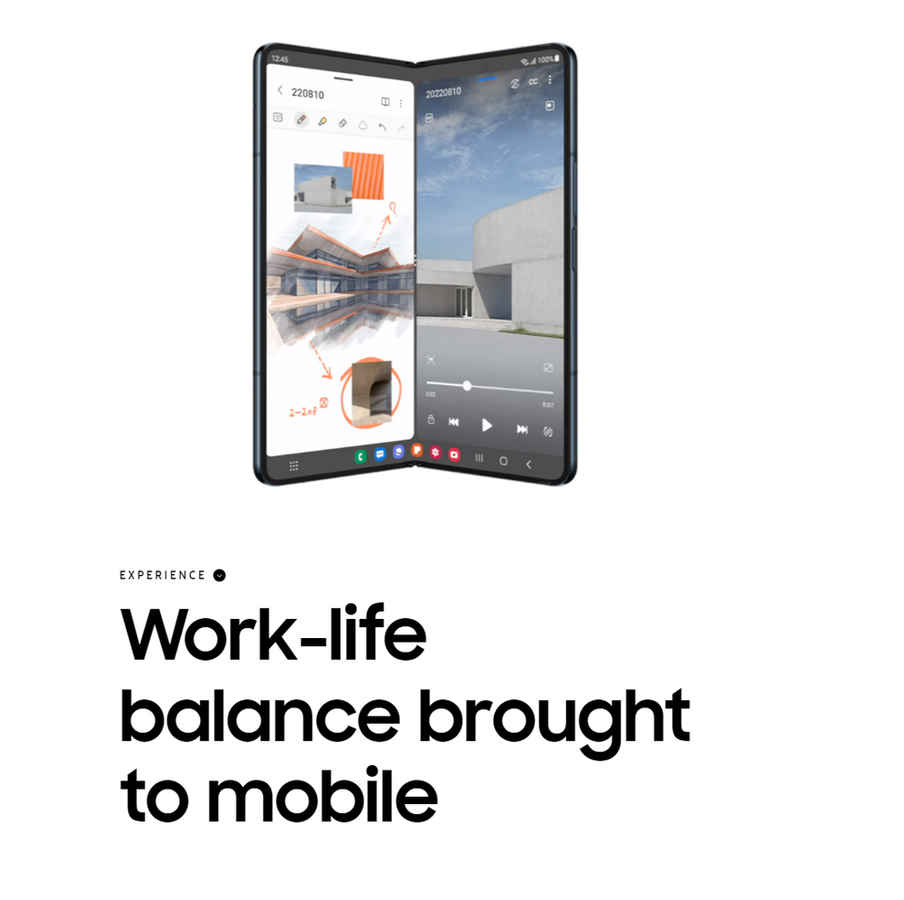 The Galaxy Z Fold4 now gets even more work done while on the move! The new Taskbar allows easy access and switching between your most used apps, providing a familiar layout like a PC. And then there are simple swipe gestures, which let you instantly switch full-screen apps to pop-up windows or even split the screen in half for multitasking. Using a two-finger swipe gesture activates multitasking, while you can quickly scale an app from full screen to a floating window with a simple corner swipe. You can even check your email on your phone with the exclusive two-pane UI that is designed for the Fold and Flip smartphones.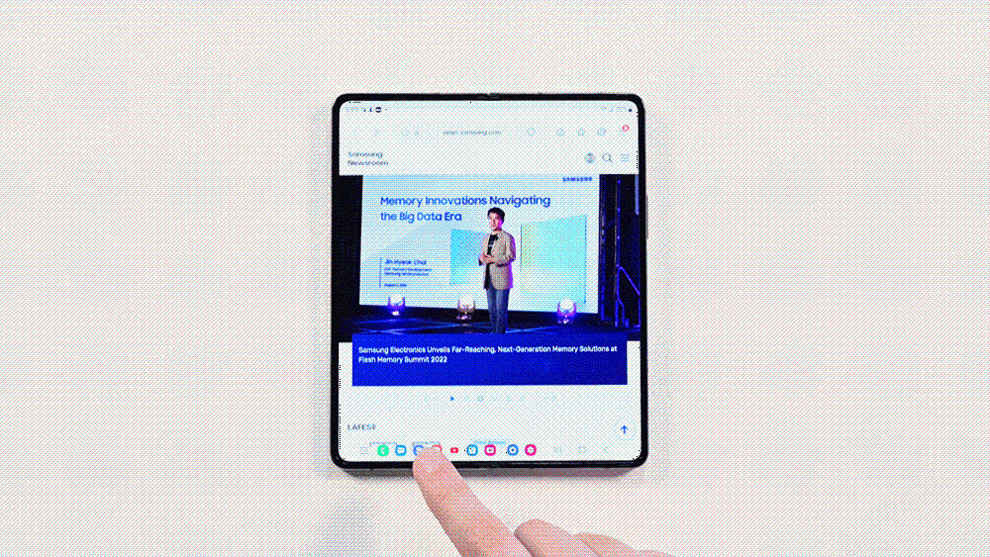 Secure and highly protected 
Every time you unfold your world with the Galaxy Z Fold and Flip phones, you can rest assured that your privacy and security are in good hands. These phones are protected by a multi-layered Samsung Knox mobile security system that is highly competent at securing critical user information such as private keys and digital certificates.
Samsung has taken the Galaxy Z Fold and Flip smartphones to the next level, giving them intelligent and significant upgrades in the right areas to make the Galaxy Z Fold4 and the Galaxy Z Flip4 a unique offering for premium and flagship smartphone buyers wanting to stand out from the rest. You can recognise and spot a Samsung Galaxy Z Fold or Flip user from a distance, and that's been one of the key distinguishing factors of the design and looks in the Fold and Flip smartphones; it just stands out and makes others take notice.
Samsung Galaxy Z Fold4 is available at a starting price of Rs.1,54,999 while the Galaxy Z Flip4 starts at Rs. 89,999. Check out some awesome offers below!
– Get the Samsung Galaxy Watch4 Classic @ Rs.2999 only!

– Bank Cashback or Exchange benefits up to ₹ 8000
Here's the link to book yours now!
[Brand Story]