Great The cheapest foldable, but is it worth the price? available in Dhaka, Bangladesh


Foldable smartphones are intriguing. They were the biggest departure from candy-bar smartphones in years but adoption rates have been low. Even though more and more consumers are buying foldables yearly, the exorbitant prices are an obvious deterrent to mass adoption. Enter the Tecno Phantom V Fold 5G. Priced at ₹88,888, the Tecno Phantom V Fold is nearly half the cost of the Samsung Galaxy Z Fold4 (Review) and is cheaper than the smaller Samsung Galaxy Z Flip4 (Review). So, the phone is absurdly competitive when it comes to pricing and it democratises the form factor in India. Not just that, the Phantom V Fold has a wider aspect ratio for the cover screen and a less noticeable crease. So, all of this at pretty much half the price of the industry leader sounds like a sweet deal. However, is the phone designed well, is the software well-optimised, how does the phone perform, and how are the cameras? These are some of the questions I'll answer in my review.
Tecno Phantom V Fold Review: Build and Design
The Tecno Phantom V Fold 5G is built extremely well for its price. The foldable has a fabric-like textured back panel that looks gorgeous. Tecno has used recycled plastic to build the rear panel, but it doesn't feel cheap at all. The rear panel is also resistant to fingerprints and smudges. The phone's grip is good and I felt comfortable enough to use it without a case. Tecno does provide a plastic case with a kickstand right inside the box.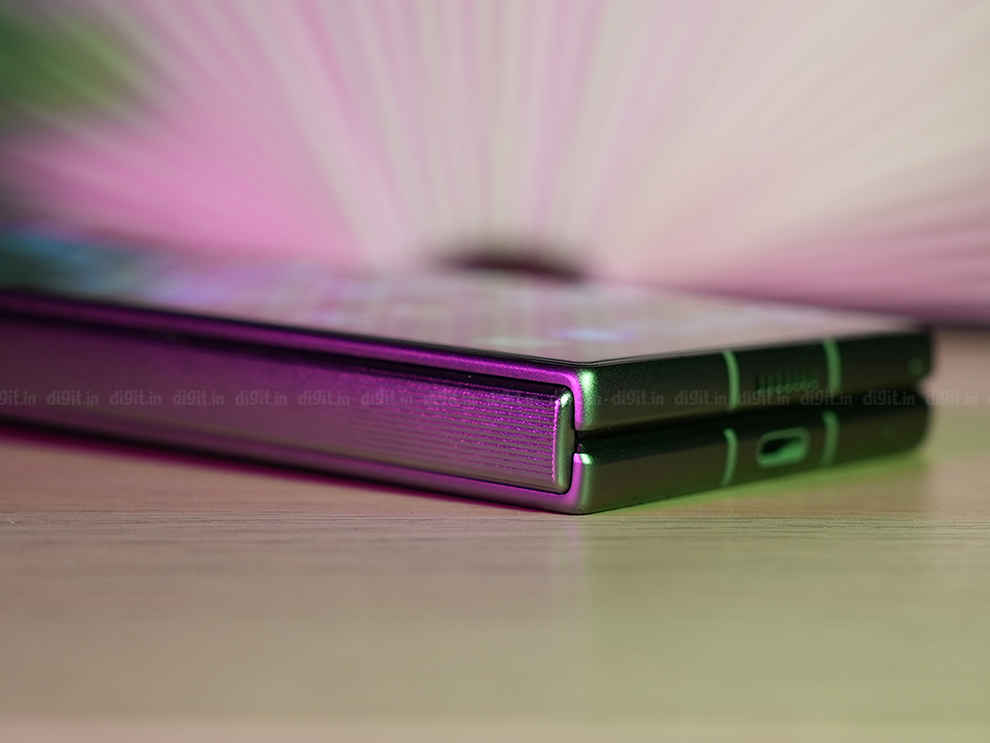 The hinge and the sides of a phone are made of aluminium. The crease of the inner screen is minimal due to Tecno's 'Drop-Hinge' design – way less prominent than the crease on the Samsung Galaxy Z Fold4 – which is extremely commendable for the company's first attempt at a foldable phone. The foldable has the volume rockers and the power button on the right – they're nice and tactile. However, the side-mounted fingerprint sensor is extremely sensitive and activates at the slightest touch.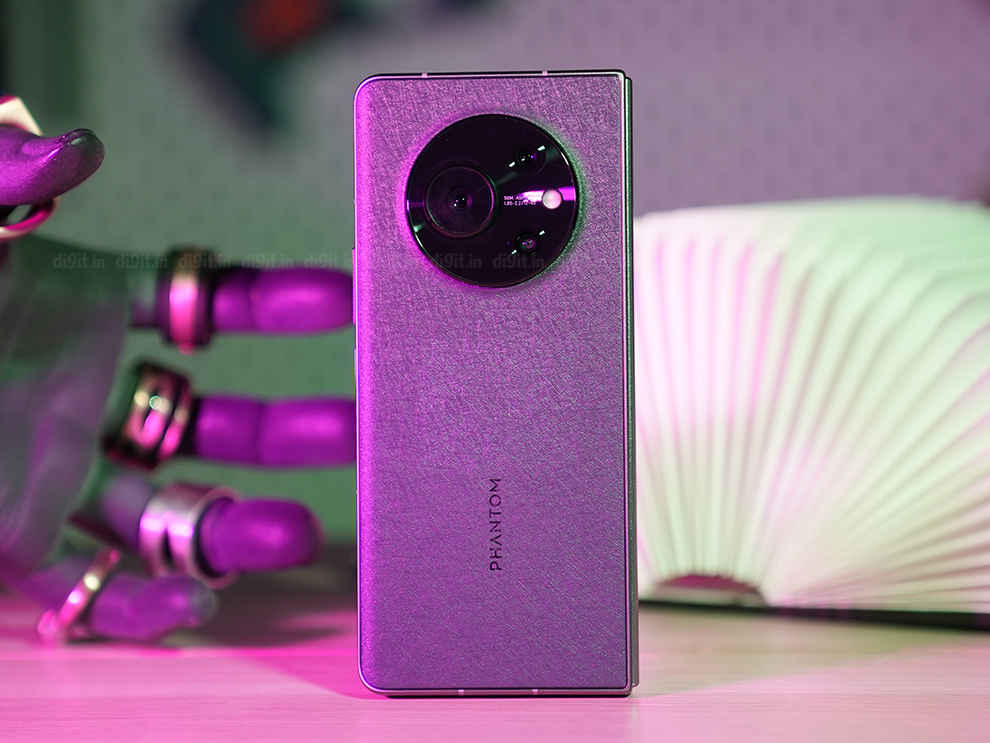 The camera island on the back is large and circular, and it may not be to everyone's taste. There's also considerable wobble when the phone is kept on a flat surface. At 299 g, it is one of the heaviest foldables on the market right now, but its cover screen has a much wider aspect ratio than some other competitors in the market, so a bump in weight is expected. This aspect ratio also means that the cover screen is far more useful since it is almost as wide as normal smartphones on the market.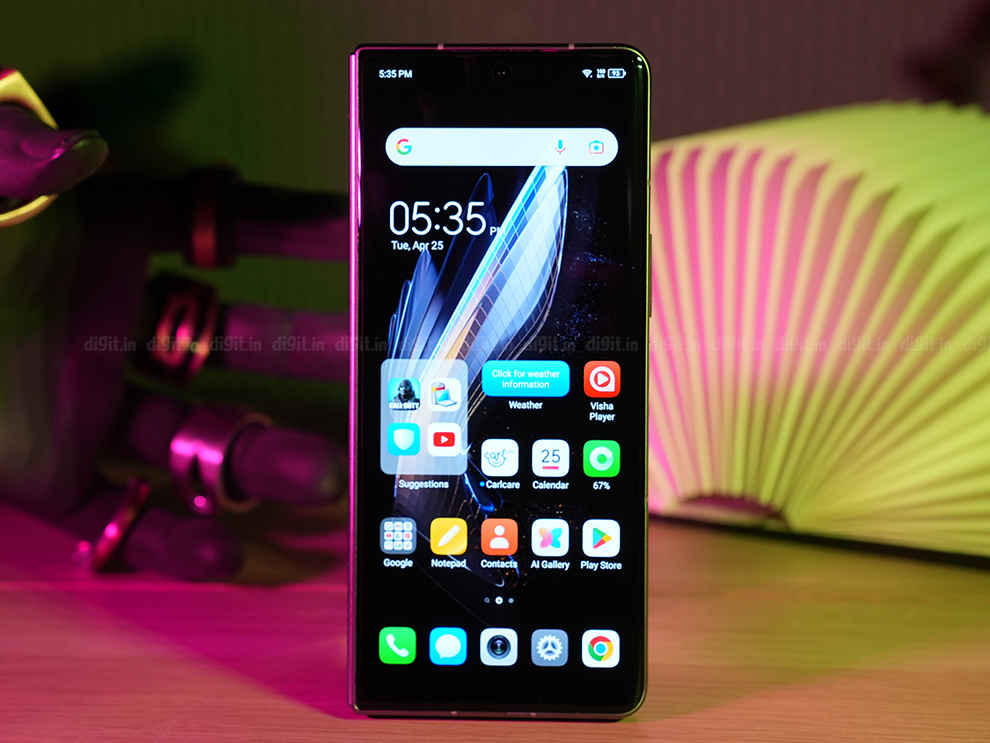 However, the display hinge cannot remain partially open. This is something that foldables from OPPO and Samsung have, and it allows for a lot of interesting and useful foldable mechanics. For example, you can have a YouTube video play on the top screen and the playback controls are on the bottom screen. You can even prop it up at 90 degrees to have a makeshift tripod, of sorts, which is not possible on the Tecno.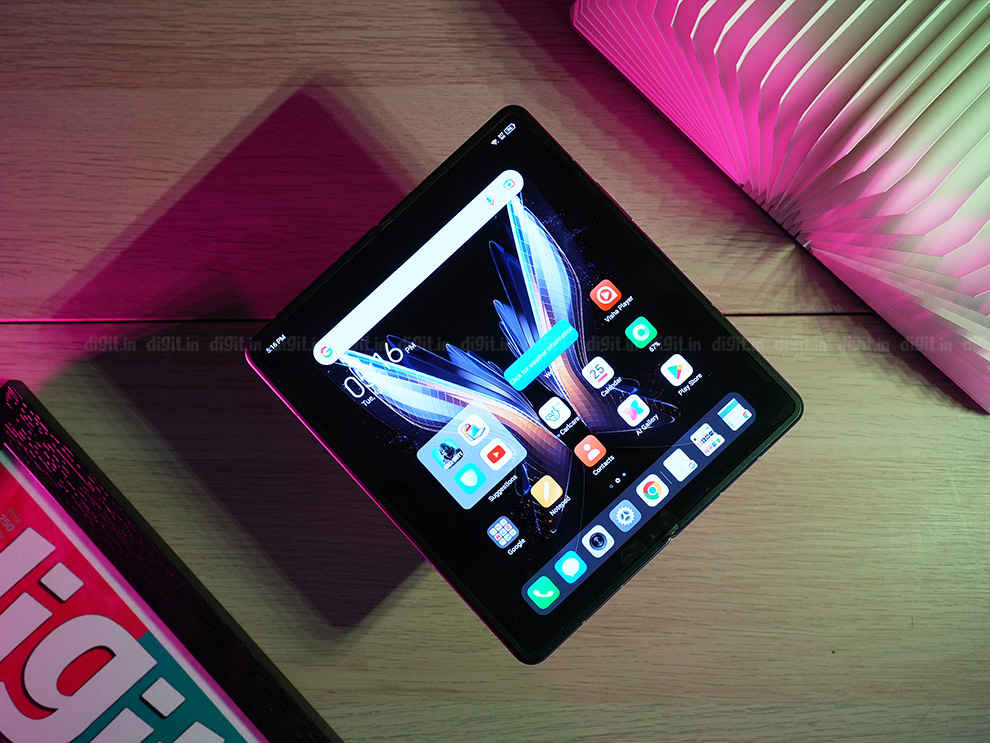 Despite this, I am a fan of the looks of the Tecno Phantom V Fold 5G and commend the company for its understated yet classy design language. I hope the company improves upon the hinge mechanism, to allow it to stay partially open, in its next iteration of a foldable phone.
Tecno Phantom V Fold Review: Display(s)
As I mentioned above, the Tecno Phantom V Fold 5G comes with a wide aspect ratio (21.3:9) cover screen, which makes it feel more like a regular screen than competitors like the Galaxy Z Fold4 with its abnormally tall screen. The screen measures 6.42 inches and sports FHD+ resolution. It is an LTPO AMOLED display with support for 1 billion colours and 120 Hz refresh rate, and for protection, you've got Gorilla Glass Victus on top.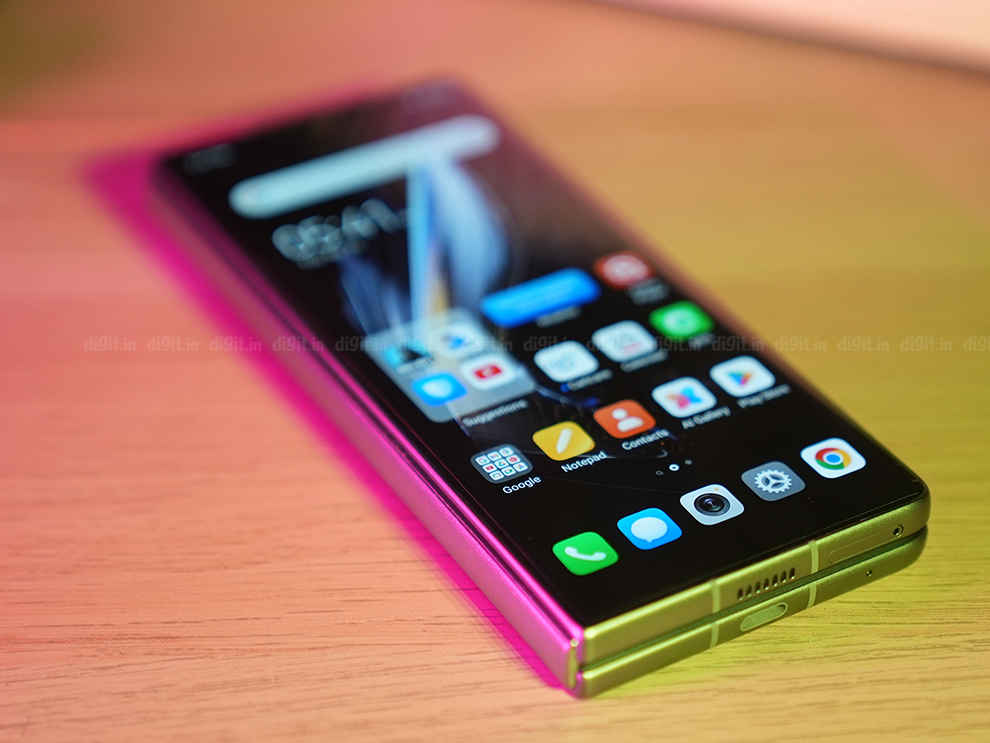 Meanwhile, the inner foldable display measures a whopping 7.85 inches – the largest foldable screen in the Indian market right now. The display sports 2K+ resolution (2296×2000 pixels). The foldable panel is LTPO AMOLED and supports 1 billion colours and 120 Hz refresh rate, like the cover screen. So, both displays have Adaptive refresh rate with support to switch from 10 Hz – 120 Hz, as per the usage. The high refresh rate makes scrolling seem very smooth. However, both displays do not come with HDR certification, which is extremely disappointing for a premium smartphone. There is Widevine L1 support though, so you can consume HD content on your favourite streaming services.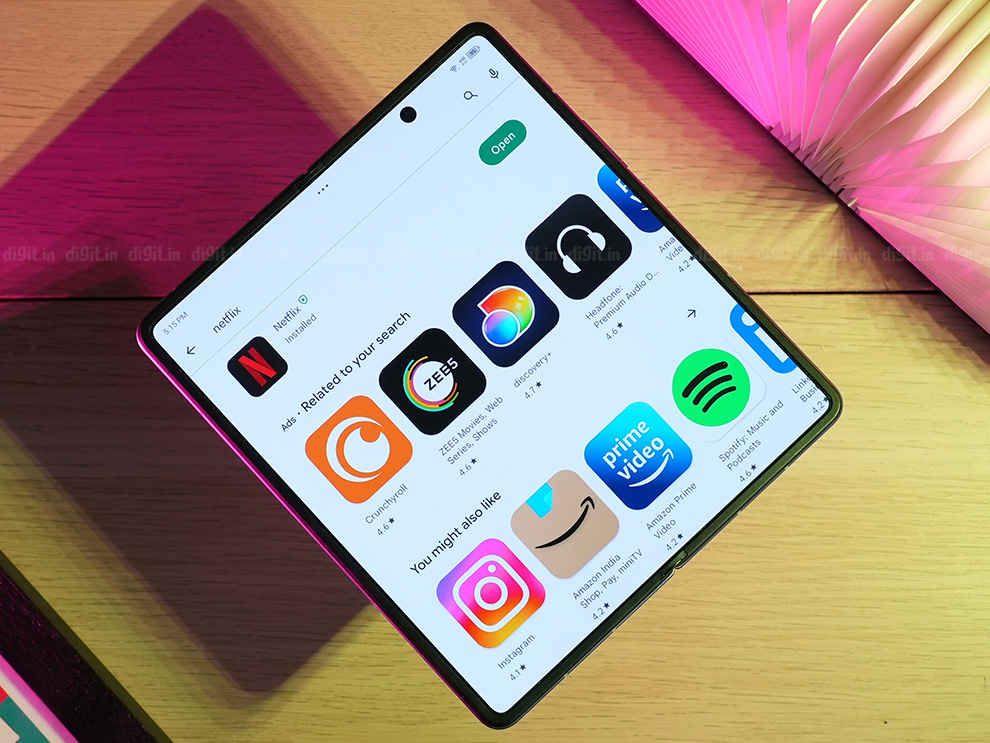 Both the displays at rated at 1100 nits of peak brightness. However, during my testing using a lux meter, I got a maximum reading of 802 nits on the inner display and 815 nits on the cover display in bright sunlight on Auto-Brightness. While the phone doesn't match up to its rated brightness levels, what it provides is more than adequate for screen legibility in all situations, including under harsh sunlight.
Both the screens look great – the colours are not the most accurate but look vivid and pleasing and the detail is good as well. However, the viewing angles are mediocre at this price. Additionally, I encountered an issue with the display pulling down the refresh rate to merely 10 Hz when watching YouTube videos on the inner display which resulted in pretty choppy video playback, we hope Tecno can iron this out with an OTA update. Until then, it may be wise to manually choose a refresh rate when watching YT videos.
Tecno Phantom V Fold Review: Performance
Armed with a MediaTek Dimensity 9000+ SoC, the Tecno Phantom V Fold 5G offers reliable performance in day-to-day tasks. You get 12 GB LPDDR5X RAM and 256 GB UFS 3.1 storage. There's also support for 9 GB of virtual RAM. Things such as calling, texting, clicking photos, social media browsing, watching YT or Netflix, and web browsing happen without any hitches. Multitasking is a breeze too with 12 GB of fast LPDDR5X RAM. Gaming performance is decent as well, but not best in class. 
To gauge the phone's performance chops, I began running several benchmarks on the device. We started with CPU tests where the Tecno Phantom V Fold scored 992328 in AnTuTu – the highest amongst every other foldable I tested against this phone including the OPPO Find N2 Flip, Samsung Galaxy Z Fold4, and Samsung Galaxy Z Flip4.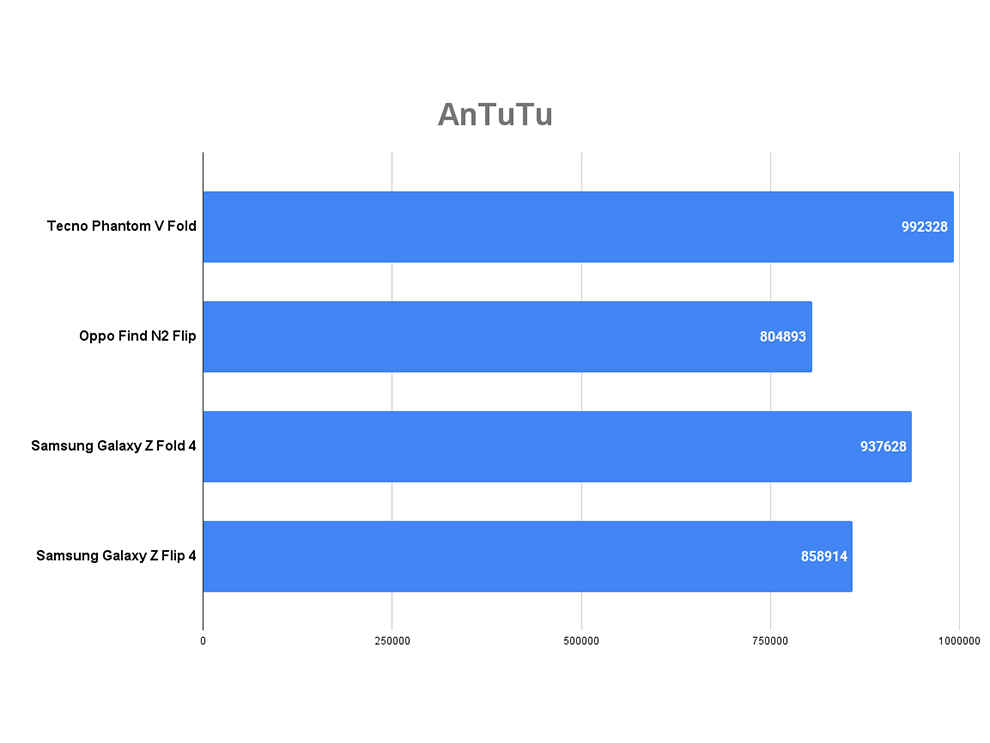 In Geekbench though, both the Samsung foldables beat the Phantom V Fold in both the Single Core and Multi Core tests. However, the Tecno Phantom V Fold did soundly beat the OPPO foldable. In PCMark Work, once again, the Tecno showed its prowess with the Dimensity 9000+ processor by outputting a fantastic score of 15180. So, raw performance isn't an issue, but what could be an issue is throttling.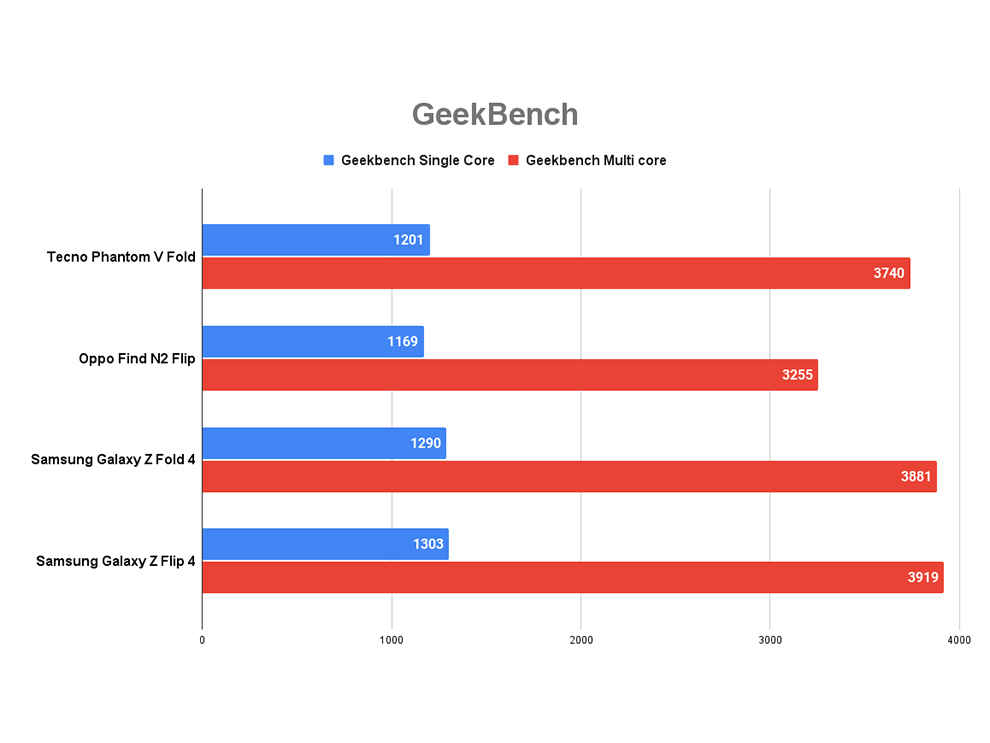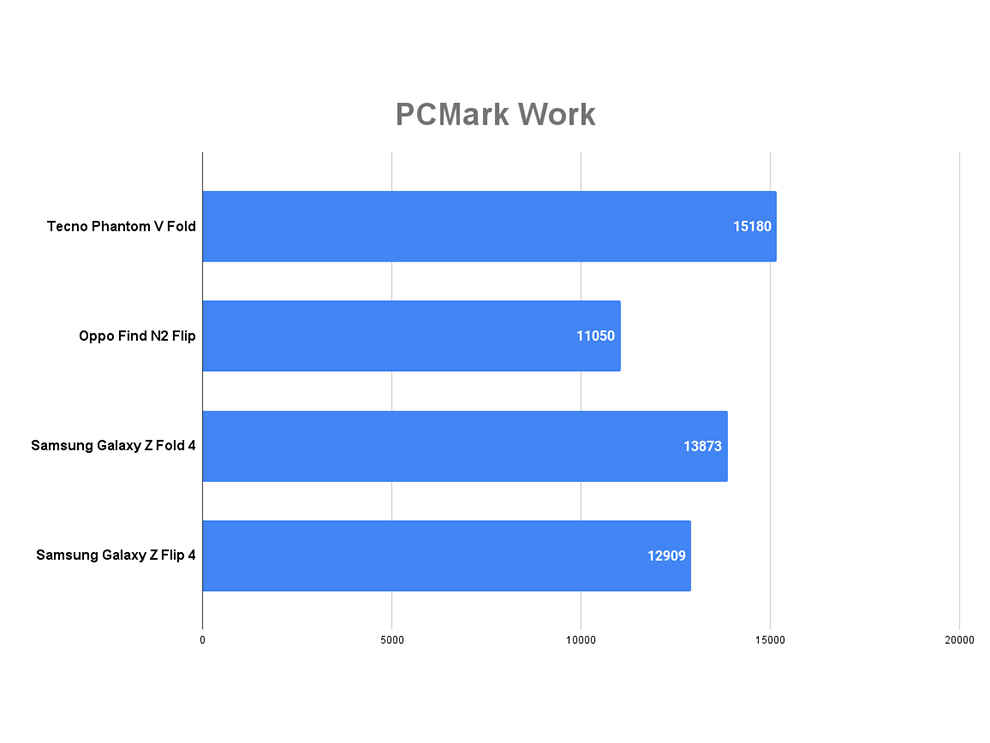 I ran the CPU Throttling Test on the Tecno Phantom V Fold 5G to see how it would perform under sustained workloads and it dropped to 76 per cent of its peak performance in just 15 minutes. In contrast, the Samsung Galaxy Z Fold4 doesn't show such a huge dip of 24 per cent in merely 15 minutes. I also noticed that the phone tends to run hot after playing a couple of rounds of games such as Call of Duty: Mobile on High or Very High graphics. There were also noticeable frame drops in the gameplay after 4 successive rounds.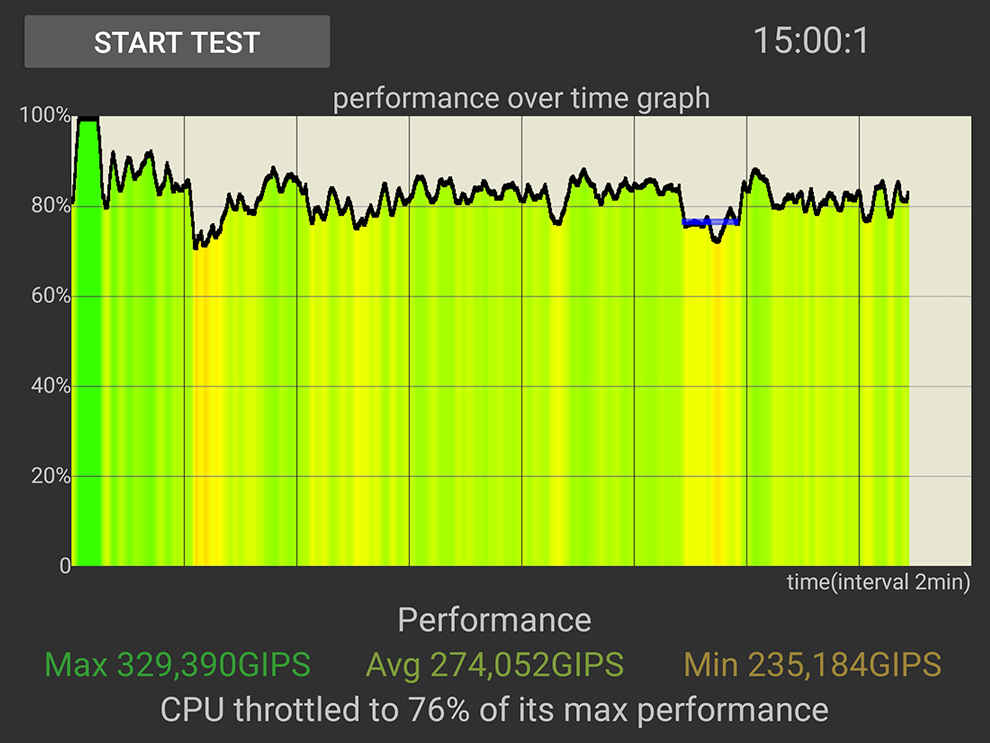 Speaking of gameplay, I ran several GPU benchmarks on this phone as well, but it's safe to say that the Phantom V Fold didn't impress me as much here. The phone consistently got lower scores than the two Samsung foldables and the OPPO Find N2 Flip in all GPU benchmarks, as you can see below. I noticed that the phone defaulted to High Graphics in COD: Mobile unlike other flagships that usually start off at Very High – this could be due to the inferior GPU performance. There weren't a lot of stutters at High Graphics during gaming but as we mentioned before, after a couple of rounds, frame drops would be noticeable.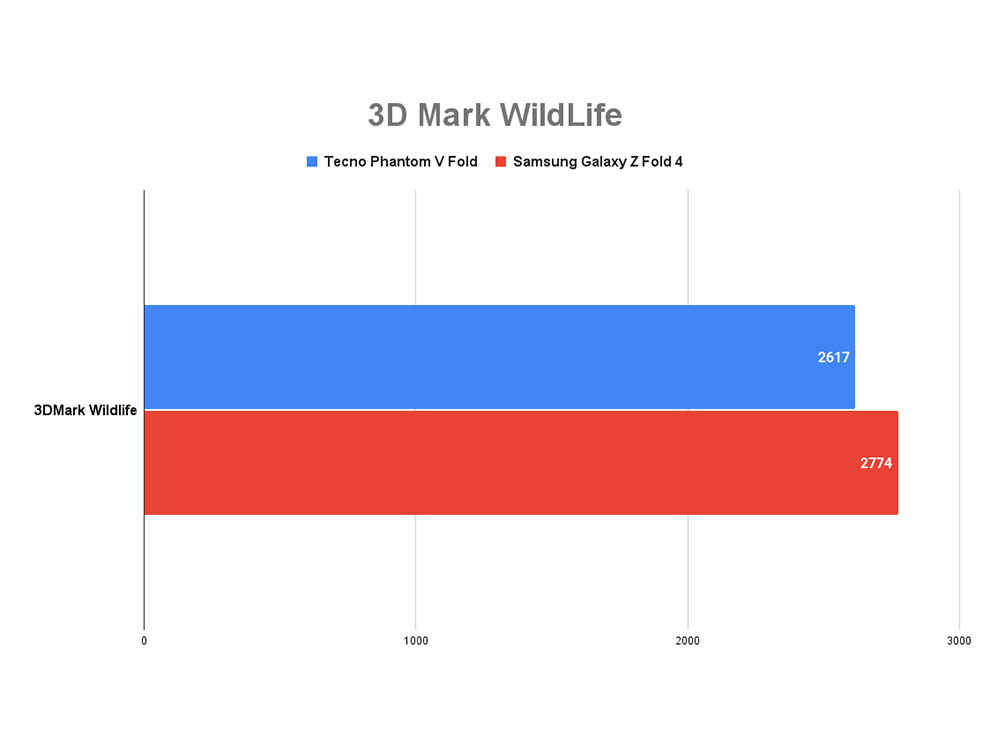 OPPO Find N2 Flip and Samsung Galaxy Z Flip4 didn't run 3D Mark Wild Life (when we tested them)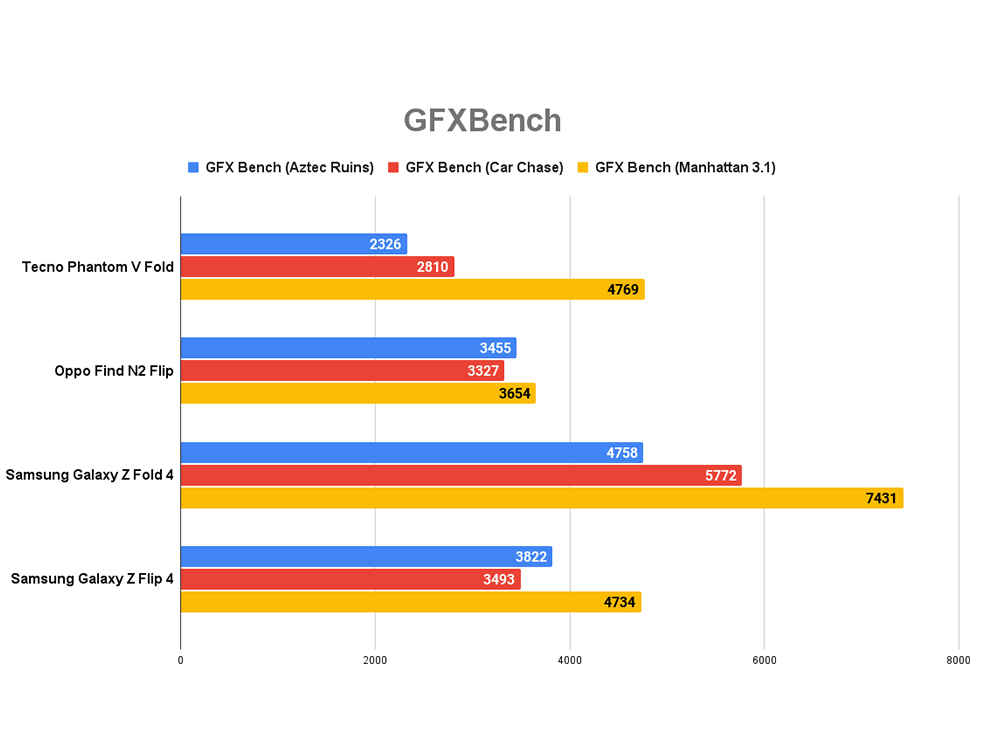 As for software, the Tecno Phantom V Fold runs HiOS 13 Fold based on Android 13. This is the latest version of Tecno's proprietary OS and it is an altered Fold-specific version. The phone has several modes to utilise the foldable aspect of the display including split screen (vertical), pop-up windows, app pairing, and parallel windows. It's all well-implemented and intuitive, so it won't take too long to learn the actions that trigger these modes. The phone also seamlessly transitions from the unfolded large version of an app on the inner screen to the normal version almost instantaneously when you close the device. Neat.
However, there are some misses too. As mentioned before, the hinge cannot stay in a half-folded state, so many actions that are possible on other foldables due to this are unavailable. Additionally, there's no support for horizontal split screen, which is disappointing. You can create app pairs but there's no option to put them on the home screen. And also, you can't resize windows when you're in split screen, which is odd since even candybar phones such as the S23 Ultra can perform this function.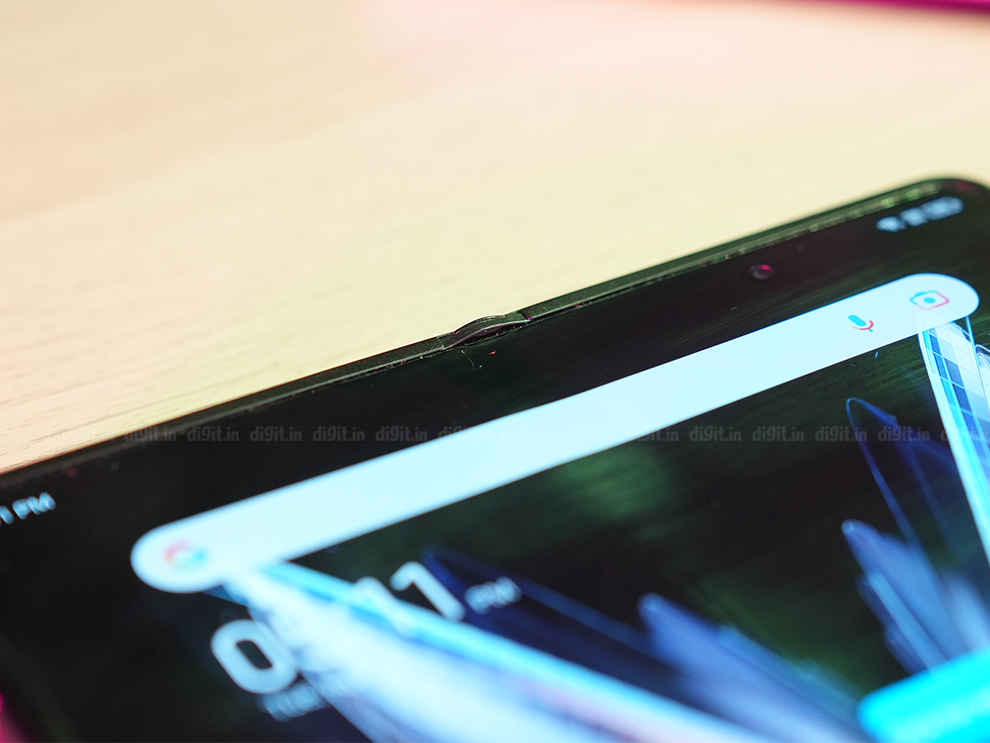 I also encountered a very annoying bug in the camera app where the phone kept switching the camera interface between full-screen and split-screen view without any triggers from my side. Essentially, split-screen mode in the camera app moves the viewfinder to the right and displays a column of your latest photos on the left – but this mode kept triggering on and off even when we didn't want it to. Hopefully, this can be fixed via a software update.
The UI also isn't the cleanest. It has quite a few third-party apps and Tecno apps preinstalled. However, as a first attempt, this is a good foldable software – a few things could be better optimised though.
Tecno Phantom V Fold Review: Camera
The Tecno Phantom V Fold 5G packs a penta-camera setup consisting of a 50 MP primary camera with Auto Focus support, a 50 MP telephoto lens with 2x optical zoom and 20x digital zoom capabilities, a 13 MP ultrawide shooter with a FOV (Field Of View) of 120-degrees, and two selfie cameras. The one on the inner screen is 16 MP and the one on the outer display is 32 MP. Of course, the phone's a foldable, so you can actually take really high-quality selfie photos from the powerful rear camera.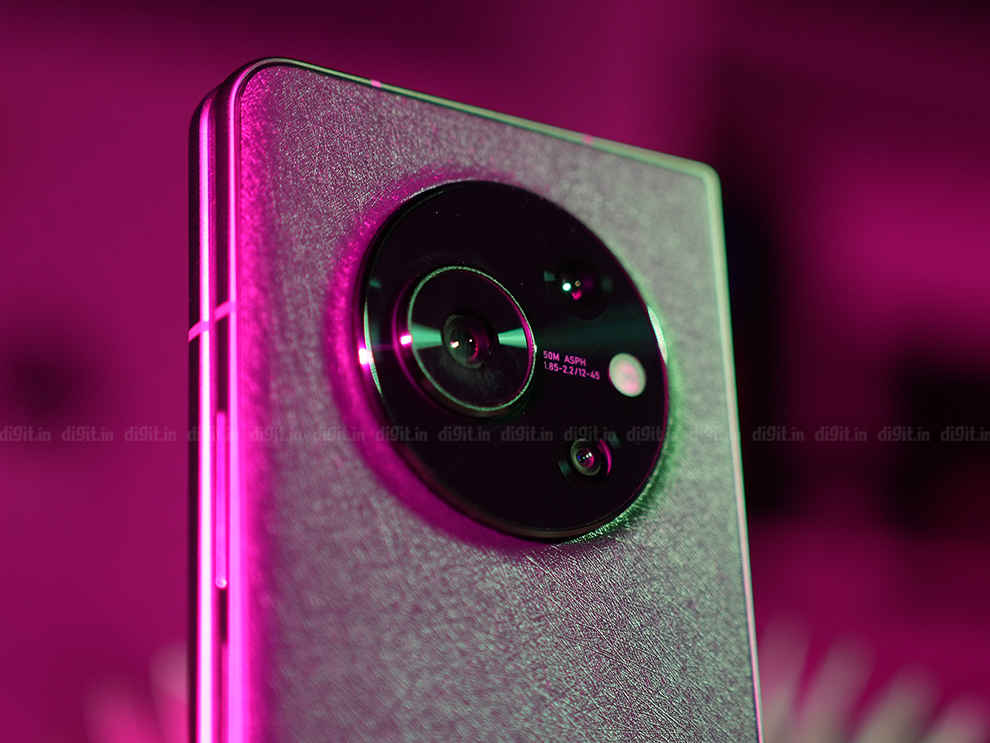 In my time with the Tecno Phantom V Fold 5G, I quite enjoyed the camera setup, specifically, the primary camera that is capable of shooting impressive photos, both in daylight and low light. Pictures taken in daylight look crisp and detailed, plus they have good dynamic range and fairly natural colour as well. Close-up images look great as well, with good natural bokeh and crisp details. Portraits taken from the main camera have good colours and edge detection. I've attached some image samples below, but do note, they have been compressed for the web.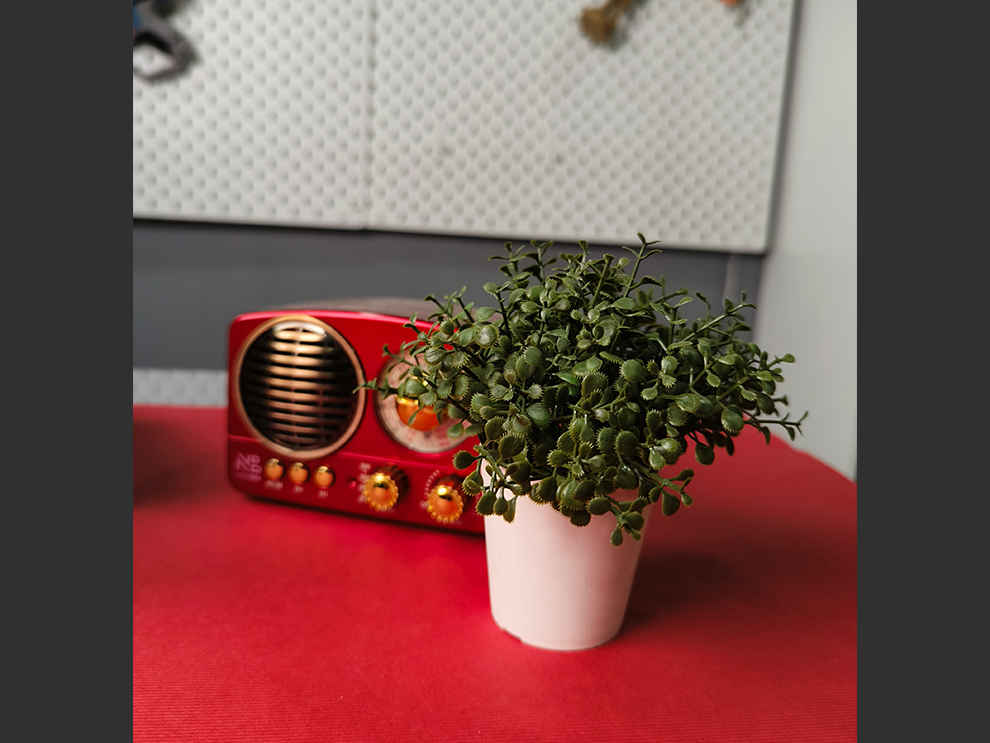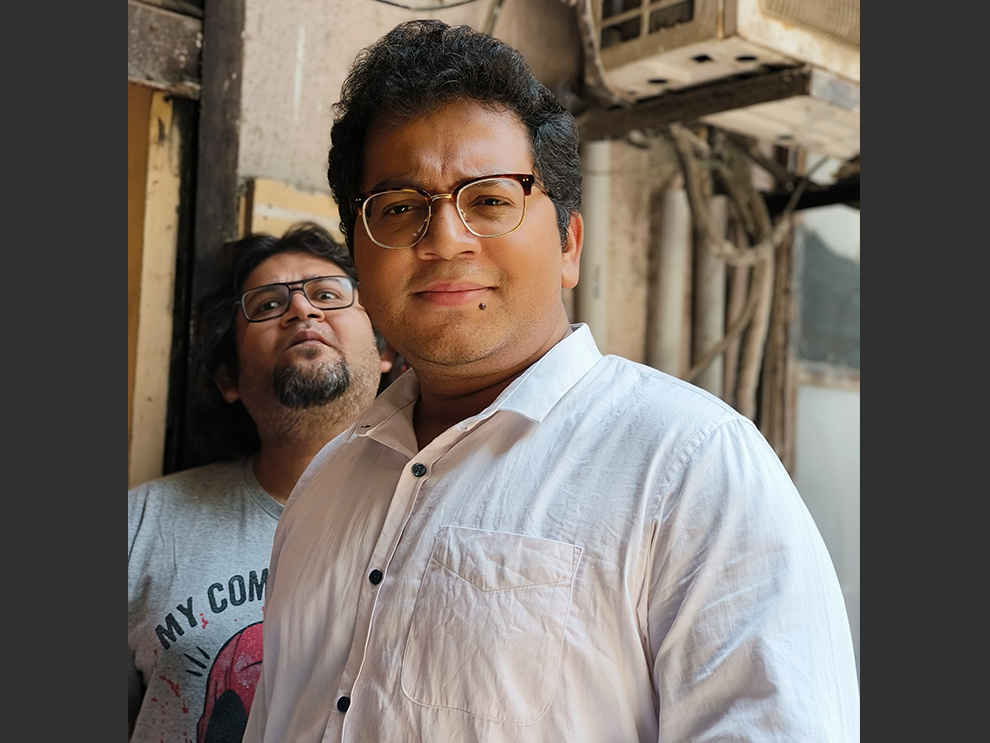 Portrait taken from primary camera
However, I noticed a sharp decline in quality in telephoto portraits where the 2x zoom levels are engaged. Shots look way softer and have a substantial amount of shake as well – so they're not very presentable. I suggest using the main camera for portraits as often as you can since the difference between the results is night and day.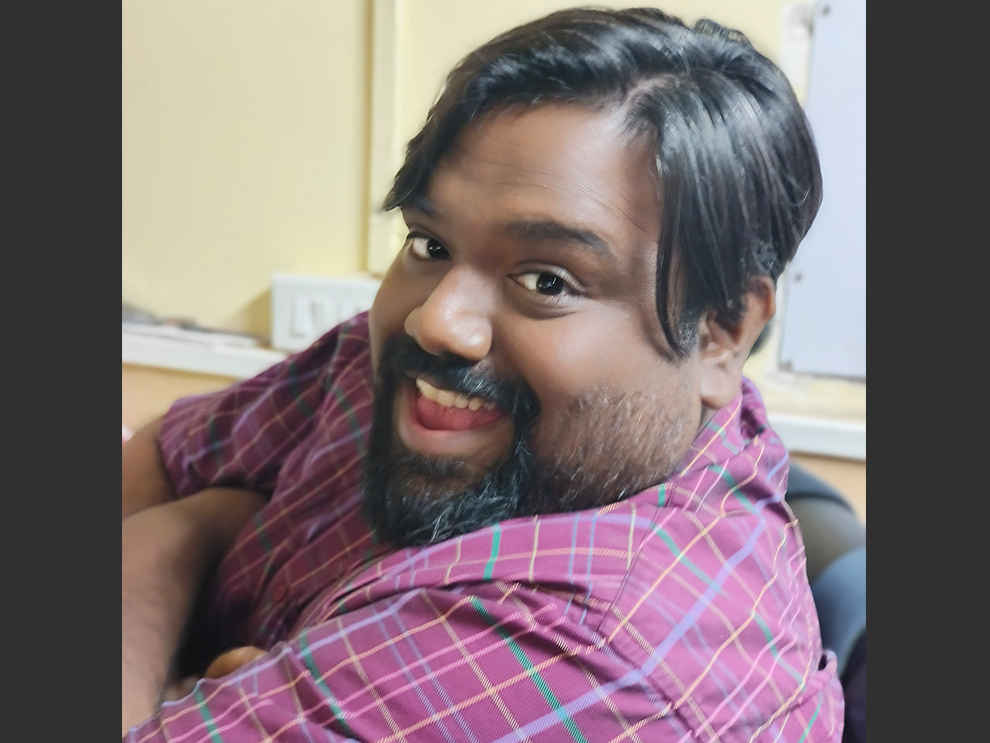 Portrait taken from 2x telephoto camera
Ultrawide images taken from the 13 MP lens are decent but nowhere near flagship level, unfortunately. The centre of the picture looks crisp but the sides are awfully soft and noisy. The ultrawide camera also doubles as a macro shooter which takes surprisingly usable and good-looking shots. The sides of the image aren't as sharp, but it's still impressive. Take a look below.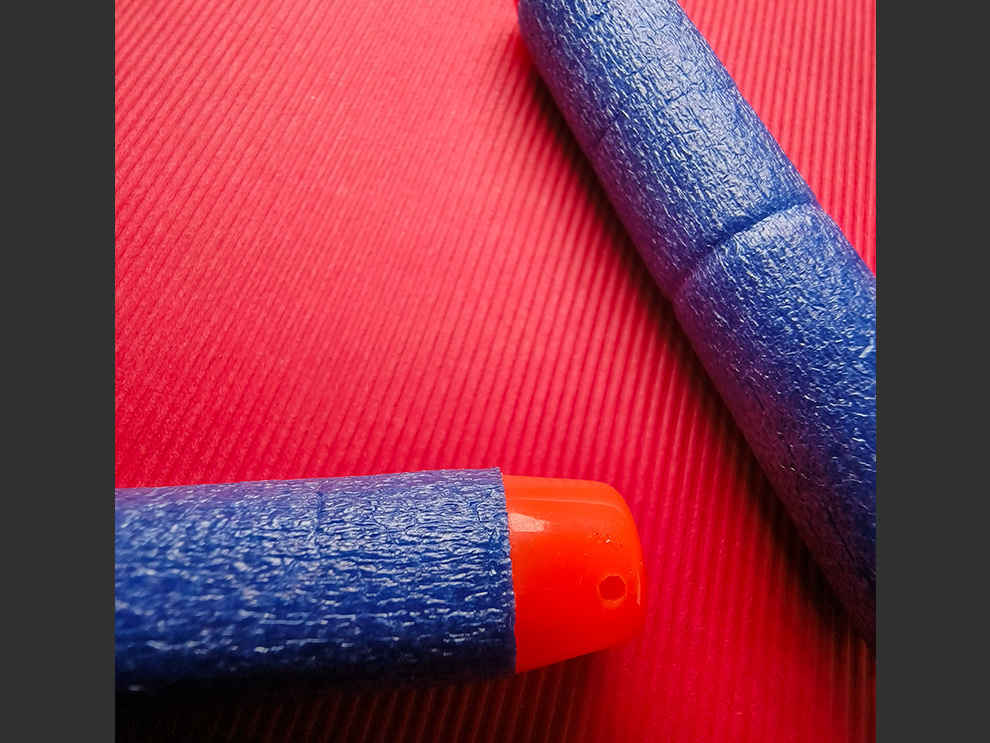 Macro photo from the Tecno Phantom V Fold
Low-light photos also have plenty of detail when taken from the main camera. Noise is kept to a minimum as well. However, the ultrawide camera doesn't do as well with noisier photos, in general.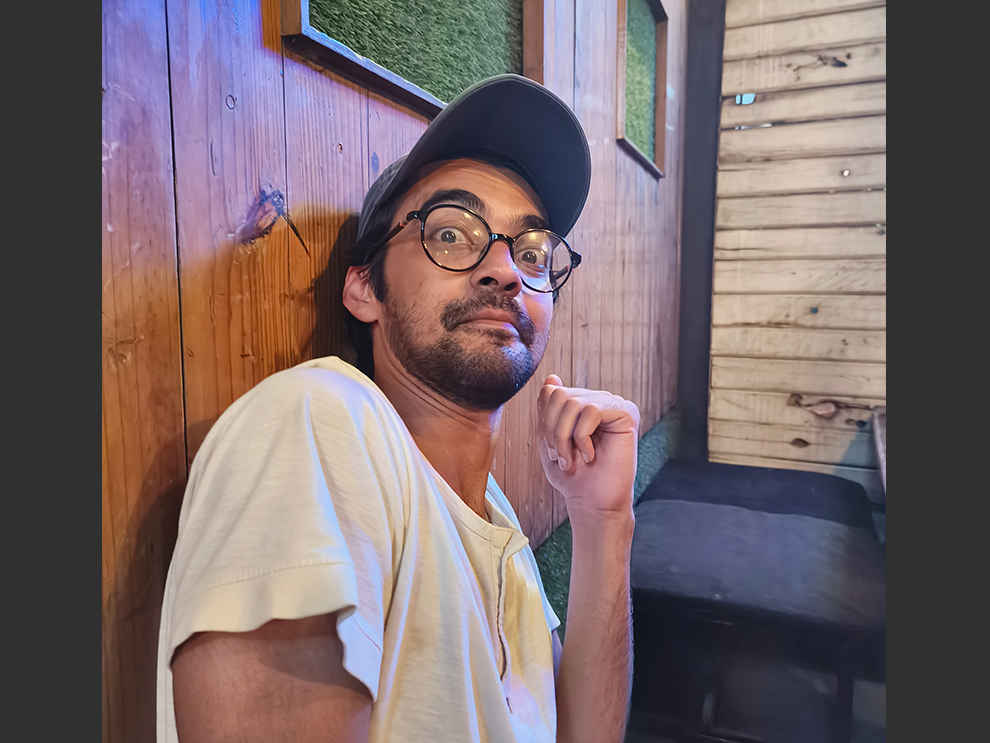 Selfies are decent from the inner screen, there's a bit of softness but in ideal lighting conditions, you can get decent shots. The outer selfie camera is better, with more detail and good dynamic range. But, the best selfie shots are taken from the primary lens – you will rarely get to see such crisp selfies with oodles of detail. Overall, the Tecno Phantom V Fold 5G has a good camera setup, however, improvements could be made to the telephoto portraits and ultrawide lens.
Tecno Phantom V Fold Review: Battery life
Equipped with a massive 5,000 mAh cell, the Tecno Phantom V Fold 5G impressed us with its battery life. It is the only foldable in India to sport a large 5,000 mAh cell. But equipped with large 120 Hz LTPO panels, it is a boon that this phone sports a large battery. It is a battery of this capacity that makes the phone a dependable performer in this department. 
In our 4K video loop test, the phone lasted a whopping 16 hours and 18 minutes – beating out the OPPO Find N2 Flip, Samsung Galaxy Z Flip4, and even the Z Fold4. But, it didn't beat out the Galaxy Z Fold4 by much. If you're a light user, you're looking at a minimum of a day and a half of battery life. And if you are more of an intensive, heavy user, prepare to charge up the device at night, when you're preparing to go to sleep.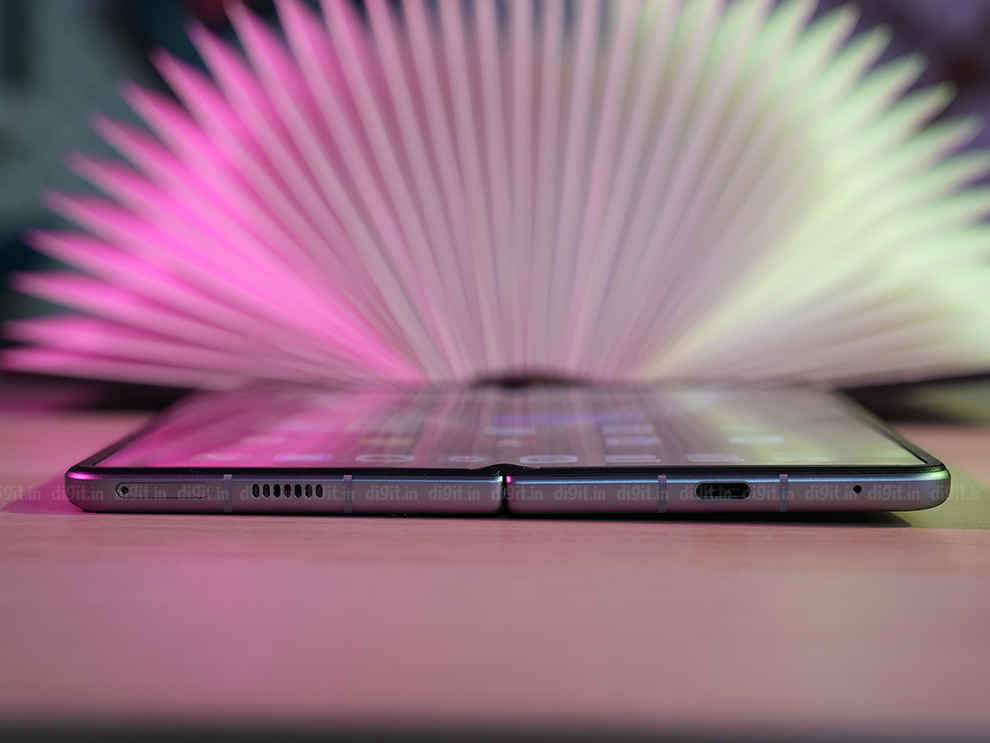 As for charging, the Tecno Phantom V Fold comes with 45 W wired charging support and you get the supported charger out of the box. The company claims that the device can charge from 0-100 in just 55 minutes, but during my testing, I noticed the numbers were far off. The phone charged from 0-100 in 1 hour and 12 minutes, and reached the 62 per cent mark in half an hour. There's also no wireless charging, which is present on the Samsung foldables.
Tecno Phantom V Fold Review: Verdict
For the company's first attempt at a foldable – the Tecno Phantom V Fold 5G is impressive. Not only has the company managed to bring us a well-designed foldable with an understated crease, but the Phantom V Fold also is the largest phablet-style foldable in India with a highly usable outer display. All of that at just ₹88,888! So, it is a good value proposition for those wanting to experience a phablet-style foldable at half the cost of the industry leader. However, the phone does falter in some areas – the software, while well-implemented in the grand scheme of things, does have some bugs, and the performance (especially gaming performance) isn't the best at this premium price. 
Also, while we enjoyed the primary camera of the phone, the telephoto and ultrawide lens could be better optimised. All in all, this is a decent foldable – but if money is no bar, then it simply cannot match up to the performance and finesse of the Samsung Galaxy Z Fold4. If you are looking for a budget alternative though, I think the phone has enough merits to gloss over some of its demerits at this price.